Hear from our fantastic Masters in Finance (MiF) Full-time student ambassador Shruti Iyengar as she shares her experience of being at LBS and studying the MiF while trying to make a switch from consulting to social finance and impact investing.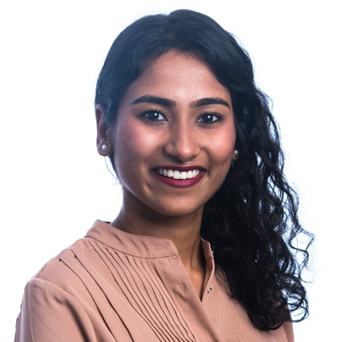 Why the MiF?
I chose the MiF to gain in-depth financial knowledge and technical skills that would enable me to switch from consulting to investing, and the LBS programme was my first choice as it is globally admired as rigorous and enriching. Prior to LBS, I spent over 8 years in Singapore, studying and then working with an impact consulting firm, which was immensely rewarding and offered me great exposure across the consulting value chain as well as across sectors. By interacting with a wide-range of clients, I realised the projects that excited me the most were those related to social finance and impact investing.
What surprised you the most?
Coming to LBS I expected all my learning to happen from the professors and study materials. However, I was pleasantly surprised by how much I learnt from my peers – with over 100 students across 37 nationalities, you walk out of each discussion with a much broader and deeper understanding of theoretical concepts, technical skills, and country-specific cultural norms and practices. My colleagues in the programme have constantly enhanced my learning and are core to my academic experience.
What is one impact-focused course you are taking?
A course that I found quite interesting and useful was Emerging Markets taught by Paolo Surico – it offered me an in-depth perspective into the macroeconomic history of various countries and enhanced my sensitivity to the ways of doing business in emerging market economies.
What impact-related activities can you get involved in at LBS?
Through the Social Impact Club at LBS, I have expanded my network and grown as a professional in the industry. As part of the Executive Committee, I co-lead the speaker series panels, which centers on themes such impact investing and social enterprises. These are to help students understand how to navigate their career options in the space, and have been a great platform and network as we are constantly sharing opportunities and upcoming events across London. The Student Impact Investment Fund (SIIF) and associated MBA Impact Investing Network Competition (MIINT) both give you a chance to gain experience in sourcing, performing due-diligence, and deal structuring, among other aspects of the investing cycle. These also give our students exposure to regular training from industry experts.
We also have our flagship conference, Social Impact Week coming up very soon in March. We have worked hard to put together an exciting line up of events including a Careers Fair and Impact Investing panel with industry veterans on the 11th March. For people interested in this field, this would be the ideal event to understand the roles better and speak to the organisations directly.
What are some opportunities beyond LBS and how does one find them?
London is a great place to be for impact because there are numerous conferences, roundtables, and networking events to facilitate meeting and learning from investors across all walks of life. I recently attended the Finance for a Sustainable Future Conference and found it to be extremely enlightening – not just for identifying spaces I wanted to learn more about, but also clarifying roles within the space that did not interest me.
For example, when it comes to the different forms of investing that are impact-focused, there is a huge spectrum – impact VCs, impact PE, DFI investing, and ESG investing (e.g. asset management). It's useful to talk to professionals in the space to understand what appeals to you the most, depending on the ticket size, phase of project/company they invest in, and whether they are an impact-first investor or not. In addition to attending events, reaching out to alumni is another helpful way as they have some of the most practical advice, having been down the path themselves.
What is something you would advise students who are interested in this field and considering the MiF?
When you are considering a non-traditional MiF pathway, you have to be proactive and plan your journey from the beginning of the programme. You need to be active in reaching out to people, monitor events across London, and ultimately drive your own career. The immense amount of opportunities available here make it possible; it just comes down to your interest and initiative. In my opinion, the most effective way of doing this is to identify what your ideal role is post-graduation, engage with leaders in that sub-sector, and seek their feedback on your profile. The number of opportunities available will overwhelm you – but it is crucial to sift through them and pick out those that will most effectively strengthen your profile and increase your chances of getting your dream role.
What is one thing you would tell any aspiring MiF applicant?
In a sea of so many exciting career possibilities, you have to constantly make trade-offs between exploring and staying focused, but approach these decisions with confidence. Be receptive to hearing about and considering other related pathways from your peers, but ultimately stay true to what is right for you.



Find out more about how you can get involved in social impact projects during your time at LBS through the classroom, clubs and events over in our Social Impact Hub.