by Sunita Chambore, Student-led Initiatives Manager
Did you know over 500 student-led events took place at LBS in autumn 2017?
Here's a rundown of our top 10 student-led highlights:
Entrepreneurship Open House
Dubai Career Trek
Latin America Career Fair
EurOUT
Fintech in Africa
China PE/VC Trek
Diwali Party
Manhattan Film Festival
IMPACTathon
Global Energy Summit
Entrepreneurship Open House
This was a brand new initiative organised by the Entrepreneurship Club and lead by Alexandra Ponomarenko MBA2018. Entrepreneurship Open House (EOH) took place in September 2017 and tickets were sold out with over 300 students, alumni and entrepreneurs in attendance. The event took place on campus and had representation from a number of organisations including the LBS Institute of Innovation and Entrepreneurship, Entrepreneurship Summer School, Enterprise 100, and the TELL Series.
EOH provided a great taster of the entrepreneurial buzz at LBS and London. See for yourself in this highlight video.
Dubai Career Trek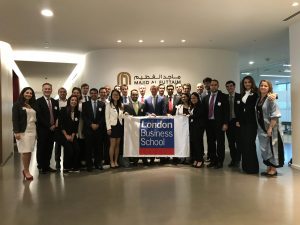 There were five action packed days for students on this career trek in Dubai organised by the Middle East Club and lead by Mohsen Khairaldin Garcia MBA2018. Some of the companies the students met with included BCG, Bain, Strategy&, Abraaj, Emaar, Crescent Petroleum, Uber, Gulf Capital and Delta Partners. They also met with alumni based in the region.
Latin America Career Fair
The 5th Latin America Career Fair organised by the Latin America Club took place on campus in collaboration with IESE and Insead. Companies presenting included ABInBev, Amazon, Credicorp, Itau, McKinsey and PetroRio.
EurOUT
EurOUT hosted by the Out in Business Club is Europe's leading LGBTQ conference and career fair for graduate students, MBAs, PhDs and alumni from top business schools. With 300 attendees and 50 top-tier employers looking to connect with LGBTQ talent, the conference provided an invaluable opportunity to learn, network and seek employment from thought leaders and leading companies from around the world.
The main theme for 2017 was 'The role of business in tomorrow's LGBTQ landscape'. There were a wide range of interesting sessions on themes relevant to LGBTQ students and professionals, with a special focus on female-identifying leaders and ways to empower the next generation. Speakers included Sue Y. Nabi, Founder of Orveda and former President of L'Oréal and Lancôme.
Fintech in Africa
Amine Bendriss MBA2018 and his team from the Africa Club did a fantastic job of putting together Fintech in Africa which brought together 200 attendees. The club partnered with the Royal African Society, Professionals for Africa, and DLA Piper, to host a discussion around Fintech in Africa.
Amine says "organizing this event was an opportunity to reinforce our relationship with other African organizations in London, as well as to attract great speakers to the LBS campus. I personally learned a lot from coordinating this event from the Africa Club side, with the support of many volunteers from the club who helped with all organization aspects, and created very good relationships with the people I worked with from other organizations, opening the way for other projects and events."
China PE/VC Trek
An exciting new trek organised by the China Club and lead by Mark Xie MFA2018. The students first stop was Shanghai for company visits including GGV Capital where the students had the opportunity to speak with the investment managers of the firm.
Diwali Party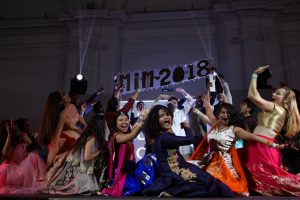 The School's legendary annual Diwali party hosted by the India Club took place at London's Royal Horticultural Halls. It was a huge success and the evening was enjoyed by over 500 guests. The programme included DJ Vik Toreus from HV Entertainment, the Drumline dhol players, student dance performances and LBS's in-house Live Band "Curry in a Hurry"! Here's the photo album
Manhattan Film Festival
The Film Club hosted the 4th Manhattan Short Film Festival on campus in September 2017. The Manhattan Short Film Festival is a worldwide event that took place in over 250 cinemas across six continents and is the only international event of its kind in which the final 10 short films are shown simultaneously across the world during a one-week period.
All of the 10 short films are Oscar-qualified, which meant they are automatically eligible for an Academy Award nomination. A wonderful evening was had by all attendees as they viewed exclusive short film screenings and had discussions with industry talent. They even voted on their favourite movie and actor to help select the 2017 winners.
IMPACTathon
The Impact Consulting Club's third annual IMPACTathon was an action-packed 35 hours where 55 LBS students and their project managers were teamed with nine high-profile social entrepreneurs. Groups conducted original research and benchmarking analyses, developed profitability models and frameworks that clients could use to fine-tune their organisations. Sponsored consultants from the MBA2019 class volunteered up to four hours of their time over the weekend to help the teams.
MBA2019 project manager, Rory Biskupski, said the IMPACTathon was a "great opportunity to practise leading a team, dealing with real-world clients and consulting problems and developing a solution in a very short timeline".
Each student that participated now has real-world consulting experience, and their clients have ideas they can implement to change their businesses. High-impact ideas from the weekend included:
Tools for measuring the impact of motivational speakers
Wearable tech for patients with dementia
An app providing a charity token block chain platform for fashion retailers
Global Energy Summit
The Energy Club's flagship event was themed 'Transition in an Uncertain Economy'. Through keynote speakers and panel discussions the event explored the future direction of the industry and the opportunities in renewables, utilities, oil & gas as well as innovation in finance in the sector.
Daniel Liu MBA2018, one of the co-chairs of the summit shares that "energy is a passion of mine! It was actually the Energy Club's work with the Global Energy Summit that made me commit to LBS over INSEAD when deciding on my MBA offers. The club brings in excellent speakers to talk about business and finance related topics in Energy. One of my favourite talks was from Michael Liebreich, founder of Bloomberg New Energy Finance, about the global investment needed to reach the targets set by the Paris Climate Accord."
______________________________________
Interested in finding out more about how you can get involved in any of the above clubs? Have a look here to find out more and to see if any one of our other 80 clubs catch your eye.