By Charlotte Smith, Student Recruitment Manager, MBA Programme
You may already know that London Business School is one of the top ranked business schools in the world and is renowned for its thriving global student community – but in order to create the diverse classes that keep us on top, we need more candidates like you.
Forté have recently opened applications for their Forté MBALaunch – a hands-on 10-month programme for women intending to pursue an MBA. The initiative gives you a clear road map to help you navigate the entire MBA application process — from GMAT study prep, to application tips, to practice on admissions interviews. Read more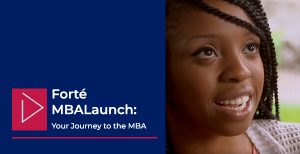 We will be participating in this year's Forté Forum in London on Tuesday 29 October. This free event will provide information about the value of an MBA. You will also have the opportunity to network with business school representatives, alumnae, and students of top business schools in North America and Europe.

We are committed to encouraging more women to join our life-transforming MBA programme. To find out more about the MBA and how to apply, please visit our website.