Recently, I was fortunate enough to attend the LBS Diwali Ball – an annual tradition honouring the Indian festival of lights. The ball was a successful event – a sell-out crowd of 50+ nationalities, two buzzing cocktail bars, potentially instagrammable lighting, and a boatload of "Thank yous" and "Omg did you find my jacket?" messages the morning after.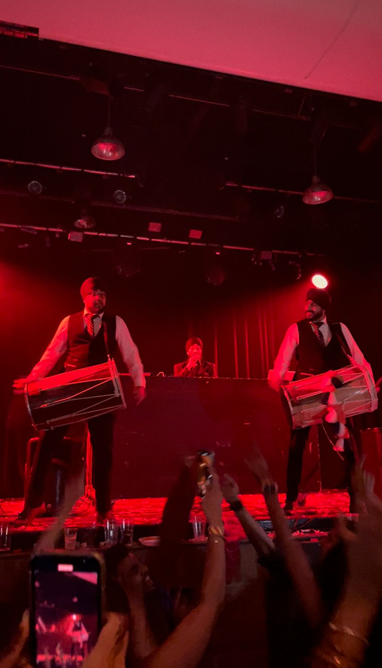 For a lot of us Indians, this was our moment to share, live and celebrate our culture with our friends on campus. As the dance performances of the night gradually ended, there was a moment of reflection, of nostalgia of missing home amidst the loud thumping of the dhol (Pictured here: dhol performance at the LBS Diwali Ball '21 as captured by Adhiraj Chand – MBA'23). For most of us LBS students, home can mean a lot of things. For me, home was always New Delhi, India and then New York during my later years. I've often felt that I lived in a grey area with my identity, having such strong memories of India but having my formative years in New York; both such culturally diverse places.
Your identity creates your competitive advantage
For a lot of Indians, we value education and discipline in one parallel. We value the nuclear family and communal development in another parallel. We value relationships and the importance of globalization in another parallel. Most importantly, we value staying true to our cultural identity and sharing those values with those around us. At the ball it was amazing to see the amalgamation of the values of the Indian diaspora. A student's mum from New Delhi had hand-picked Indian outfits for friends from Switzerland, Lebanon, Colombia and Peru. An Indian Sikh from Thailand taught bhangra to people from Argentina and Ecuador. Another Indian taught a Dutch-Californian how to drape a sari in the proper traditional way.
Your life experiences define who you are
Having an insight into how your experience makes you who you are can be the most rewarding journey. There is no better place to nurture that than at LBS. I've found that your life experiences before business school will directly impact how you react to different situations whilst at business school, and how you approach challenges. My early experiences in business highlighted to me what I wanted to change and helped me learn what I'm good at. I pride myself on being able to adapt to whatever situation I'm presented with and the people I'm around.
Stay true to yourself
Studying at LBS challenges you to think and perform tasks outside of your comfort zone. Whilst it's good to adopt new skills it's important to stay true to who you are. After the initial excitement at the beginning of my MBA, I was able to fully grasp what matters to me and what I can bring not only to the business world but also to the relationships in my life.
If you've made it until here, here is where I'll end. A changing workforce of the next two decades will heavily be reliant on the soft skills that differentiate us. As societies, innovators and optimists continually look to decentralize the access to information and education, our competitive advantage will be driven by what we can offer as humans and not as data-centric robots. Continue to have fun and enjoy the ride ?