by Chris Link, MBA 2019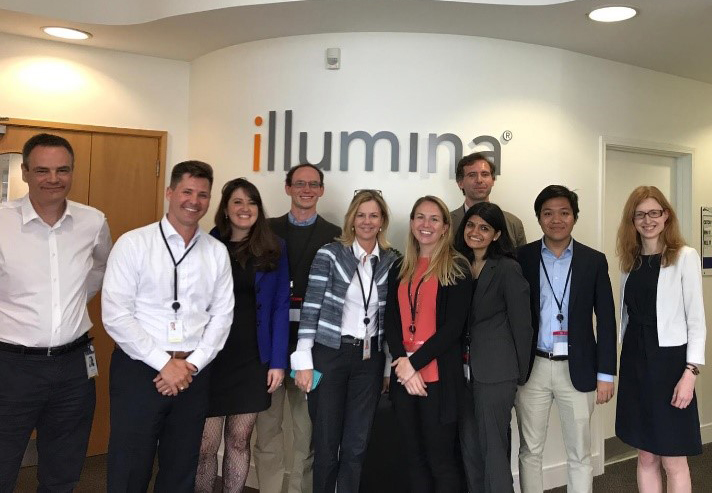 When I first signed up for LondonCAP, I wasn't sure what to expect. I was otherwise focused on determining my internship plans for the summer. I had worked in consulting before the MBA and participated in two Impact Consulting club projects with my peers at LBS. I reasoned this experience wouldn't be too different – except I would receive academic credit. My experience ended up being far more than what I had bargained for.
I was first impressed by our team. Our LBS team included three consultants (Lavanya Bhamidipati, Emma Rovit & myself), a tech enthusiast (Nate Younghom), and a PhD Cancer Researcher who had used Illumina's instruments before (Fabio Pucci). I met our primary client contact, Crystal Ruff, a former LBS Healthcare Club President (LBS MBA 2016), the evening of the LBS Healthcare Conference which I was helping lead. We had a video conference kick-off with Crystal (EMEA Lead, Strategic Initiatives & Innovation), Nate Mayfield (EMEA Commercial Operations Director & Global EMBA CBS & LBS 2018) and Andrew Alston (Senior EMEA Sales Director). Besides our usual agenda points of project objectives and timeline, Nate ensured each of us discussed our own personal objectives for the project.
Soon after our kick-off, we were invited for a full day introduction to Illumina at their campus near Cambridge. We started with a tour of Illumina's impressive new facility set to open the end of 2018. Then we were given a biology refresher before extracting the DNA of a strawberry using salt, soap and a little rubbing alcohol. Finally, we were able to see the futuristic machines that could pull together the C, G, A & T's of a DNA sequence from colourful light flashes. Before returning to London, we discussed the initial internet desk research we had conducted and our immediate next steps.
In the subsequent weeks, we interviewed dozens of Illumina experts to understand how Illumina could partner with more distributors. Any evaluation framework had to be flexible enough to evaluate partners for customers as diverse as veterinary service providers, health authorities researching antibiotic-resistant bacteria and doctors treating cancer patients. To test our final evaluation criterion, we each chose one potential partner to evaluate in our framework. We then brought the results back for a debrief with everyone we had interviewed for final tweaks. With this feedback incorporated, we travelled north again to Cambridge for a final presentation to SVP & EMEA General Manager, Paula Dowdy.
Throughout the project, I was impressed by the passion, brilliance and humility of Illumina's employees. The company also beamed with optimism about what the future could hold. Illumina had driven down the cost of sequencing a single genome from billions of dollars to under $1000. Combined with advances in data storage and artificial intelligence, there was a huge potential to improve human health and understand life more broadly. I sensed that Illumina was a place where I could grow and contribute. So before our final project, I approached Crystal and asked if there were an opportunity to continue working with Illumina over the summer.
I continued my great experience with Illumina through a summer internship. I leveraged my previous consulting experience to develop a pilot customer segmentation and workload model in one sales district. After reviewing with senior leadership, we quickly worked to extend the model to the rest of EMEA iterating the model as we received more feedback. I've continued working part-time at Illumina to help implement our model recommendations for 2019 & beyond. Throughout my time at Illumina, I have continued to benefit from my manager's customised approach – Nate arranged opportunities for me to chat one on one with all of the EMEA senior leadership. In reflecting back, LondonCAP was a wonderful introduction to a great company and team!