by Domitille Bret, MiM2019, & Sebastian Sackmann, MiM2019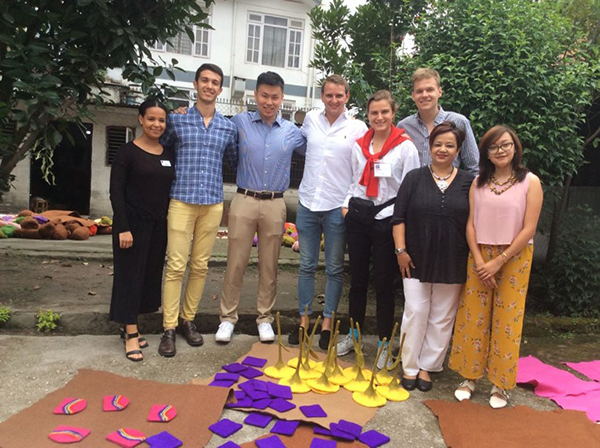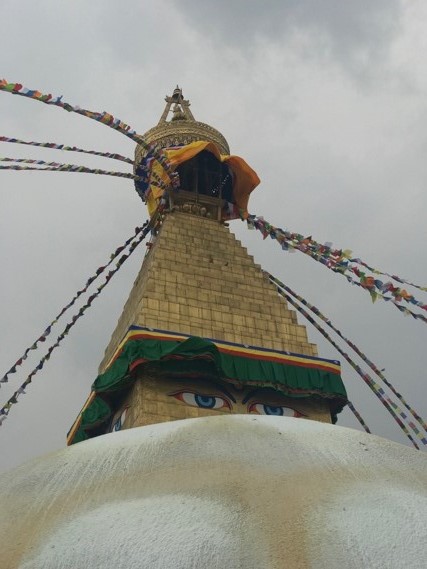 What do you associate with Nepal? Mount Everest? Sherpas? Earthquakes? Gender inequality? These are what came to our minds before having spent a week working closely with a local business, meeting some of the country's most influential leaders and exploring mysterious and astonishing places.
Looking back, we can truly say this: Nepal is so much more than you may have imagined!
The Project (by Domitille)
May 2019. A tight group of MiMs and MFAs were heading to Kathmandu, Nepal, for the first Global Immersion Field Trip (GIFT) ever conducted in this sandwich country located between China and India.
We had chosen this destination primarily for its focus on social impact. Personally, I was particularly interested in helping Nepali women in their daily lives. Prior to applying to the GIFT, I had read an article from the Guardian which shed the light on some of the darkest and oldest traditions of the country: on their period, women are obligated to leave their homes for the entire duration of their menstrual cycle, and they have to remain in wooden shelters without access to water and electricity.
Given the breadth of projects available, you can only imagine how happy I was to have been allocated to a handicraft company called "Friends Handicraft – Nirjala Craft". They had the sole purpose of empowering Nepali women to occupy a place within society, and ultimately help them exist outside of their respective kitchens.
Throughout the days, we got to know Nirjala and her daughter Lubinha on a personal level. We visited their workshops, spoke to their workers and realised the value of their enterprise. Our client Nirjala was a middle-aged Nepali entrepreneur who had won the Surya Nepal Asha Social Entrepreneurship Award in 2013, and was committed to improving the communities around her. Communication went through her daughter, whose English helped us ensure we were understanding the business and challenges at stake.
Our goal for the week: to propose a go-to-market strategy and increase the number of sales the firm was securing. To do so, not only did we engage with the entrepreneur to understand her side of the business, but we also had to grasp the social context of the country and the relationships between manufacturers. Over there, we found that rules are made and easily broken.
The Company Visits & Guest Speakers (by Sebastian)
Nepal is a small country with only 30 million inhabitants and a history that is shaped by internal political tensions and its location between China and India – the tectonic shift of the Indo-Australian plate into the Eurasian one led to the disastrous earthquakes in 2015. This event, which made a poor country even poorer, was mentioned by each of our guest speakers and considered a turning point from an economic perspective – after 2015, the need for social impact work in Nepal got even higher. However, based on our guest speakers' collective understanding "social impact" does not mean to collect donations or organise charity events but to drive the independent and sustainable development of Nepal by building up businesses, creating jobs and income, incentivising young and well-educated workers to stay in or return to Nepal and thus ultimately create economic growth and prosperity. While this might sound logical, we were lucky enough to meet some of Nepal's leading business men and therefore learnt more about the challenges that came along with these ambitious goals.
For example, on the first day of the GIFT, Mr Willem Grimminck, Chairman and Managing Director at "One To Watch" shared his experiences of building up one of Nepal's first Venture Capital funds that invests in the "Missing Middle" – companies that are too big for micro-credits but do not have collateral for banks and are too risky for larger funds. Besides giving insights into the challenges of due diligences in an environment where few data is available, he shared his personal journey and motivation to move from the Netherlands to Nepal.
Building up on that experience, Mr Tim Gocher was the perfect fit as a guest speaker for the second day. As the founder and CEO of Dolma Impact Fund, the first international Private Equity fund for Nepal, he described the challenges that came along with the later stage of the investment cycle and focused particularly on political hurdles to overcome (such as nebulous restrictions on FDIs).
On day 3, we headed out to explore the corporate landscape of Nepal. First stop was the headquarter of Unilever Nepal, where we got to attend a presentation about the market entry strategy of the multi-national group via localisation (in contrast to e.g. P&G).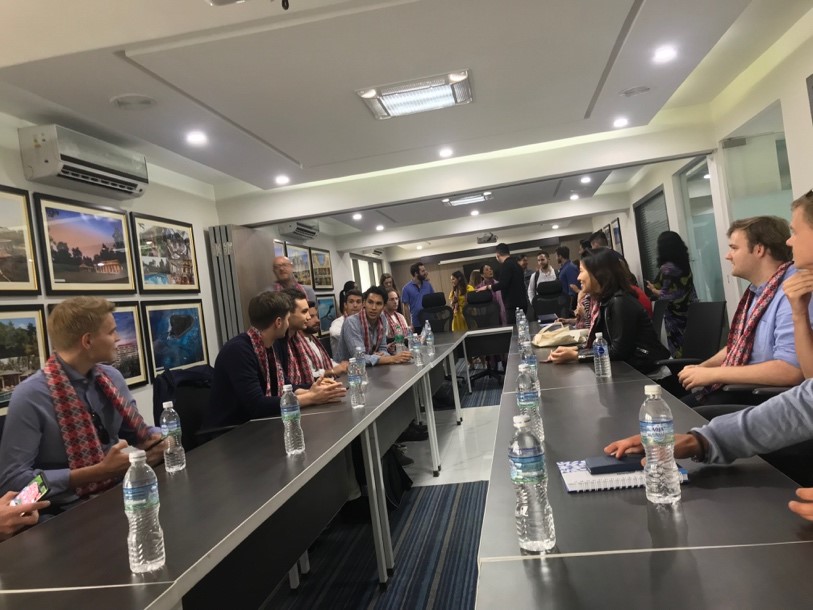 The highlight of the day was, however, undoubtedly the visit of Chaudhary Group (CG). Barely known by any of us before, CG is Nepal's first multinational conglomerate combining more than 100 companies active in tourism (hotels), education (schools), banking (some of Nepal's largest banks), F&B (Wai Wai instant noodles) and others. Its President and Chairman, Mr Binod Chaudhary, is Nepal's first billionaire and the first to make it on the Forbes list.
Despite CG's success, our visit was seen as a major event by the company's management. The ceremony started after entering the headquarter, when a scarf was hung around each of our necks as a present. After being placed around a huge table in a central meeting room, Mr Nirvana Chaudhary, son of the Chairman and Managing Director of CG (and most importantly an LBS alumnus, who has visited courses of Prof. Merson), entered the room with his entourage – including the CEO of Nepal's largest commercial bank. What followed were two of the most inspiring speeches I had ever heard! Not only did Nirvana and the bank's CEO share their personal life stories, but they also gave deep insights into their vision of Nepal as a country that takes challenges as opportunities rather than discouragement and their approach to building up leading companies. One could truly feel how important it is for both of them to encourage people to come to Nepal and spread the opportunities that this country offers around the world. Last but not least, we were spontaneously invited for a lunch at the roof terrace with a view all over Kathmandu (and the super fancy private office of Nirvana). A truly lasting experience (not only due to the fact that the whole visit was filmed by a camera team of CG)!
To summarise: The guest speakers and company visits allowed us to get deep insights into the structural and day-to-day problems of shaping the economy of an emerging country. Most importantly, however, I feel like we gained some valuable contacts in case any of us considers doing business in or with Nepal.
Thank you's (by Domitille & Sebastian)
A massive thank you to Julia, Olivia & Gareth, Professor Merson and all of the organisers for having pulled together such an amazing event. We were really impressed by how smoothly everything worked out from daily transport to guest speakers, hotel, dinner and lunches.
Nepal has been an incredible experience and we are extremely grateful for having had the opportunity to grasp what the term 'emerging market' really means.
If you are ready to get out of your comfort zone and explore this hidden part of the world, this GIFT is the right one for you! Feel free to get in touch with us via:
Dbret.mim2019@london.edu
Ssackmann.mim2019@london.edu