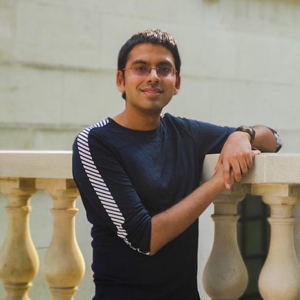 By Giri Kesavan (MBA2021). Giri is the Co-President of The Tech & Media Club at London Business School. An MBA2021 student, he also chairs the degree & careers wide Technology Sector Steering Committee, working with the school, faculty, industry, alumni and Careers Centre on Technology education & careers.
Giri works with The Wheeler Institute on content development, outreach and student-led collaborations. He is further involved with the school as an MBA Academic Representative and Peer Leader for Technology.
It's nearly Christmas! With the Autumn term complete and exams behind us – we're all looking forward to a bit of a break as MBA students, both in the first (MBA2022) and second (MBA2021) year. However, it's also a very busy time for a certain group of people at the school – our student ambassador cohort across MBA2021 and MBA2022!
The MBA application process is in itself quite a journey. From the GMAT to short-form questions, the essay and recommendations, prospective students have to spend a significant amount of time and energy on the entire process. Having gone through it myself, it's definitely mentally exhausting! What's interesting about the MBA application process is that you realise that each school is extremely unique.
The culture fit is of utmost importance and personally the key reason I picked LBS is because I fundamentally identified with the culture at the school.
But how can prospective students really understand the culture of the school? That's where our amazing cohort of student ambassadors come in. Each year the school selects about 40 students from the first year MBA pool to be MBA student ambassadors for London Business School. A two-year role, student ambassadors get involved in all aspects of recruitment and admissions. We run admissions events, have candid chats with students on life at LBS, answer any and all questions prospective students have about the school and really act as a first point of contact to interact with the school. We're here to give the unfiltered view on what we think of LBS, our experiences and our journey!
Our student ambassadors are selected to cover a broad range of nationalities, pre-MBA backgrounds, post-MBA goals and student involvement on campus. With this exceptional diversity – across our team of 97 ambassadors across MBA2021 and MBA2022, we can pretty much cover any angle and are always open and willing to share our experiences of LBS.
It's been a privilege being a student ambassador for LBS. Over the past year, it's been a fantastic experience getting to individually know 200+ applicants to LBS across MBA2022 and MBA2023 applicants – and it's very rewarding when those who you have interacted with receive offers at the school!
LBS is (to a much more surprising extent than is probably externally visible) fundamentally student-driven. Student impact is at the heart of our degree programmes and we love to give back to the school and ensure applicants have all the information and resources they need to take the next step in their careers with an MBA at LBS.
So, if you're interested in LBS, the MBA Programme or getting to know our school, feel free to reach out to myself or my fellow student ambassadors. We look forward to talking to you!