By Charlotte Tait, MiF Recruitment Manager
If you're considering our Masters in Finance programme (MiF), the most important thing to do before starting your application is research! You need to be sure this is the best programme for you, and your future career goals. We recognise there's a huge amount of information out there, so in this blog we'll condense your research for you, and give you a breakdown of our unique Masters in Finance programme.
What is the MiF?
Our London based Masters in Finance is a post experience programme. The programme is aimed exclusively at finance professionals with a minimum of 3 years post-graduation finance related work experience. The programme provides a rich and diverse learning experience, not just from our international world class faculty, but from your peers too. The programme focuses on finance and business from around the world. Our MiF is ranked #1 globally by the Financial Times, meaning you will leave with a strong international network of recognised finance professionals.
Full time or part time?
We have two programmes, a full time and a part time programme. Both programmes cover exactly the same content, the only difference is the structure and duration of the two programmes.
The full time programme is full time on our London Campus, and is completed in either 10 or 16 months.
The part time programme is designed for students who have full time finance careers. Lectures are held on Friday evenings and Saturday all day, every other week on our London Campus and the programme takes 22 months to complete.
What will I study?
Every MiF student studies 5 mandatory core courses. These core courses cover the fundamentals of finance, ensuring the whole class has a solid foundation in finance.
You can plan and tailor your learning to your career goals when selecting your electives. Students complete 8-11 electives, with over 59 different electives to choose from. You will study some of these electives with students from our other degree programmes, making it a great networking opportunity! There is also the option of 4 concentrations too.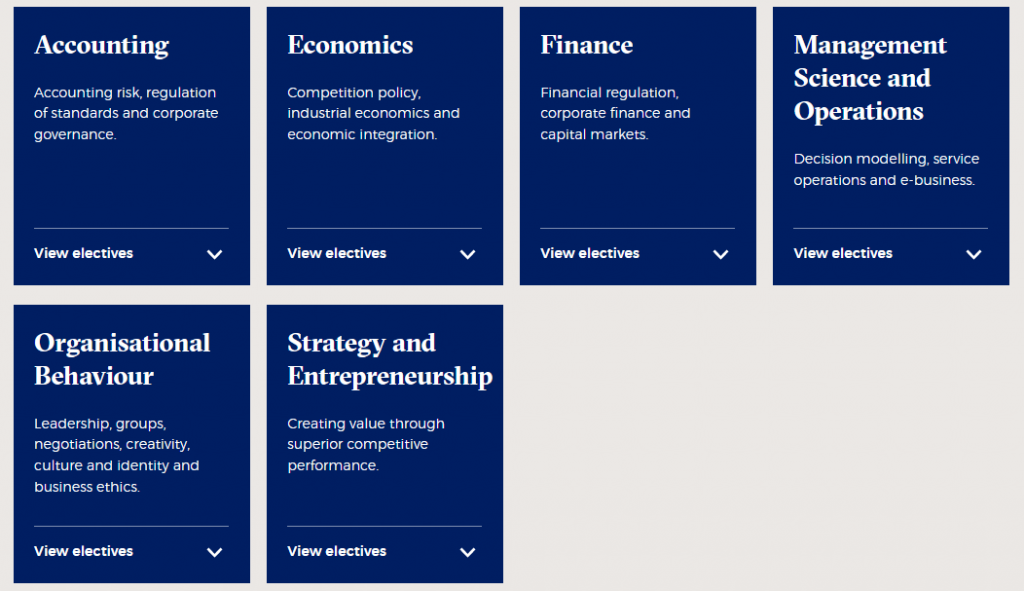 On top of your core courses and electives, students complete professional and leadership skills workshops and technical skills workshops, and our very popular practitioner courses, which are delivered by finance professionals.
Are there any international opportunities?
Yes! We offer a range of global experiences, for both our full time and part time students. One such experience is our full term exchange. MiF students can study at one of our partnership universities, in Europe or Asia for a full term. This opportunity can expand your network and allow you to take electives not offered by LBS. We also offer a block week exchange at Columbia Business School in New York. Everyone can apply for this opportunity and it's available throughout the year. Lastly, we have our Global Immersion Elective. This is where students visit major banking and asset management firms abroad. Go to the website to find out more about our international opportunities.
Are there any extracurricular activities?
There are over 75 student led clubs at LBS, with clubs ranging from professional and regional, to social and sports clubs. All clubs are cross programme allowing you the opportunity to socialise and connect with the whole student body. You can decide to be a member of one or more of these clubs, or you can become a student club leader. Some of our most popular clubs are Women in Business Club, Social Impact Club and our Foodie Club.

I hope this blog has given you a better understanding of MiF. If you're looking for a more detailed explanation of the programme listen to Maria, the Masters in Finance Senior Programme Manager's programme overview webinar. Or if you would like to hear from one of our current students or Alumni about their personal experience of MiF and School please feel free to reach out to them with any questions.
If this blog has inspired you to apply to our MiF programme please be aware of our upcoming deadlines:
MiF Full-time August 2022 intake
Round 5 final preferred deadline: Tuesday 26 April 2022
MiF Part-time August 2022 intake
Round 6 final preferred deadline: Tuesday 29 March 2022
If you have any questions or require further information, please contact us at mif@london.edu.