Giri Kesavan was part of the MBA2021 cohort. During his time at LBS, he was involved in every aspect of the student journey across Recruitment & Admissions, Degree Education, Experiential Learning & Student-Led activities. He was an Academic Rep for MBA2021, Co-President of The Tech & Media Club, an MBA Ambassador, a TEDx LBS speaker as well as an Alumni Representative for the MBA2021 class. Coming from an engineering & product background, he pioneered a new focus for the school on Technology, Media & Product careers, working closely with faculty, staff, alumni & industry. He continues to be heavily involved in Recruitment & Admissions for the MBA programme and all things tech at LBS.
The central element to my MBA journey at LBS was working across Recruitment & Admissions, Degree Education, Experiential Learning, Student-Led activities & Alumni/Advancement to build a new focus on Technology & Media Education and Careers. LBS isn't just about banking and consulting, but we're now extremely well positioned to power careers in technology, on a global scale. It's been an 18-month journey to get to this point, with 6 key moments!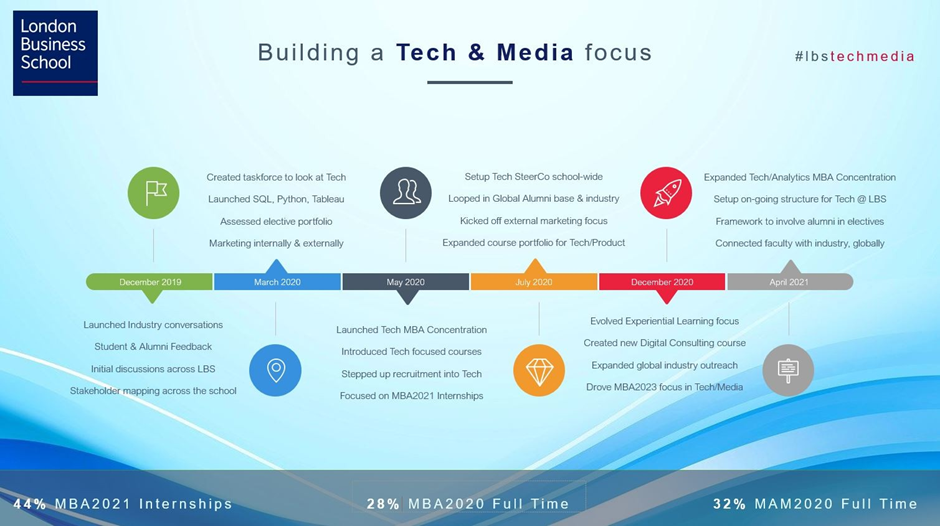 December 2019
It all started following on from our Dublin Technology Trek, chatting with David Morris, Head of Technology & Media Careers. David and I kicked off conversations around the gaps in the MBA programme related to Technology, as well as getting feedback from alumni and industry as to what was needed. We spent time mapping out the skillset that we needed to create in our students to truly drive careers in the sector.
March 2020
Leveraging my position as Co-President for The Tech & Media Club, we created a taskforce across the school to create initiatives that would directly cover Technology, Media & Product Management. Working horizontally across the school, we launched a drive towards data-fluency in the MBA. SQL, Python and Tableau were launched as part of Leadership Launch, embedding critical data skills into our MBA. We assessed the elective portfolio and outlined the key courses across faculty to develop, improve market school-wide, that would power tech careers.
May 2020
A critical month. Working with the school, for the first-time, we launched a new MBA degree concentration in Technology & Analytics. Covering a range of courses across Product, Fintech, Digital Marketing, Digital Strategy & Data Analysis, the Tech & Analytics MBA concentration opened up a suite of tech-focused electives to the student population – ensuring that our students were well equipped with the skills, experiences and network needed for careers in the Tech space.
July 2020
We truly kicked off the Tech & Media Club and elevated the club to be the cornerstone for all things Technology at LBS. Through conferences, events, international treks, mentorship, interview prep, deep dives, digital boot camps and more, we organised an array of amazing events throughout the academic year to immerse students into the tech sector.
December 2020
Leveraging the virtual context we were now in, we launched new courses and initiatives with a pure experiential & product focus. We brought back alumni from as far as San Francisco and embedded them virtually into our Product courses. We launched 'Digital for Impact' – an experiential course partnering students with companies in emerging markets, focused on digital consulting. With the Tech & Media Club – we also launched Projects at TMC, a way for students to gain practical product management exposure through key projects.
April 2021
Looking towards the future, we setup a Technology SteerCo incorporating students, alumni, industry, faculty & Careers Centre to holistically drive the technology agenda at the school. We meet monthly and look at the initiatives across the departments: Recruitment & Admissions, Degree Education, Experiential Learning, Careers Centre, Student-Led, Alumni & Advancement.
It's been a fantastic learning experience for me personally to drive the conversation for Technology at LBS, and it's great to see that we're no longer just a banking and consulting school, but our students are well-equipped to succeed in technology & media, on a global scale. In the last year, nearly half the MBA2021 cohort completed summer internships in tech, and nearly 30% of full time roles in the MBA2020 cohort were in the tech space.
This is just the start. Tech at LBS has been transformed over the past 18 months, and we're working collaboratively across the school to pioneer a focus on Technology, that opens up exciting new opportunities for our students.