By Kanaka Babshet, MBA2024
Hey there, folks! I'm here to tell you about some of the wonderful clubs at London Business School.
Trust me when I say that LBS clubs do not entail your average extracurricular activities; they are an integral part of the LBS experience and offer an incredible way to get involved in the school community and beyond.
Firstly, let's talk about the clubs' diversity. LBS has over 80 clubs catering to professional, social, and cultural interests and covering a plethora of backgrounds and hobbies. From the Entrepreneurship Club to the Acting & Comedy Club, from the Geopolitics & Business Society to the Wine & Spirits Club – there is something for everyone.
One of the best things about the LBS club ecosystem is that you can take on ExCo roles to develop your leadership and organisational skills, work on event planning, network with industry professionals and really just organise cool things for your peers. As an ExCo member in the Product team of the Tech and Media Club (TMC), I've helped organise several talks featuring speakers from various tech scale-ups, helping students that are looking to pivot into product roles. But we're not just about talks in the TMC. Recently, we organised ProductX: a four-week series covering crucial steps from ideation to execution in product management. We ended the series with an interactive mock interview between a Product Leader and a Product Manager at Meta (both LBS alumni). Oh, another one of the best things about the LBS clubs by the way – the alumni stay connected and generally love an opportunity to come back and talk about their experiences.
You may also have a passion for empowering, and working with, your peers from minority backgrounds. As the Professional Development team in the Women in Business (WiB) Club, we also organise company presentations and skills workshops for women from technical and diversified careers. Our aim is to connect women that can truly help each other and enable them to break down barriers to land the jobs they want and deserve, even if in a non-traditional background.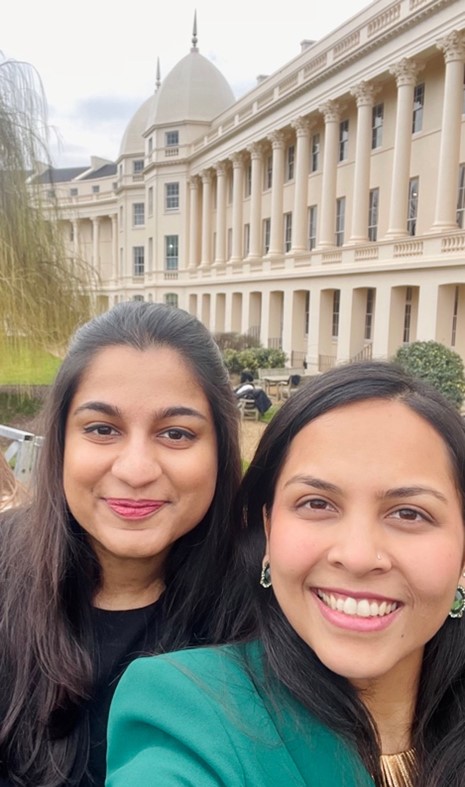 But LBS isn't just about work. I also play in the LBS Women's Touch Rugby team. Now, I know you may be thinking, "Touch Rugby? Is that a real sport?" but let me tell you, we take it seriously. We have our own songs and nicknames, and we can't forget about the post-game fines! It's a great way to unwind and bond with some very fit LBS women.

Speaking of bonding, the regional clubs also organise some very exciting trips and cultural events. As an Indian-born, South African-raised person, these clubs have been a fantastic way for me to feel connected with my roots, while learning about other cultures and meeting incredible people. You can dance the night away at the India Club's annual Diwali ball and join a HOST of international treks – I am personally currently planning to join the Jordan trek with the Middle East Club and even considering organising a Namibia and South Africa trek with the Africa Club.
Overall, getting involved in clubs at LBS is an absolute must. Not only do they provide valuable learning experiences, but they also help you build relationships with people across the school (outside your designated class) and form a community. And let's face it, after hours of studying and working on assignments, it's great to have a group of people to decompress with over a pint (or two).
So, immerse yourself in the ecosystem. You never know what talents and interests you might discover, and who knows, you might end up loving Touch Rugby, discovering a new city, or dancing away to foreign-language tunes!
For further information on London Business School's student clubs, please click here.