By Giri Kesavan (MBA2021)
Giri is the Co-President of The Tech & Media Club at London Business School. An MBA2021 student, he also chairs the degree & careers wide Technology Sector Steering Committee, working with the school, faculty, industry, alumni and Careers Centre on Technology education & careers. Giri works with The Wheeler Institute on content development, outreach and student-led collaborations. He is further involved with the school as an MBA Academic Representative and Peer Leader for Technology.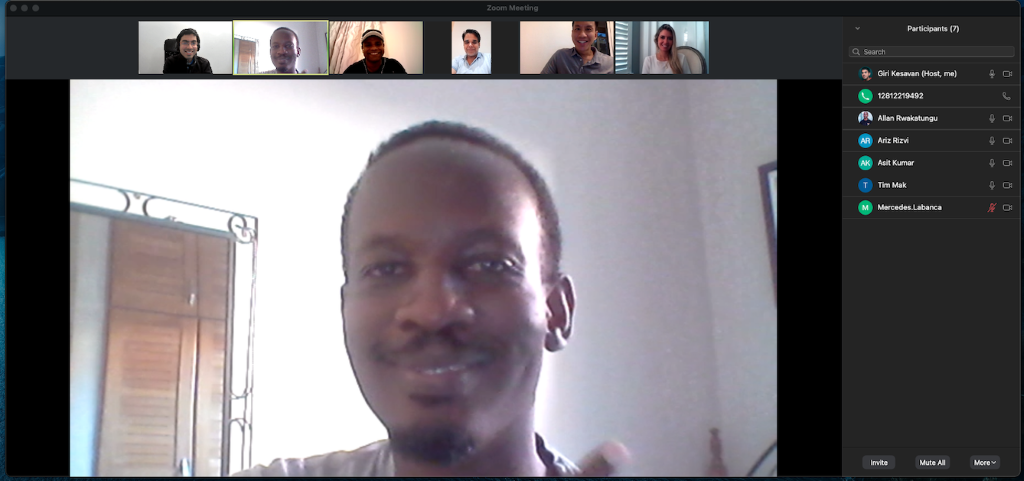 Experiential learning has played a key role in my time at London Business School. Bringing the knowledge that we learn in the classroom to an industry context, from London across the world. The move towards virtual learning has opened up new opportunities for students to interact globally at LBS. This Autumn, I'm part of a new and exciting pilot course by Experiential Learning called 'Digital for Impact,' focusing on remote consulting in emerging economies.
Student teams from across the school have been paired with a variety of small & medium sized businesses across Uganda, Rwanda, Ghana and Nigeria. Over the next few months, we're going to be looking at how technology can help transform these businesses in emerging economies by acting as remote consultants, and utilising our skills to advise, mentor and help businesses to create lasting impact.
One of the unique aspects about this course at LBS is that it brings together students from multiple degree programmes and backgrounds to work together in cross-functional, global teams. In our team, I'm working with classmates across the EMBA (Columbia), EMBA (HKU), EMBA (Dubai) and Sloan leadership programmes. Indeed, a lot of our initial discussion in this first week has been completely off topic – learning about each other's backgrounds and understanding the unique skills and qualities we can bring to the team. With peer learning being such a focus at the school, we've had a great time interacting, not only across the MBA, but across degree programmes. This course has provided a unique way of networking across the School even whilst face-to-face meetings are not possible.
We kicked off Digital for Impact this week with an introduction from Rajesh Chandy & Costas Markides. While all MBA courses at LBS are steeped with industry – this slide particularly stood out to me:

With ambiguous experiences, an evolving problem statement and learning that is grounded on transformation, rather than transmission of knowledge – it was a very different start to any other course we've had at LBS! Indeed, we need to start with that most basic question: 'So…what exactly is the problem?'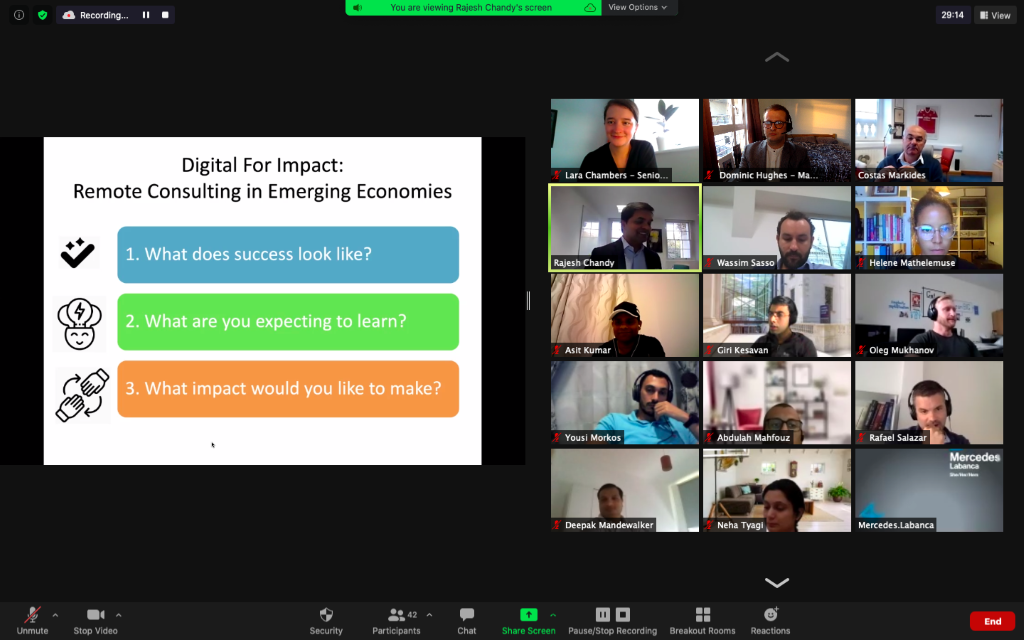 Our particular team is going to be working with Xente, a Ugandan fintech offering a one-stop mobile shopping experience, enabling customers to pay bills & fees, book events and transportation tickets as well as providing an e-commerce platform for buying and selling of goods. What struck me is how excited the organisation is to work with us! They can't wait to talk to us…and we can't wait to talk to them.
The fun part about experiential learning is always how excited everyone is to interact across countries, across timezones, across functions and across the school. From informal catch ups with Rajesh & Costas over the course of the week, check-ins with the Experiential Learning team, informal conversations with Xente to get to know each other and build trust – this course is creating a great community that can truly transform business!
Looking forward to sharing my experiences over the next 10 weeks in this new weekly blog series about Experiential Learning at London Business School!
Read about week 2 of the course here.