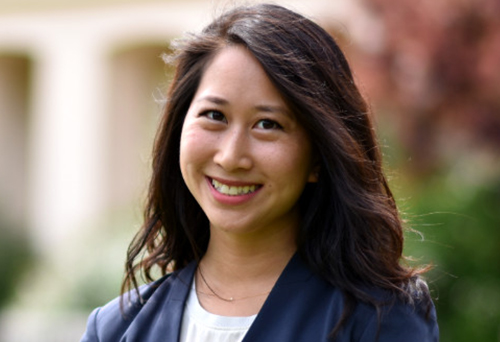 MBA2019 Ellen Hsu transitioned from managing clinical trials in the US to taking on the role of Product Lead at Sky. Her experience illustrates the highs and lows of direct hiring, how to keep yourself motivated and how to make a pharmaceutical background relevant to the UK's largest pay-TV broadcaster.
What were you doing (and where) before you came to LBS?
I was living in San Francisco and working for a pharmaceutical company, managing data for clinical trials. My role was a mix of data management, project management, and product management.
Why did you choose to undertake your programme at LBS? What was your motivation?
I wanted to explore other roles and industries that I might be interested in, and I wanted to learn business basics so I could understand companies on a broader level. I chose LBS because I wanted a truly international experience and perspective, and because London is a great place to live!
Where are you now?
I'm a product lead at Sky, working on their TV platform customer engagement and experience across devices. I own specific feature updates and make sure that the features are easy to use and help people find what they want to watch. I work with lots of people across the business, including designers, engineers, business strategists, and people who look after the content we provide like TV shows and movies. I love that my days involve talking to all these people from different departments and coming together to help figure out how we can improve the product experience for millions of customers. It's the perfect combination of technical product focus and broader business strategy for me. I watch a lot of TV but never dreamed that I'd be doing it for my job.
What specific events/services/activities in your time at LBS helped you get there?
The Direct Hire Coaching Program specifically was super helpful for me since I was doing unstructured recruiting for my full time job. I hadn't done a lot of recruiting before the MBA, so I didn't really know where to start or what to do, plus I was really nervous about reaching out to people cold and being a nuisance. The DHCP assigned me a Career Centre coach and put me in touch with other MBAs who were also navigating unstructured recruiting. My coach really helped me structure my approach and provided specific feedback while the other MBAs shared really useful ideas about where to look and things I could try. They helped me overcome my mental blocks and start trying different ways of managing the process.
What skills did you have from your previous career that were applicable to your new role? How did you make those transferable skills clear to employers?
I did have some product management experience in my previous job but since pharma is such a specific industry and has lots of jargon, it was challenging to translate my experience into language that would be easily understood by recruiters at tech companies. I made sure to listen to lots of product podcasts and speak to lots of product managers to learn their language and understand the challenges they face. I had friends and my DHCP career coach review my CV to make sure it was representing my skills clearly. I also practiced my personal pitch of why I wanted to be a product manager with product manager friends and friends who are in the tech industry to make sure it was clear and demonstrated that I had a clear understanding of product. Ultimately I found it easiest to explain my skills and how they could translate into another industry when I was able to have a conversation face to face with someone from the company, which is when I started trying to meet as many people in person as I could.
What challenges or setbacks did you experience in transitioning from a specialist career? How did you overcome them?
At first, I was just applying online by dropping CVs on companies' online job sites and was getting absolutely nowhere. I also had some friends drop my CV for me as referrals and was still not even getting phone-screened. I think even after adapting my CV to have more tech and product emphasis, recruiters screening CVs probably still had a hard time understanding what I could offer. It wasn't until I started really reaching out to people and taking advantage of the fantastic LBS network that I started gaining traction. I spoke with so many kind alumni who were willing to have a chat and help me learn about their companies, with some even offering to refer me for positions. I actually found my current job from attending Silicon Milkroundabout and having a really great conversation with a head of product at Sky, connecting with her on LinkedIn, and then messaging her when she posted a job opening. I report directly to her now and I couldn't have asked for a better team or manager. I would never have had the confidence or tact to reach out to almost a complete stranger for a job without the encouragement and support I received from the LBS community.
One piece of advice for students looking to emulate your journey:
Use your network and don't be afraid to ask for help! As long as you're respectful and make it clear what you're hoping to learn from the conversation, most people are happy to at least have a coffee chat. It's easy to get discouraged during recruiting and some of the chats may still lead to dead ends, but you never know if the next person you speak to will be the one to help you get your job.