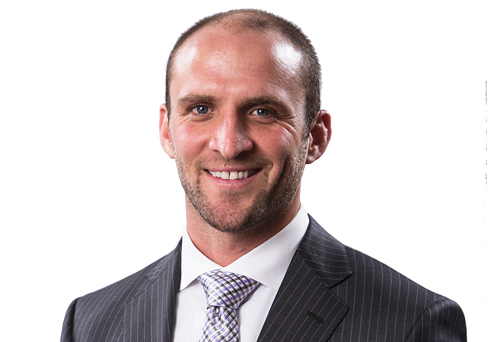 Matthew Wartenbe (MBA2015) was in the US Marine Corps for twelve years, before leaving the service to explore his options in the business world with an MBA. After two years at BCG in London, Matthew returned to the US and now manages a team doing Strategy and Operations for logistics start-up Convoy.
What were you doing (and where) before you came to LBS?
I spent close to twelve years in the US Marines – the first half of that was as an enlisted infantryman, which is what people typically imagine when they think of what Marines do. I was then selected for a commission as an officer, so I spent the second half as a human intelligence and counter-intelligence officer. What that involves is gathering information from human sources that will reduce uncertainty on the battlefield – I was based on the East and West coast of the US, as well as Iraq and Afghanistan, the Republic of Georgia and some parts of Europe. I also spent several years of that advising foreign militaries as well.
Why did you choose to undertake your programme at LBS? What was your motivation?
I'd been selected for a programme in the Marine Corps that would have been an eight year obligation, taking me all the way to retirement. I felt that it would have been just a bit too comfortable; I knew pretty much exactly what I was going to be doing, how much money I'd be earning. I wanted to explore what else was out there and expose myself to a bit more risk in a career sense; there ended up being so much I didn't know I didn't know, and even between my admissions essay and arriving I'd changed my mind! I looked at numerous programmes, I was debating staying within the national security and international relations space, or transitioning into business. Business school would give me two years to really figure out what opportunities were out there.
I really wanted more of an international experience, as I'd enjoyed my time travelling and working with foreign military. I applied to two US Schools and two European Schools, and when I received my acceptance letters the other Schools said I'd need to pay X fee, whereas LBS said 'Congratulations – here's current students, alumni, your fellow admits – feel free to reach out to them' and I felt I was really building a community from the start. It was actually an easy choice. I expected to meet interesting people but I underestimated the value of this network globally.
Where are you now?
I went to BCG after graduating; I decided to go into consulting because I saw it as the next step to translate my military skills into the business world. They're all about problem solving and a lot of the larger firms have an existing understanding of how military backgrounds translate and they already value the diversity you bring. Consulting also allowed me to carry on exploring industries and functions I was interested in. I did feel consultants didn't have the same 'skin in the game' as their clients, and when I was in the military, we always assumed the same risks as the people we were advising, so after two years I decided to move on to a role more involved with the operational side, rather than advising. BCG gave me a great opportunity to translate my skills and understand business problems, but I wanted to see how to execute those solutions.
I moved back to the US, took a role with LinkedIn which wasn't really planned, but I was still looking for a supply chain, analytics, logistics kind of role. I explored start-ups in that space, which brought me to Convoy, my current company. It's a start-up digital marketplace within the freight industry; we match companies who need to move full trucks of freight with small trucking companies who can fulfil those shipments, and for me I enjoy the challenge of moving tangible things around the world, as opposed to just numbers on a spreadsheet.
What specific events/services/activities in your time at LBS helped you get there?
Career Centre does a really good job of making opportunities available to students, which is exactly what they should do. Sometimes the expectation is that Careers provides you with a job but it's important for students to understand that they'll help you and make it a level playing field, but they won't get you the job! I have to say, my classmates were such a fantastic resource in terms of converting those opportunities into actual job offers. Practicing cases with students who had done consulting before was really helpful, reviewing each other's CVs and cover letters, sharing opportunities.
What I do think I should have done more of is speak to the wider alumni community – I only really contacted people who were current students. The alumni network here is hugely valuable and any time I've reached out to alumni since I've left LBS, they've been more than happy to have a conversation. Most people from my class make the effort to do the same now. I missed out on a summer internship in consulting and I didn't do a good job of focusing my efforts then; I think it would have been a much better use of my time to talk with alumni at that point to work out what my options were.
What skills did you have from your previous career that were applicable to your new role? How did you make those transferable skills clear to employers?
There are two things that stand out; the military puts a lot of investment into building leaders, and the framework used to establish an end goal and work in a team was really easy to translate. I had a lot of experience of goal-setting and assigning parts to my team, making sure they're all pointing in the right direction and have an understanding of the shared goal. It also incentivizes people to solve the problem themselves. I would also say being able to deal with risk; mitigate it and being comfortable operating in high-risk environments was something employers really understood too.
However, I found that if you have an interesting background, don't shy away from that. People are fascinated – you don't have to translate your experience to the point where it's no longer recognizable. Sometimes it can actually help you get in the door and stand out.
What challenges or setbacks did you experience in transitioning from a specialist career? How did you overcome them?
I think people coming from specialist careers, particularly the military, often struggle when it comes to negotiating salaries. Military salaries are published, anyone can find them, and everyone earns the same. I think it's difficult to learn to push for yourself and understand that it's not about loyalty to a company, or country, or service. I was naïve on how to approach the salary discussion – I wasn't used to being aggressive, and being expected to push more than a few percent. Once you're in a company, it's much harder to change!
One piece of advice for students looking to emulate your journey:
I'd definitely reiterate not to feel bad about doing cold outreach to alumni, especially former military alumni from LBS. Don't be shy, even if it's just a conversation about general recruiting strategy. It'll be a far better use of your time than blindly applying for things.