By Olivia Sleet, Career Centre Researcher
Welcome to Entrepreneur Stories, a series in which we'll profile entrepreneurs to understand their journey, their business and how their time at LBS has equipped them for starting a business of their own. Their backgrounds, stories and challenges are all different – but the lessons they've learnt make for invaluable reading for any aspiring entrepreneur.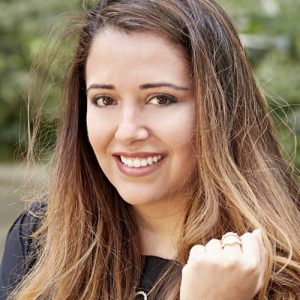 LBS MBA alum Laura Chavez spoke to us about her journey to creating her jewellery brand Lark & Berry, and what it takes to disrupt the diamond market.
Where were you/what were you doing before you came to LBS?
Before coming to London and LBS, I worked in hospitality, in the resort industry in Mexico. I later served in an advisory role to a board in that industry and ran my own restaurant in Argentina. I've lived in several places in the world. All my past experiences in prior schooling, business and travelling brought me to where I am today, having given me a very expanded worldview. I like to think I'm very open-minded!
Who or what prompted you to become an entrepreneur?
Since I was very young, I had an entrepreneurial spirit. At age 8, I had a candy stand outside my friend's house. In university, I launched the first social media network of our school, and I also opened a restaurant in a foreign country while living there for a few years.
My father is an excellent example of a true entrepreneur and is very inspiring; full of creative ideas and always working towards making them a reality.
So, when it comes to pinpointing what exactly prompted me to become an entrepreneur, I would say it's a mix of nature vs nurture. I saw the amazing feats one can accomplish and the lives one can positively impact while being an entrepreneur first-hand, and I felt joy and passion venturing out on my own to pursue my goals.
What were your first steps?
I think the first step is always just going for it. It's scary and the easiest way to an uncertain future, however it's incredibly rewarding once you are following a cause in which you truly believe.
After selling off the restaurant I had opened in Argentina (my first real business venture), I decided I needed to "re-boot" and find something I was truly passionate about doing next. I loved being a restauranteur, but I wanted to venture out and do something that would impact the world in a different and far-reaching, positive way. I didn't want to go back into the corporate world and wait for this idea to come to me, so I decided to apply to LBS to put myself in the middle of what I thought would be a flourishing environment full of brilliant, global people with different ideas and views on the world.
The LBS MBA environment exceeded all my expectations. I was delighted to often be presented with original perspectives to even the most basic concepts, which encouraged me to try new and different experiences, both in life and in business. I found my passion of jewellery re-igniting while in the program, and I decided to take a course. I had always loved diamond jewellery but had never really been an avid buyer—I'd always had hesitations regarding diamonds' controversial origins and their exorbitant prices.
During this course, I discovered we could now grow gem-quality diamonds. I learned that cultured diamonds (also known as lab grown) came with none of the negative aspects of mined diamonds. They were much less expensive, produced far less environmental harm and are always conflict-free. I was immediately captivated by this concept.
After researching, I was surprised that next to no one in the luxury jewellery realm had adopted cultured diamonds. There were a few small websites selling engagement rings and little else. I would ask people in my family, people at LBS and others about cultured diamonds and very few, if any, knew what these were—that 100% real diamonds could be grown. But I remember that everyone I told seemed to get really excited at the prospect.
I knew that was it. My business would be cultured diamonds fine jewellery. Customers needed to know that they now had an option when it came to diamonds. An option of an identical diamond without the need to mine, to displace land, to pollute underground water and to risk harming even a single person.  I knew the mining industry wouldn't take a liking to this. They have huge budgets for marketing and advertising—I knew it would be tough to compete. But I was ready to take anything that came my way. I thought, there's never been a time better now to do this. So, I immediately formed a small, but dedicated team and we set out to use creativity, social media and join this global movement seeking a more sustainable future.
What role did London Business School play in nurturing your entrepreneurial flair?
Besides teaching me all kinds of amazing fundamentals, it was great to meet so many aspiring entrepreneurs from all over the world with so many different experiences. And, of course, it was priceless to have access to some of the most prestigious professors and speakers from the world of business come through the university. LBS was like two straight years of non-stop inspiration!
What experience during your entrepreneurial journey to-date has taught you the most valuable lesson?
More than one experience, it has been an amalgamation of experiences that all lead to one lesson: Results take much longer to become evident versus all the work that goes into making them a reality. You must have that never-ending drive that is needed to succeed no matter how hard it gets.
Who has been the biggest influence to-date in your quest for entrepreneurship?
My father. He taught all of his children that whatever we do we must do full heartedly, honestly and with the potential to help the maximum number of people around us.
What's next for you?
In less than two years, Lark & Berry launched and has become the first designer jewellery brand in the world, plus the first brick and mortar in the world to offer fine jewellery with cultured diamonds and stones exclusively. There are always challenges to overcome, however since our launch in 2018, we have had amazing response from everyone that discovers us. We've been worn by celebrities at AMFAR, the Met Gala, the Tony's and the BFA's. We've been on many red carpets, to premieres and we've been worn by celebrities on TV many times. We were featured twice in the recently released 'Our Royal Baby' book, commemorating Meghan Markle and Prince Harry's courtship and the birth of their first baby. We've also won design awards in competitions.
But good as that stuff sounds, it's not enough for me! I want to keep making Lark & Berry live up to its press nickname, "Diamond Disruptors" and keep building this brand until we're a household name. And along the way, we'll keep helping to grow awareness of the importance of sustainability—not only in the jewellery sphere, but in every aspect of peoples' lives.
I believe the choices we make as people, now, will greatly impact the way in which we leave our planet for future generations to live in. And I believe keeping care for Earth doesn't mean we can't enjoy ourselves too. So, when we find retail options that are sustainable, like cultured diamonds which can now be grown with 100% renewable energy, we must go above and beyond to promote it!
One piece of advice for aspiring entrepreneurs
Not to repeat, and at the risk of sounding cliched—but just don't give up. Know that no matter how hard it gets, or how much everyone is looking at you like you're crazy—hard work, dedication and believing in what you're doing will pay off in the end.