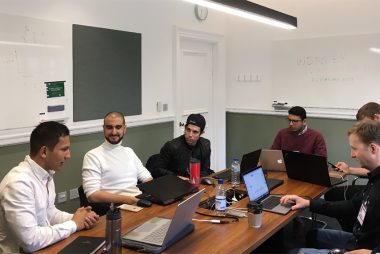 By Nikhil Garg, MBA2019
Coming into the MBA Class of 2019, I always knew I wanted to go down the entrepreneurship route. However, at that time, I didn't yet have an idea that I wanted to turn into a business. I hoped that over the course of the program, after taking classes such as Developing Entrepreneurial Opportunities and New Venture Development, I would be exposed to a number of viable business ideas that I could get off the ground. While these classes were definitely eye opening for me in terms of providing a toolkit for innovation, my eureka moment came over a meal with a friend in the MBA '20 class.
Over the course of our serendipitous meal, my co-founder and I found that there was a gap in the space of continuous learning. While online learning was easily accessible and cheap, it suffered from a lack of interactivity, which led to abysmal completion rates of many MOOCs, including those offered by prestigious institutions. On the other hand, private tutoring was too expensive, and out of reach for many, especially for those looking to upskill themselves on a student budget. We realized that there had to be a better way to help people learn new skills.
To brainstorm solutions and come up with an MVP, we decided to take part in the annual LBS hackathon. During this weekend sprint, we tested a proposition of peer to peer learning. In this model, talented students would coach their peers on specific skills. Classes would be held in small groups to ensure personalized attention and feedback, and also offer scalability in earnings for coaches. For our MVP, we prepared a PDF with some coach profiles and sent it out via email to the school on a Friday night. Within a few hours, 5% of the school had expressed interest in taking a class and were willing to pay for it! With this validation, we were ready to take the idea to the next stage of testing. We were also humbled to win the People's Choice award for best idea at the hackathon!
Moving forward, we set our sights on joining Launchpad, which is LBS' pre-accelerator program. Launchpad is organised by the entrepreneurship club, and it is designed to connect budding entrepreneurs with mentors. Over the course of 10 weeks, Launchpad also brings in tremendous speakers to help teams turn ideas into real ventures and best prepare them for their pitches to real VCs for funding. Fortunately, we were accepted into the program and benefited tremendously from the resources of the club and the guidance from mentors.
For example, during the first workshop held by BCG Digital Ventures, we learnt what it meant to be a "Lean Startup". At first, we were about to build an app and provide classes for all types of skills – from learning cooking and a new language to visualizing data with Tableau and knowing how to code. However, one of the mentors guided us that it was better to focus on one type of skill, expand with that to other schools to test the proposition and learn from that versus offering everything. This was probably the single-most useful advice we got and helped guide the company to where it is today.
We used our time in the Launchpad program to test classes with students across LBS, Imperial and UCL. Over the course of 2 months, we conducted over 50 classes and taught over 200 students on essential topics like Excel, Facebook Ads and Tableau. We received great feedback
(an NPS score of 85%) and used this as validation to develop our own booking platform for our future classes.
We are now live on our platform, called Wonder Learning. Our aim is to provide affordable, personalized learning of important digital skills for all students and young working adults and we are grateful for LBS for giving us the resources to validate our idea. You can find us at www.youwonder.co.uk