by Lorenzo Espinosa, MBA 2019
In line with London Business School's mission to have a profound impact on the way the world does business, one of the reasons why I joined this school was the opportunity to solve real business problems whilst pursuing my MBA.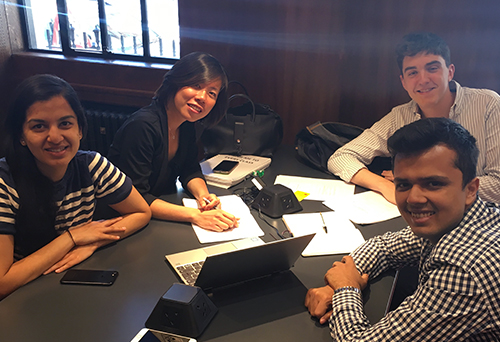 Among the plethora of options for experiential learning offered at LBS, LondonCAP is an excellent platform to apply the concepts learned in class while working with a London-based organisation. Over the course of four months, teams of MBA students work on strategic initiatives with companies in the financial, technology, retail and public sectors. This year, we had the pleasure of working with organisations such as the UK Cabinet Office, the European Space Agency, Google or Mulberry.
In my case, my team had the opportunity to devise the new commercial strategy for Pockit, an award-winning FinTech company focused on financial inclusion for the unbanked population. Collaborating closely with the VP of Business Development, our project was a top priority for Pockit and our contribution was critical to the future of the company. The importance of the project we handled speaks to the value of the LBS brand and the calibre of the students that it attracts.
Naturally, the project would not have been a success without a good team environment, which brings me to the highlight of my LondonCAP experience: the team. In this project, I joined three other MBA candidates: Grace Lin, Dhvanil Dharia and Tarini Nayak. I could not be happier with how well we worked together and what we were able to accomplish.
In Dhvanil´s words: "Lorenzo, Grace, Tarini and I were all from different streams. LondonCAP provided a great opportunity to meet and work with some batchmates who I would have at best met socially. We charted out our roles well and helped each other through the four months to deliver something we would be proud of. Despite all obstacles, our team dynamics and learning from each other made LondonCAP truly worth it."
Similarly, another aspect to highlight about LondonCAP is the chance to explore a new sector in a riskless environment. Many of us see the MBA as a chance to explore new industries or functions. For my team, working with Pockit allowed us to experience the world of FinTech startups and the challenges they need to solve.
In sum, there are several benefits in taking part in LondonCAP. Personally, I improved my consulting toolkit, gained valuable exposure to the FinTech ecosystem and built truly meaningful relationships with my teammates.
So, what will your takeaways be? Join LBS and fulfill your leadership potential.