By Giri Kesavan, MBA2021
Giri is the Co-President of The Tech & Media Club at London Business School. An MBA2021 student, he also chairs the degree & careers wide Technology Sector Steering Committee, working with the school, faculty, industry, alumni and Careers Centre on Technology education & careers. Over his time at LBS he has been interested in experiential learning at the school, including coordinating student-led physical and virtual treks to connect students to industry, from London to the world.
One of the key highlights of the MBA programme at London Business School is the Global Business Experience (GBE). A critical part of the programme, the GBE allows us to consolidate our MBA learnings from classroom to industry across a whole variety of international destinations. Despite COVID-19, the concept of experiential learning remained a key part of our degree programmes at LBS. Today was a particularly historic day, when we kicked off our first ever GBE in Tokyo, connecting LBS students to Japan.
LBS has a great network in Japan and an active Japanese alumni club as well as connections to several companies who sponsor LBS students – we will be hearing from many of these people throughout the week! The week aims to cover lots of topics – everything from Venture Capital to macroeconomic themes, right through to robotics and Japanese business culture.
Over the next 5 days, I'll be live blogging the key themes and learnings from our virtual visit to Japan! We kicked off this morning with an introduction to the Macroeconomic climate from our faculty for the GBE: Professor Linda Yueh. One of our professors of Economics, I actually listened to a fantastic speech by Linda at the very start of our MBA at LBS…all the way back in August 2019! Coming full circle, it was great to learn about some of the key themes of the week that we would be covering: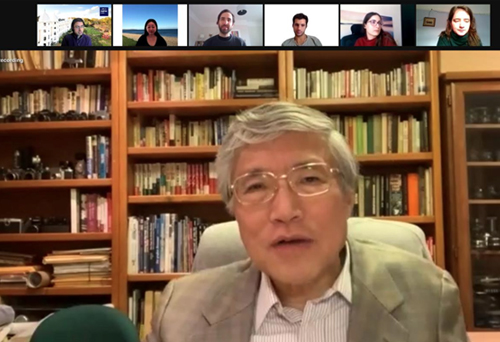 Economic Stagnation – What are the causes of the 'lost decade' for Japan?
What role(s) do Monetary Policy, Fiscal Policy and Structural Reforms play?
The importance of technology & robotics
Following on from Linda's intro, we were privileged to be joined by Richard Koo, The Chief Economist at Nomura. Pioneering the concept of Balance Sheet Recessions, Richard outlined how differing levels and attitudes towards spending and saving across key sectors (Government, Private Sector and Households) has critical implications towards economic health.
Indeed, for me this was rather a unique insight. We talked about how, with the private sector focusing on 'repairing' their balance sheet, there's a lack of investment, and governments essentially are forced into a role of 'borrower of last resort.' Paying down debt (it's usually a good thing right?) on the private sector can actually cause stagnation through reduced investment by businesses. It was great to start off with a key economic concept – something to bear in mind through the rest of the week as we interact across a multitude of companies across the region.
The next session was all about Sake! In a session by LBS alumni, we kicked off by learning all about Sake, it's cultural and economic importance to Japan, the export market and all about the industry. Always fantastic to connect with our recent Alumni and see the innovative new businesses that are emerging from LBS – in this case, The Sparkling Sake Brewery.
Our day closed off with a fantastic virtual city tour of Tokyo. Streamed live from Japan by Hidesada Shimazaki, we spent the afternoon taking in all the key sights of Tokyo. It's amazing how even in a virtual context, we're able to leverage global connectivity to feel as if we're in the region.
I hope you enjoy this blog series documenting LBS' first experiential learning course in Japan! See you tomorrow!