By Giri Kesavan, MBA2021
Giri is the Co-President of The Tech & Media Club at London Business School. An MBA2021 student, he also chairs the degree & careers wide Technology Sector Steering Committee, working with the school, faculty, industry, alumni and Careers Centre on Technology education & careers. Over his time at LBS he has been interested in experiential learning at the school, including coordinating student-led physical and virtual treks to connect students to industry, from London to the world.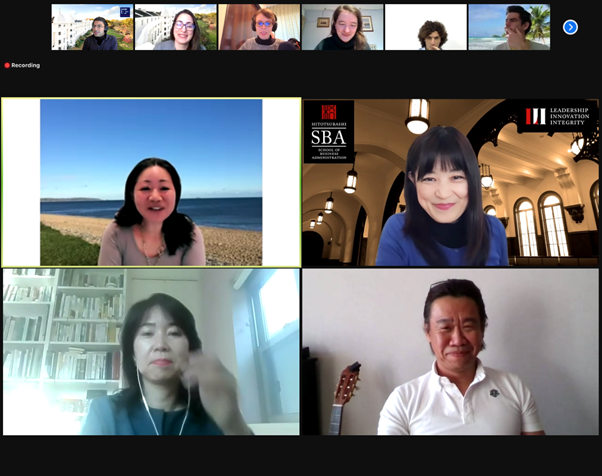 Our second day of the Tokyo GBE kicked off with a fantastic panel discussion on Doing Business in Japan, the role of women in Japanese society and the cultural changes when looking at business in Japan. We were joined by Leroy Yue (MBA1998), Dr Yumiko Oda and Sayuri Daimon. I thought the following key themes really provided food (yes…more on this later!) for thought:
Womenomics: Key challenges in Japan include incentivising women to return to the workforce and breaking the barrier to entry into senior management roles.
Being aware of unconscious bias especially when focusing on traditionally gender segregated roles. Japan is actively taking steps to eliminate bias – for example, the word for 'nurse' has changed from a female character to a gender-neutral character.
Robotics, such as the iRobot for automated cleaning, have cultural challenges to overcome in order to gain acceptance in the mass-market. There are cultural barriers to adoption as people feel that they are being 'lazy' in the household if they use robotics to help. It's always about a wider purpose rather than simply efficiency gains. Indeed, from a product marketing standpoint, it gave us insights into how to position products for acceptance by consumers.
In the afternoon, we then delved into the Financial Services industry in Japan, and was privileged to be joined by Mr. Shinsuke Toda, EMEA Head at Mizuho Bank. A broad ranging discussion on the financial services market in Japan, we spoke about how Japanese culture is very distinct in the industry. Mr Toda articulated how the core values at Mizuho drive a client-centric focus, building long term value as opposed to short-term gains. An LBS Alumni, Mr Toda talked about the key learnings from his time as LBS, in particular the interpersonal skills, multi-cultural and global network that we build during our degree programmes.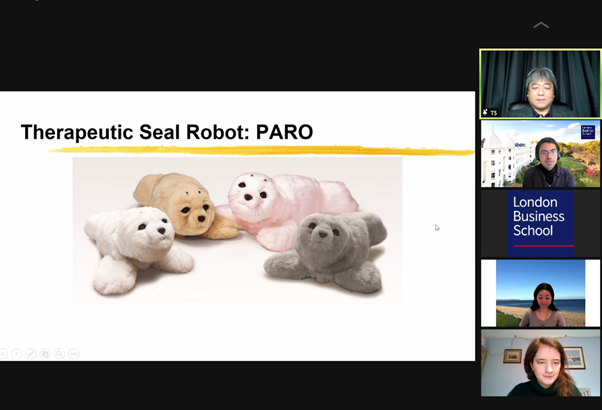 Today we also kicked off our business challenge for the week…presenting a go-to-market approach and solving key problems for a robotic seal. Yes…you read that correctly! We were joined today by the founder of Paro, a pioneering Japanese product, essentially a cute (and very fluffy!) robotic pet seal – focusing on assistive technology to provide companionship and therapeutic benefits to a range of end-users, most importantly for us including Japan's rapidly ageing population. It was inspiring to learn from the founder about how animal therapy has met with robotics to create an amazing and unique product. Much more to follow on Paro later on in the week…!
Wrapping up the day, we had a fantastic cultural session talking about food in Japan, covering key foods such as Wagashi, Sushi, Tempura, ramen and Wagyu. It's great that even in the virtual context, we're able to get the cultural elements of the experience embedded into the programme throughout the week. We all logged off Zoom for the day keen to cook (or order in!) some Japanese cuisine!

Missed the first entry in the Tokyo GBE series? You can catch-up here.