by Junji Okawa, MBA 2019
"It has been one of the most exciting and unforgettable experiences in my life." One indisputable fact about LBS is that you will often hear people say this.
Every student has his or her unique experience which makes their time here invaluable. I must say though from the inner lens looking at students' life, the truth is that nothing beats travelling around the world with dozens of your fellow classmates. I, along with 22 other organisers, had the privilege to take 143 of our students and partners to Japan this past April.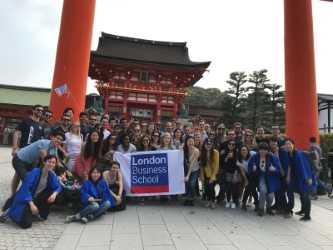 Our predecessors have built a firm reputation for the trek being considered one of the best treks at LBS. In order to meet high expectation, we approached in a way to provide various options for the participants to choose, categories ranging from day-trips, dining venues, cultural experiences to games and attractions. Just like in LBS, we wanted everyone to have his or her unique experience in our country.
On the first day at the hotel reception in Kyoto which was our meeting point, I felt enormous joy seeing my classmates, some who were visiting Japan for the first time and some who travelled more than 24 hours to get there. We started our first day with traditional Kyoto dinner cuisine and culture-show ending the night with the welcome night party. From then on, we travelled across Japan from Hiroshima, Nara, Arima, Kanazawa and Tokyo. Luck playing on our side, spectacular cherry blossom set the back-drop for many photos and selfies. We finished the trek with a cocktail party along the ocean and then cruising the Tokyo Bay with 143 LBS members.
What stood out for me through this experience was that it is "with who" that makes journey special more than the "where". Today I feel proud to be part of the 22 organisers who put the effort to make the trek a success, members I worked with for the last 6 months up until the end. As for the participants, it is a special feeling to see your friends appreciate some of what your country has to offer. The Japan Trek has also been an opportunity to meet incredible new people who I didn't know before.
I sincerely thank those who joined the trek in making my Japan Trek one of the most exciting and unforgettable experiences of my life.