by Joann Corcoran, MFA 2019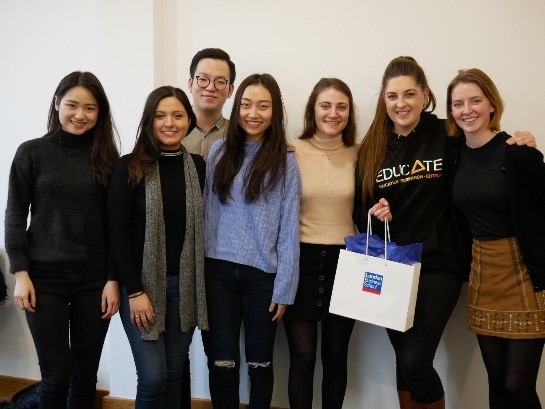 When applying to the Masters in Financial Analysis programme, I was promised hands on, experiential learning. The London Business Challenge Week is a highlight of the programme that did not disappoint. I was keen to put my acquired skills to good use to benefit a real-life company.
We had a list of exciting companies to choose from, from a range of sectors such as Asset Management, FinTech, Media or Real Estate. Some of the projects included M&A and strategic valuations, funding pitches or investment analyses.
The company I chose was Fineazy, an Ed-Tech venture currently in the LBS incubator, that has the goal of increasing financial literacy in Ghana and the rest of Africa. On the first day, I met my new teammates and we were briefed on the project by the founder of Fineazy, Monique Baars.
Our task for the week was to create an impact measurement model, to enable Fineazy to quantitatively measure how they are progressing financial literacy in communities in Ghana. This seemed pretty straightforward on paper, but when we started brainstorming we quickly realised this task was going to be a good challenge. The output was to enable Fineazy to make better internal decisions but also serve as a valuable tool for pitching to impact investors to raise funds in the future.
We got to demo the AI-powered chatbot, that uses bespoke content, storytelling and personalised learning to enable everyday people to make better and more confident financial decisions. Progress in financial literacy can have incredible impact on the overall economy in Ghana. Simple concepts that we take for granted such as having a savings account or compound interest are not a given there. These could enable more families to send their children to school and higher education. The impact for small businesses is huge also, to enable better credit scoring systems and financing options for them to thrive in an upcoming, vibrant economy.
We set out the objectives for each day of the week, to come up with an intuitive model that Fineazy could use in the future. We were provided with data from chat logs and our task was to transform this qualitative information into quantitative and representative data.
Not only did this involve excel modelling skills but also a thorough understanding of the business and the product. We dived deep into the meaning of financial knowledge, originating from demographic factors and the relationship with financial behaviour such as having a bank account, savings, budgeting or paying online. We then translated the progress in financial literacy as a function of basic financial knowledge, financial behaviour and 'spillover effect' within communities.
It was a great challenge, as it was completely different to what we see in our core finance classes. However, we did get to apply tools from our data analytics class from the first semester to mine the data and come up with the model. Another aspect that was crucial was to be able to explain clearly our model and have strong backup arguments for our equation. We presented to Monique on the Friday, explaining step by step how we came up with the model and how she and her team would be able to use this once they collected their own real data.
Overall, I really enjoyed working on this project as it gave me exposure to the 'start-up experience' and the concept of impact investing. Models like these are usually not a priority for early stage start-ups as founders are obviously busy with other things – such as building their company – but it is a valuable tool that I hope will benefit Fineazy in the future.
I want to end this note by thanking once again Monique and her team for joining the experience and letting us help their incredible project. Thank you also to the MFA programme office for setting up this opportunity and of course my teammates for the great work: Yanting (Lydia) Qian, Sofia Cuadros, Melody Cheng, Begum Tuglu and Jiangan Huang – it was a pleasure to work with you all!