by Sunita Chambore, Student-led Learning Manager
Challenging students to direct their own learning beyond the classroom and to impact beyond the school. That's the mission of the Student-led Learning team at LBS. Kylie Philbin (MBA2020) is one student who rose to the challenge as soon as she joined the school. In 2019, Kylie's first role with the Social Impact Club focused on Social Enterprises. She created "Social Entrepreneur Coffee Chats" and these small, casual conversations provided an opportunity for students to learn about the path of a Social Entrepreneur. In her second year, she expanded her involvement in the club and chaired this year's Social Impact Week: "Leaders for Change". I caught up with Kylie to find out more about social impact at LBS and her LBS journey.
Why LBS?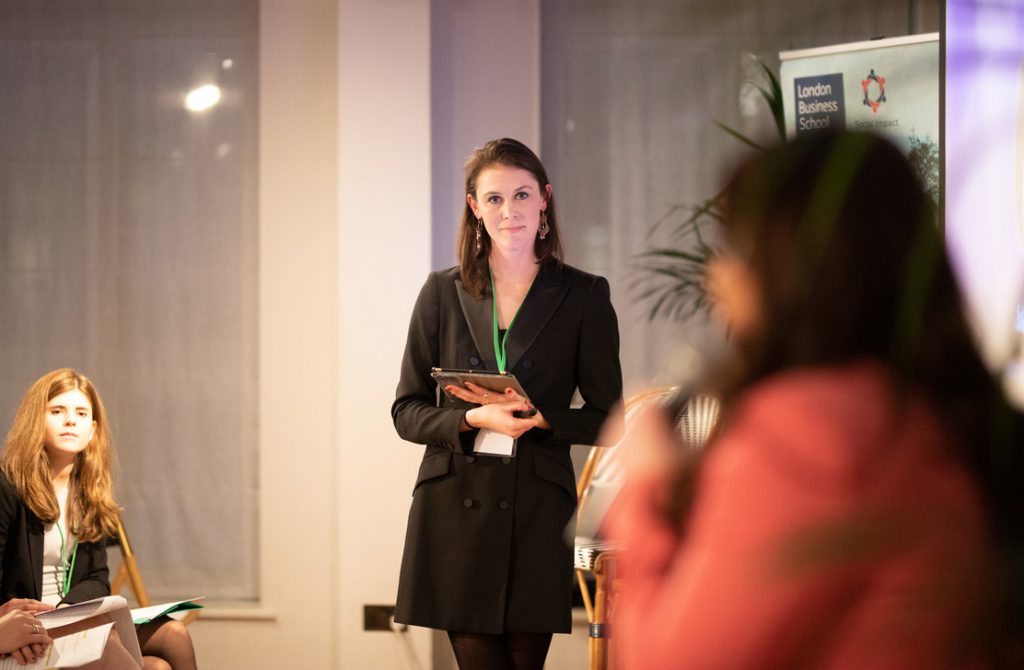 At first, I only focused my MBA recruitment process on American MBA programmes. In parallel with my application timing, I took a BCG Social Impact Leave of Absence in London. This enabled me to provide free business mentorship for a young social enterprise. During this time, I randomly happened to meet two LBS alumni. After some initial conversations with Admissions and these alumni, I realised that LBS could be the right fit for my MBA journey.
Ultimately, I decided to come to LBS because it felt like the choice that would put me most out of my comfort zone. It gave me the opportunity to meet a diverse network, have a flexible schedule to be heavily involved in clubs, and extend my time in a city that I had fallen in love with.
What do you wish you had known before you joined LBS?
I don't think I realised how important the flexible academic schedule would be. Both for my own personal development as well an opportunity to get more involved in the school. For my second year, I placed most of my classes in February until June. This allowed me to continue working at my summer internship company, Callaly – the B Corp period care social enterprise – and test out start-up life and try out new project types.
I also committed to chairing two conferences. In February, it was the Retail & Luxury Goods Conference (RLGC) and in March, the Social Impact Week. This allowed me to get deeply involved in the school, meet various stakeholders, and work on delivering great events to engage students, alumni, and business professionals.
Did any learning from the classroom help you manage these events?
I love looking back on the Science of People in Organistions and Organisational Behaviour learnings. Good planning and management stems from clear and effective communication. This includes an ability to listen to your teammates and stakeholders. I have continued to bring in these classroom learnings and previous change management communication experiences at BCG to work more effectively with my team, speakers, and sponsors.
What will you take forward from leading two major student-led conferences?
Co-chairing the RLG conference and chairing the Social Impact Week and our Conference have been impactful in several ways. First, this was a great formal test of practicing managerial skills before I head back to BCG and focus on the next step of becoming a Project Leader. Putting on conferences requires a lot of time and planning. It can be stressful with unexpected issues like a speaker dropping out or even COVID-19! It was great to practice leading in a safe space like this and get feedback from my teammates on areas to improve for my future career steps. Second, leading conferences has strengthened my people management skills. My background in Retail & Consumer Services revolves mostly around Transformation/Change Management. These experiences fit nicely into how to effectively and efficiently manage large groups of people, differing stakeholder opinions, and rallying people to get on board. These are all great things to bring forward into my career!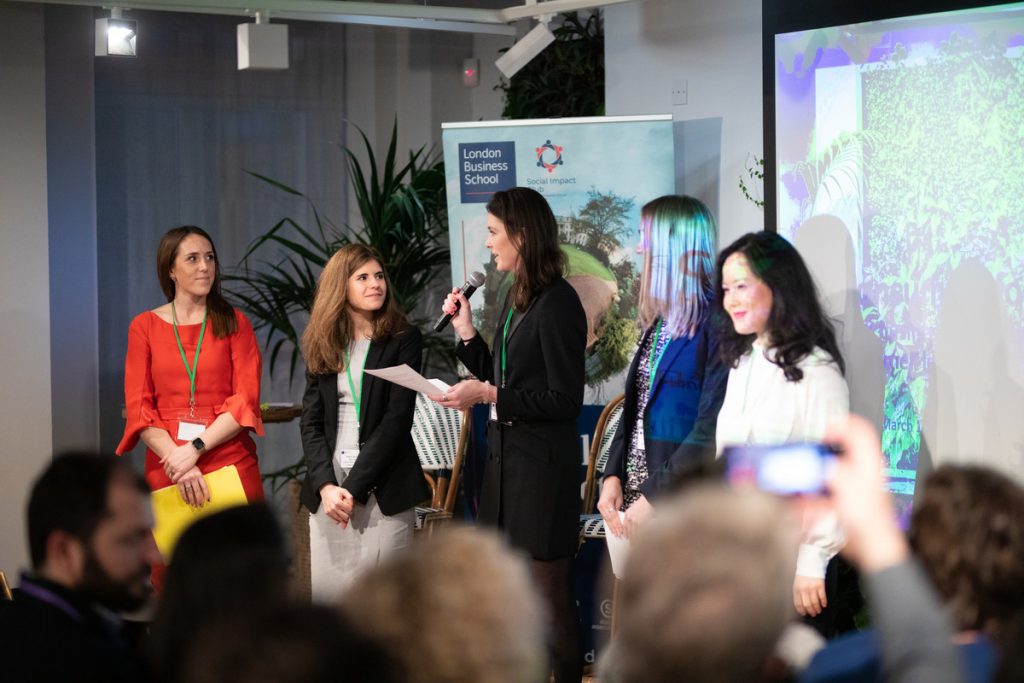 How did COVID-19 affect these events?
Our RLG Conference timing was safe and we sold out our conference and had a full room which was incredible! For our Social Impact Week which took place primarily on campus and our flagship conference at The Conduit in Mayfair, it was a bit different. The London situation started to deteriorate quickly and we were literally the last LBS event of the year which was crazy! Each hour of every day felt like a new development to postpone or close down our week. We were fortunate in that we managed the situation well, knew what was out of our control, and pushed forward where we could. As a pleasant surprise, our conference at The Conduit had every chair filled. This was a magical sight to see after such a stressful week of unknowns around COVID-19.
Do you have any advice for incoming students interested in social impact?
I have four pieces of advice:
1. I would recommend getting involved with our Social Impact Club. It's a vibrant community of individuals who are passionate about all aspects of social impact. These include volunteering and foundation work to ESG, social enterprises, and sustainability. In the club, you will have opportunities to bring ideas to the table, carve out a piece of work and own something which is important for the first-year experience.
2. As LBS expands its social impact academic offering, definitely plan your schedule to attend these classes, and a social impact focused GBE (e.g. Johannesburg, Mumbai, Yangon).
3. I would recommend plugging into the London social impact scene. There are always talks and events going on and a variety of cool businesses making an impact in our community. Find other students interested in the space and have them tag along to these events. You'll get great ideas of what or who you can bring to campus. Companies and foundations are eager to build connections with our student body!
4. You'll always be "busy" at LBS. Don't feel too overwhelmed. This is the chapter of your life to soak up opportunities: explore, try out a new hobby, get involved in extra-curriculars, go see that speaker in London on a Monday night. The time will fly while you're at school and you have the chance to dig deep into what your passionate about in a safe space. You can do all this before heading back to the busy work-life where it's harder to balance all of these things.
What has been the highlight of your time at LBS?
Ah it's hard to narrow it down to one! I have loved being part of Stream B – we have had a great run not only in class discussions, but bonding experiences across London and abroad. We have come a long way from our Away-Day experience during orientation. I honestly feel that I could reach out to anyone in my stream if I needed anything. Our crew is incredibly supportive, creative, passionate, and downright hilarious. I look forward to staying in touch with them over the upcoming years and seeing where life takes us! Other key highlights were Tattoo, Japan Trek & Snow Trek, the Yangon GBE, attending a variety of different club conferences and amazing speakers (like Stuart Weitzman coming to campus!). Also, the feeling of seeing a packed house of engaged attendees at conferences I have worked on.
Life after LBS?
The time has absolutely flown at LBS! I will be returning back to the BCG Washington, D.C. office in September and I'll aim to transfer to London in fall of 2021 as my English boyfriend will still be in London. Post consulting life, I hope to merge my interests in the corporate sector and social impact together and work for a B Corp or other larger social enterprise.
Find out about all our social impact related student-led initiatives at the Social Impact Hub.