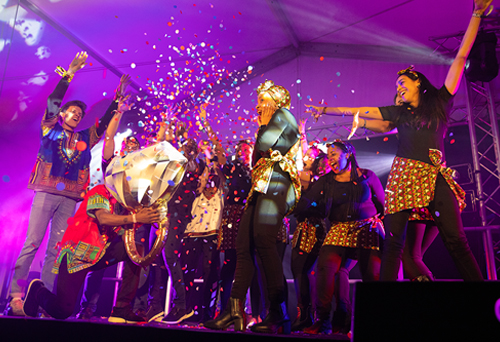 For LBS MBA2020 student and Student Association President Callan Carvey, Tattoo 2019 was an unforgettable initiation into life at LBS. Here, she tells us why it says so much about the School's overarching ethos and what students can expect from the 2020 extravaganza.
Three years ago, I was working in New York City, mulling over my options for an MBA degree. I knew I wanted a school with a vibrant student community, and LBS stood out as somewhere truly diverse with a global outlook and a whole host of inspirational alumni.
But during my research about the School, one word kept coming up: Tattoo.
Alumni kept referring to it as "the best thing about LBS", which immediately piqued my interest. I sat down and Googled it. What I found was a video clip showing some of the highlights of this annual student event: delicious food, a talent show and live band performances.
But what I remember most distinctly is the light show, where colourful beams are projected onto the front of the iconic Regent's Park campus. It was that clip that got me thinking about what LBS stands for as an institution.
The diversity of the LBS student body
To me, Tattoo – an event run entirely by students for students – is all about celebrating diverse cultures and the diversity of the student body. It really brings out the best of us: more than 40 of our cultural and regional clubs participate and more than 300 students are involved in the event's production, where different foods, drinks and talents are celebrated.
When I arrived at LBS in 2018, I couldn't wait to experience it for myself – and the event exceeded expectations. This was somewhere you were as likely to witness a traditional salsa performance as eat a plate of steaming dumplings or dance the night away in a silent disco. It was a global food festival on one hand and a full-blown entertainment extravaganza on the other – and Tattoo 2020 looks set to be even bigger and better, with talent shows, a silent disco and numerous band performances (as well as 1,000 student attendees).
And who can forget the Tattoo light show? The event culminates with a fantastic light show that has become synonymous with LBS.
Why Tattoo truly is a team effort
The Tattoo Planning Committee, who begin planning in October for the March event, works with a dedicated group of over 300 students and stakeholders from across the School to plan the most memorable night of the LBS calendar. It's a shared reminder of why LBS is such a great place to live and learn: the diversity and vibrancy of the LBS student body.