By Kemi Badru, MBA2021
British/Nigerian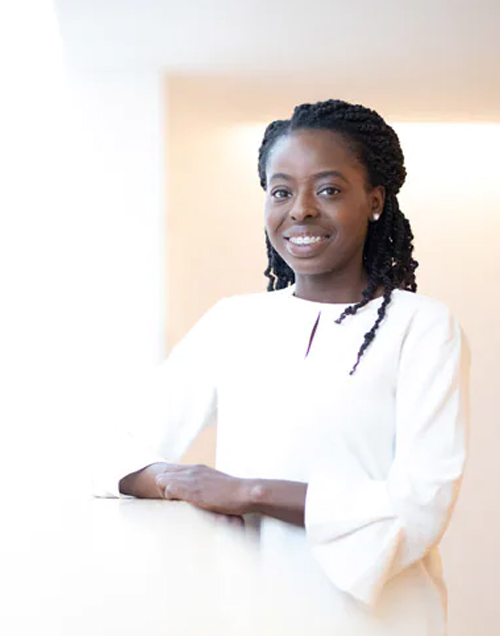 Transitioning to a new career was my primary motive for attending business school, so I wanted to study at a world-class institution, well regarded by employers and professionals, with a strong employment track record. I knew how critical my classmates would be in shaping my MBA experience, so I was determined to study at an international school with diverse, high-calibre, intelligent peers with global exposure and prior leadership experience.
LBS ticked all the boxes, and it was in my home city of London. Growing up in London I know the vast potential the cosmopolitan city has to offer, and I knew that a prestigious school like LBS would help me unlock additional opportunities.
What endeared me to LBS was its alumni community and the student ambassadors I interacted with. They were exceptionally brilliant, extremely helpful and very genuine. The humanity of the LBS community was the decisive factor in me choosing the school.
I believe that I bring a unique perspective to the LBS community; my experience growing up in London as the child of immigrants and forging a career in financial services has informed my worldviews and leadership style. I strongly believe that business can be a force for good, that responsible business leaders can still run profitable enterprises while considering the needs of all stakeholders. These perspectives have broadened classroom discussions and hopefully enhanced my understanding and that of my fellow classmates.
My desire to further hone leadership skills gained at work and in voluntary capacities encouraged me to take on leadership roles in the Private Equity & Venture Capital Club and The Infrastructure & Construction Club where I was Co-President. I was able to recruit and train committee members, ensuring that they not only fulfilled their club responsibilities but also achieved their business school goals. It has been extremely fulfilling seeing committee members obtain their dream internships and international exchange programmes.
I have attended multiple Women in Business (WiB) events including their flagship Equall conference in 2019, 2020 and 2021. WiB events, particularly the conference are really to be experienced. I leave every event inspired and reassured. Reassured because I see women, ambitious and driven like me, unapologetically chase their dreams and torpedo through ceilings and limitations. Inspired because I have heard from pioneering female leaders who have forced themselves into spaces and positions not designed for them but have shaped these roles to ensure that many more women can occupy the positions after them. The WiB network is a great community for supporting female leaders and educating the next generation of male allies.
I have learnt two main things over the last 21 months that have surprised me about LBS: In particular, I continue to marvel at how much the school is shaped by student-led initiatives. Before joining LBS there were limited tech and analytics electives, however, a classmate Giri Kesvan worked with the programme office to create new electives including a whole tech and analytics concentration. Furthermore, following the callous murder of George Floyd in the USA and the outpouring of anti-racism protests that broke out across the world in 2020, two classmates, Tabria Lenard and Cole Agbede founded the Black in Business Club and worked with faculty to improve racial diversity and inclusion at the school.
A number of my most memorable events during the MBA, the Snow Trek (an annual ski trip), Tattoo, club conferences and countless socials have been organised and executed by the student body. The level of student engagement and commitment continues to amaze me and serve as a poignant reminder of the calibre of leadership talent at the school.
Given the competitive nature of business schools globally, it was a surprise to find just how collaborative the LBS culture is. Sharing and exchanging ideas remain at the heart of the LBS community. At LBS, it is very normal to prepare for interviews with classmates who are applying for the same position. People in the community, students, alumni and faculty, willingly share their knowledge, time, and relationships with you just because you belong to the LBS community. This collegial culture must be one of LBS' greatest strengths.
I was extremely worried about being a student again: going to classes, writing essays, and studying for exams. I thought that it would be challenging returning to student mode. I was pleasantly surprised to discover that an MBA was very different to a traditional academic degree. The MBA is instead a unique combination of leadership, professional and academic endeavours, so you are part student, part professional and part socialiser – a tripartite combination that makes for a well-rounded professional. In short, my fears turned out to be completely unfounded.
Before embarking on the MBA journey, I was most excited about the diversity of the class in ethnicity, culture, professional background, work experience and thought. I looked forward to meeting new people, people I would not ordinarily meet even in an international city like London. I hoped to learn from my classmates' wide-ranging experiences which they would bring to bear in the classroom.
In addition to the diversity of the class, I had high hopes of travelling to new places as part of the international treks, international exchange programme, Global Business Experience (GBE) and by visiting my classmates' home countries. What is really great is that the travelling continues post-graduation as you travel to visit friends and for reunion trips – an LBS MBA is truly a global passport that transcends geographical borders and, of course, affords free global accommodation thanks to newly formed lifetime friendships.