At London Business School, we strive to have a profound impact on the way the world does business, and the way business impacts the world. We have an international community of 45,000 Alumni in more than 155 countries that offer a wealth of knowledge, resources and connections.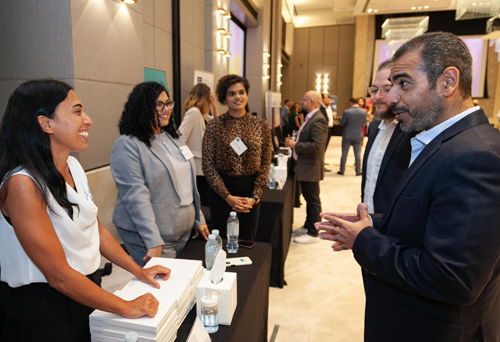 Our EMBA Dubai students have chosen to balance their demanding career and commitments with intensive part time study to gain a rigorous grounding in the latest business knowledge, leadership skills and market intelligence. The result is a diverse, globally minded, commercially-aware talent pool that could energise and transform your organisation.
On Wednesday, 11th May 2022, LBS hosted our annual Middle East Talent Networking Evening for Companies, Alumni and Students to connect in person at Address Dubai Mall. This was a great platform for companies to create brand awareness, share organisation and career prospects and network with the current Executive MBA students and tap into our active Alumni network in the region.


Ki Kuganesan, Executive Coach – EMBA Dubai & EMBA-Global, reflects on the event:
"The purpose of our Middle East Talent Networking Evening (METNE) is to introduce Heads of HR and Executive Recruitment Teams to our Executive MBA candidates and Alumni talent in the region. We have been delighted to host Start Ups, VC Funds, Local brands, Multi National Corporations and Government/ Sovereign Wealth Entities across all industries from Technology, Finance, Energy, Healthcare and many more.

All of these companies are looking to connect to LBS by creating brand awareness, sharing organisation and career prospects and building relationships for future amongst our students and alumni. We had 200+ alumni registrations, 100+ Current Student Registrations and 25 Companies attend in person which was fantastic! We look forward to hosting events like this in future."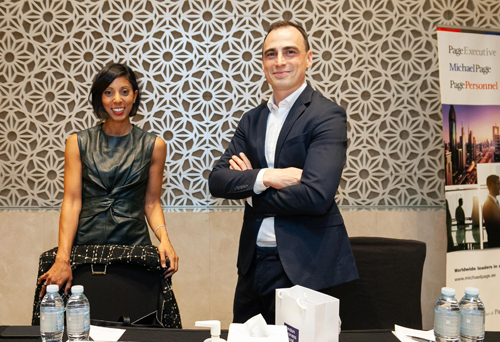 We spoke with some of the companies that attended to get their insight and thoughts on the evening. When asked what brought them to the event a recurring theme was to meet top talent in the region and the opportunity to meet people face-to-face in a setting that's less formal than an interview.

Whilst the evening was a brilliant opportunity to network, it was also an opportunity for businesses to demonstrate what they're looking for in the candidates they recruit for. Below, some of our attending business representatives share the qualities that make a standout candidate to the recruitment teams in their businesses:

---
NEOM
A standout candidate is someone who is excited to bring a diverse mindset and perspectives to their new roles within NEOM. Someone who has experience in start-ups, digital skills and encompasses a holistic approach to their role. The LBS brand and calibre of candidates sets LBS students apart from their counterparts.
---
3M
Extremely level-headed, candidates who want to make a change. Their purpose is to be a game changer in their new role to have positive impact on the organisation.
---
EY
A standout candidate is someone who knows how to sell themselves and bring value to the role.
---
Michael Page
Bringing in new ways of thinking and be open to alternative approaches. We want someone who can bring change whilst in their role and be able to demonstrate their positive impact.
---














If you would like to learn more about the EMBA Dubai programme please visit our website.
You can also read a recent student blog piece about what it was like to attend the METNE as an EMBA Dubai current student.

Special thanks to the attending businesses and to 3M, Michael Page, NEOM and EY for their contributions to this blog.