Sloan is an immersive programme that brings together a variety of industries and expertise, from finance to manufacturing, IT to oil/gas, law to agriculture.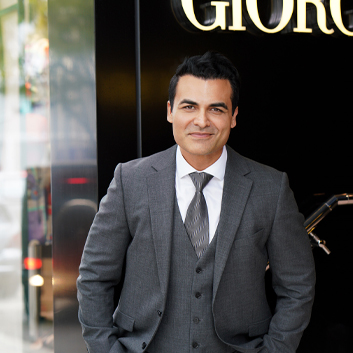 We will start an interview series with Sloan alumni coming from different backgrounds whose aim is to share successful pre and post-programme stories as well as to offer direct insights on how London Business School and Sloan supported their career goals. We will explore further thoughts from consulting, finance, IT, real estate and entrepreneurship.
Our first esteemed alum is Suhail Y Tayeb, based in the US, who completed the Sloan programme in 2021. Given his heavy experience and expertise in the real estate sector, he felt that this programme will allow him to expand further his knwoeldge and skillset. Let's hear more from Suhail himself:
What did you use to do before attending the Sloan program, and what are you doing now?
I worked as a real estate developer and an educator. I split my time 80-20 in developing impactful projects and imparting that knowledge to aspiring professionals who wanted to achieve the same results.
Post Sloan, my focus has switched to syndicating larger real estate deals to deliver more impact. My commitment to sustainable real estate investing and affordable housing sets me apart.
I have authored two books post the Sloan program that allows me to share my knowledge with real estate professionals worldwide looking to make an impact. The first book, "Profitable and Sustainable Real Estate Investing," delves into strategies that enable investors to generate substantial returns while making sustainable choices. It provides directions on how to incorporate ESG factors into real estate investments.
My second book, "Accurate Property Valuation," equips investors remodeling properties with valuable insights they can use to make profitable valuation-based decisions.
What goals did you have during the program? Are you currently following those goals, or have they changed?
My primary goal was to expand my knowledge and skill set. With no formal education in finance, I recognized the importance of gaining a deeper understanding of this field to enhance my capabilities as a real estate developer and investor.
While I had a strong affinity for my current industry, I remained open-minded during the program, eager to explore new avenues of knowledge and opportunity. Relocating to London for the year was intentional since it allowed me to disconnect and fully immerse myself in the program.
I focused on studying private capital, corporate finance, strategy, and M&A. The high-level, broad insights and skills I learned in acquiring, operating, and divesting assets have proven invaluable in pursuing my goals.
Why did you choose the real estate industry? What is the most important lesson you have learned in this sector?
My choice to end up in the real estate industry is unusual, considering that I am an electrical/computer engineer by education. I was lucky that the tech company I worked for right out of college went public. My father advised me to purchase real estate with the money I had made. My first investment property was a significant learning experience for me. Facing the consequences of my mistakes, I delved deeper into the complexities of real estate investing, financing, renovating, and valuation, determined to rectify my errors. During this process, I developed an affinity for the industry.
One important lesson I learned is that positive social and environmental impact and profit can coexist harmoniously. Real estate offers a unique opportunity to have enormous control over the asset, make a lasting impact, and generate substantial returns.
How did the program help you in your career?
The Sloan program helped improve my financial vocabulary, enhancing my ability to articulate my thoughts effectively. The rigorous coursework, engaging discussions, and some client-facing assignments honed my communication skills, enabling me to clearly present my actionable ideas.
The program also facilitated the establishment of a robust network comprising like-minded professionals and industry experts. Connecting with thought leaders and fellow participants allowed me to exchange ideas, gain diverse perspectives, and forge valuable, enriching relationships.
One distinctive aspect of the Sloan program was the opportunity to interact with professors and guest speakers who are active practitioners in the field. This invaluable exposure allowed me to learn from experienced professionals who brought real-world insights into the classroom.
Do you have any advice for those willing to switch to real estate?
Start by exploring residential and commercial real estate and identify your interests. Learn about valuation, financing, and the legal side of the business. You don't need to become an expert just yet; just explore if that interests you and consider how you would apply your existing skill sets to any of those areas. While tactics such as value-add, distressed, growth, or ground-up development may interest you initially, remain open to learning more before choosing. Research the companies that align with your interests.
If possible, secure an internship locally or remotely to gain hands-on experience. An internship allows you to set your ego aside, escape the dreaded issue of proving seniority and meaningless job titles and get to learn. Working at any level will provide valuable insights and networking opportunities and, more importantly, help you validate your career choice.
For further information about our Sloan programme click here.