A large part of why many people choose to undertake a Masters is because they have a strong motivation to really drive forward in their career. So how exactly does the Masters in Finance (MiF) Part-time help you achieve this? We spoke with Andrew Yeo, MiF PT2021 to find out.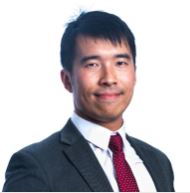 What were your motivations for joining the MiF programme?
The LBS MiF is a top ranked and globally recognised programme and institution based in the world financial hub. I decided to join in an effort to grow my professional network in London in the finance community, solidify my knowledge in finance through higher education, and accelerate my career.
What impact has the MiF had on your career?
While doing the MiF, I received recognition from both my immediate and wider team, helping to strengthen my relationships and standing within the company. Undertaking the programme also helped with my transition from a sell side banking institution to the buy side at a quantitative hedge fund.
How did the Career Centre support you in achieving your career goals? What was the most useful Career Centre resource?
I benefitted a great deal from the mock interviews which took place in a variety of formats including face-to-face, phone and online interviews, getting me really accustomed to each. Other incredibly useful resources were the CV reviews and career workshops, such as salary negotiation and working with head-hunters.
How have you used the LBS network to benefit your career?
I spoke to many students and alumni in related fields whenever I had an interview scheduled to get their first-hand knowledge on the ins and outs of the role. They are all very responsive and incredibly helpful! The hiring manager for my new job was an LBS alumni too. The power of the network here at LBS has been really evident.
What is your top piece of advice to those considering the MiF programme?
For the prospects, MiF is a worthy investment for your career, if you're thinking about it, go for it. For the admits, I wish I could turn back time and go through the experience again. You are one of the blessed, lucky and chosen individuals. Work hard and don't forget to play hard!

Interested in applying to the MiF? Our team would love to hear from you. Send us your CV or LinkedIn profile and we'll be in touch for an informal chat.