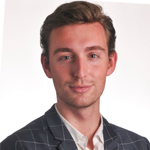 The time right before or after your bachelor's can be quite overwhelming. Some university graduates already have clear ideas of where they want to go and what they want to do, and others don't. I was part of the latter. With so many different paths and options before me, I felt quite lost. Many different questions were going through my mind:
Do I want to start working straight away or continue my education?
What subjects am I interested in?
Do I want to continue business studies or start something completely different?
What city do I want to live in?
And how am I handling all of this in a pandemic?
If these questions sound familiar, this blog post is for you!
Why LBS?
When researching top institutions in Europe and across the globe, sooner or later you'll hear about LBS. Although rankings and prestige might be a useful tool to filter universities of interest, they shouldn't be used in isolation to make a decision on your institution of choice.
I wanted to learn more about the school and what makes LBS so unique. My choice of selecting and ultimately joining the school boils down to three reasons.
Community
First and most importantly, creating communities and building bridges is at the heart of LBS. The school spends tremendous time, effort, and resources on making your time at LBS not solely focused on academia, but also incredibly enriching in terms of non-academic activities. There are Away Days, Sundowners, and weekly cross-programme gatherings at the iconic front lawn to enjoy dinner and drinks, amongst other activities. All this is complemented through activities organised by the various societies on campus with highlights such as Diwali Ball, EUROUT, and of course, Tattoo.
On top of that (yes, it doesn't stop there), you have chances to travel internationally with your community through on the one hand Treks, organised by the respective society with destinations such as Japan, Spain and many more. There are also GIFTS (Global Immersion Field Trips) organised by the school to develop professionally. You probably can tell by now that there is a strong focus on making your time at the school unforgettable and building long-lasting friendships, something very unique and different from other business schools.
London
Second, London is a city to be experienced at least once in a lifetime. As a young student or professional, London is an incredibly enriching city through its cultural offers, recreational activities, and most importantly diverse communities. As the saying goes 'In London everyone is different and that means anyone can fit in, you will instantly find your place in this stunning city'. Every day will be different here as thousands of opportunities are thrown at you. It's also a great place to connect with people from the business world, which is also why they are going to be many events happening in the city with professionals.
Career Centre
The Career Centre are an integral part of your LBS journey. You will work closely with them over the course of your programme as they share their extensive network and expertise. Almost every day you have companies coming to campus, or events with alumni, which highlight their strong ties with the professional world. Furthermore, their areas of expertise are divided by industries, allowing you to get in contact with the person that fits your needs best and learn about industries you haven't necessarily thought of before or which are hard to break into. The employment report for the MiM programme speaks for itself, not only if you're interested in consulting and/or banking but also any other large industries.
Why the MiM?
Right after undergraduate graduation, I decided to take a gap year, partially in hope the pandemic would come to an end by the time I continued my education, partially to gain solid work experience.
However, to me, it was clear that I would want to do a Master's degree at some point, as I didn't feel ready to enter the working world permanently and wanted to continue to learn and grow academically.
Yet, coming from undergraduate business education, I wasn't sure whether the MiM (Masters in Management) would be enriching to me or just a repetition of what I'd previously been doing. Hence, I also looked at the other Early Career programmes that LBS offers.
There are two characteristics that distinguish the MiM from other Management degrees.
Although you learn the fundamentals of business in a broad sense, there are specific subjects that are less general, such as Data Analytics and Risk Analysis. For the more general core courses, such as Financial Accounting and Finance, the curriculum is much deeper than what I'd been studying in my undergraduate and thus, really strengthened my knowledge in those fundamental areas.
Additionally, through the electives you choose individually, which will take place in the third term, you can customise your learning journey. I really fell in love with Data Analytics in my core courses and am very excited to develop more proficient skills in this area through my electives. Those electives are usually cross-programme so they are also a nice opportunity to connect and work with MBAs, MiFs, or even Sloan students.
Tips and Tricks?
If you're unsure about your choice of business school (and trust me, I know the feeling), I encourage you to join one of the school's information sessions. There are also calls organised by specific associations which might be of particular interest. I attended an information session by the Out in Business Club, the LGBTQ+ association at LBS, to connect with people and get a feeling for the school's community.
If you decide to apply to LBS, here are my tips and tricks on how to nail your application and stand out as the unique person you are:
First (and that's more of a disclaimer), don't worry too much about the weight of individual items in your application. Although the GMAT average is competitive, strong experiences, interesting backgrounds or a unique story are of equal value to your overall application.
Second, be clear about where you want to go in your personal and professional development and how LBS can support you to achieve those goals. It's important to sit down and reflect on the journey you want to build and milestones you want to reach to make sure LBS is the right choice for you.
Third, and probably most importantly, make sure your personality, interests, and possible contributions to the community shine through. LBS is about creating diverse stories and so every particular hobby or interest should be brought forward. LBS values dedication and extracurricular efforts so don't hesitate to outline what you're passionate about and ideally, how you can integrate that passion into life on campus.
Furthermore, LBS is one of the most international places you will ever be. Hence, it's important (especially if you don't have international experience) to show that you're supporting values of diversity.
And lastly, be your best self!
Good luck with your application and do not hesitate to contact any of the staff or student ambassadors in case you have remaining questions!


If you're interested in learning more about the MiM programme, please visit our website.