By Alex Hurd, MiM & GMiM Student Recruitment Associate
A key study technique at LBS focusses on working collaboratively and study groups are used across all the courses. We spoke to three Masters in Management 2021 students to get their thoughts on how their experiences went.
In the first instalment in this blog series, we catch up with Celine Chen MiM2021 to hear about her experience.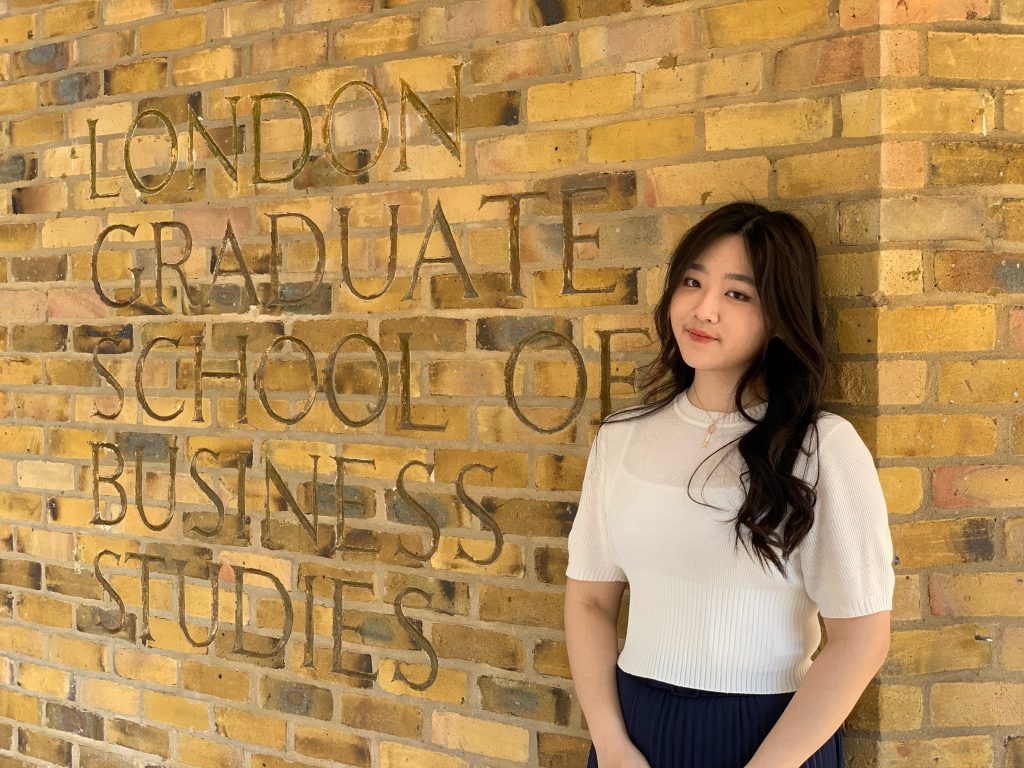 Hi Celine! To start, can you give a brief overview of your study group?
LBS really put a lot of effort into maximising the diversity. I was allocated different study groups across term 1 and term 2. My first study group comprised of students from China, Germany, Pakistan and Austria. My second study group had people from Peru, UK, Greece and France. All my study groupmates not only came from different educational backgrounds but also had different business experiences. For example, my German groupmate had one year of work experience in Airbus before coming to LBS and he had an undergraduate degree in engineering. My groupmate from London majored in History at Cambridge and my Pakistan groupmate had a finance background and had previously interned at Accenture in their Toronto office.
What projects did you do?
We were engaged in a wide range of group projects throughout the academic year. All core courses would have at least one group project which required the entire study group to be involved. For example, during term 2A, we studied the Business Analytics course and this had three group projects whilst the Finance course had two group projects. In order to efficiently complete all projects, we divided up the work based on each other's competency. Myself and some other groupmates who were more confident in coding committed more towards the Business Analytics projects whilst others who had stronger backgrounds in finance did more of the finance work.
There were of course many challenges. For example, each of us had a different working style and we had to compromise in order satisfy everyone. Also, it was not always smooth when completing group work. There were not enough people in the team willing to do the Marketing project as it required the use of highly technical software. In the end, we had to do a random draw to pick two people to work on the project. In addition, people sometimes had different opinions on the work being done by others and people had to commit more time until everyone was happy with what was being done.
There are many challenges with group work and the reasons tend to be due to different personality, working style, and opinion conflicts. I believe that two things that matter most for successful group work are: one – communication and two compromise. Only constant communication can minimize misunderstanding and sometimes compromise is needed to get a harmonious result.
What was the most rewarding part of your study group?
The most rewarding part of study group was getting high marks on group projects and getting to know so many amazing people from various backgrounds who I would not have met without coming to LBS. For example, we received several full marks on Finance group projects and pretty high marks on Business Analytics and Strategy group projects. These results demonstrate that our hard work had paid off, which further encouraged us in any upcoming group projects. Also, all the communication skills and new group work abilities learned throughout allowed me to better understand how to achieve a efficient and smoother work skills in future professional environments. For example, it is important for us to shift our roles based on people around us. Sometimes, a group might need a leader and sometimes a group might lack a coordinator. When I use my own the skills in becoming these different roles, I will be more successful in adjusting to different groups and help achieve success.


Click here to read more about the study group experience from other MiM2021 students!
To find out more about the MiM programme, please visit our website.