By Charlotte Tait, MiF Recruitment Manager
Hear from two of our full time MiF2022 students, Ayna Babylova and Ricardo Román Gonzales as they navigate the responsibilities of being a parent whilst studying the top Masters in Finance programme in the world.
Anya Babylova, MiFFT2022
Doing a Master's degree programme at one of the top Business Schools in the world has always been my dream. Like many women in their late 20s and early 30s, I focused on building my career and starting a family first. After postponing the application for a number of years, I finally decided to apply to the MiF Full-time programme and start my LBS journey as a mother of two young children. Given that the vast majority of my classmates are younger than me and have no childcare responsibilities, I was nervous that I wouldn't be able to keep up. The end of the notoriously intense first term is now approaching and I'm proud to say that I'm still alive and couldn't be happier about my decision to embark on this life changing journey. Here are my top tips for survival:
Support and resources
The MiF programme is very demanding of time and energy. You and your partner need to have a full understanding of the demands and build your support network accordingly. It's also helpful to secure sufficient financial resources for the length of your studies. This will give you piece of mind and allow you to bring your full self to the class.
Be organised


Do all online pre-courses and other admin tasks before the programme begins as there will be no time for that later. Studying is also more efficient when you prepare for each lecture in advance or review slides soon after the end of the class. For someone who has additional responsibilities at home there is simply not enough time to study all materials at once before an exam.
Take care of yourself and don't be a perfectionist


It will be tempting at times to compare yourself with your classmates and feel discouraged. Be selective of the events you attend and be kind on yourself if you don't manage to contribute to a group project as much as you wish, or hit a desired mark for an exam due to your child's illness or other family matters. Remember your overall workload is incomparable with that of others and all things considered you are an ultimate top performer and should be really proud of yourself!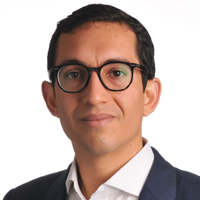 Ricardo Roman Gonzales MiFFT2022
'How do you balance your family commitments alongside side studying a full time Masters in Finance? This is a common question asked to me by many in my cohort.
After relocating to London from Peru, it took a few months for my family and I to adjust to our new life. In the first few months we struggled a bit because everything was new to us, and there were many things I had to arrange while I was in the first term at LBS. However, London is a great city, and you will find a lot of facilities and support, and your family will really enjoy your time here. Here are my top tips:
Choosing a family home


We chose Goodenough, which is a Post-graduate residence with a lot of international families. It's an amazing place to live because you have a lot of activities for the family members every day. For instance, within Goodenough, my four-year-old daughter has ballet classes every Friday, and my wife has Yoga and Salsa classes three days per week. Also, it's close to the nursery, which is full of international children. My daughter found other Spanish-speaking children and a teacher who speaks Spanish as well. It makes the transition to English smoother for her.
Cooking


Food can be problematic because restaurants are expensive and cooking at home takes time. I find cooking gadgets help me to prepare food at home, without taking up too much of my time, and ensuring we all eat healthily and save money. I'm responsible for food and cooking in my family, so I spend 2 hours every Sunday preparing the food for the week ahead. I leave all the fruit and vegetables chopped and packed in zip lock bags, and that's it. Through this process, I save about 5 hours per week.
Take advantage of the Schools resources


LBS has large, well-equipped study areas which you can book out and are free to use, allowing you to focus on your study. In my case, I spend Monday to Friday at LBS, but on weekends, I'm a full-time family man. It's a very healthy mental framework for me because I always have enough time for my academic and social commitments at LBS without sacrificing quality time with my family.


Interested in applying to the MiF? Our team would love to hear from you. Ahead of our upcoming deadlines send us your CV or LinkedIn profile and we'll be in touch for an informal chat.

– Round 4 deadline on 1st March
– Round 5 deadline on 26th April