Giri Kesavan was part of the MBA2021 programme. During his time at LBS, he was involved in every aspect of the student journey across Recruitment & Admissions, Degree Education, Experiential Learning & Student-Led activities. He was an Academic Rep for MBA2021, Co-President of The Tech & Media Club, an MBA Ambassador, a TEDx LBS speaker as well as an Alumni Representative for the MBA2021 class. Coming from an engineering & product background, he pioneered a new focus for the school on Technology, Media & Product careers, working closely with faculty, staff, alumni & industry. He continues to be heavily involved in Recruitment & Admissions for the MBA programme and all things tech at LBS.
The MBA at London Business School is a 2-year personal and professional journey to inform your future career ambitions. Over the past 2 years, I learnt from multiple industries, multiple geographies and multiple stages of growth from a fantastically diverse, motivated and engaged class. A key element of my time at LBS was the close partnership with the Careers Centre and how it transformed and solidified my career ambitions…and it starts even before you join the school!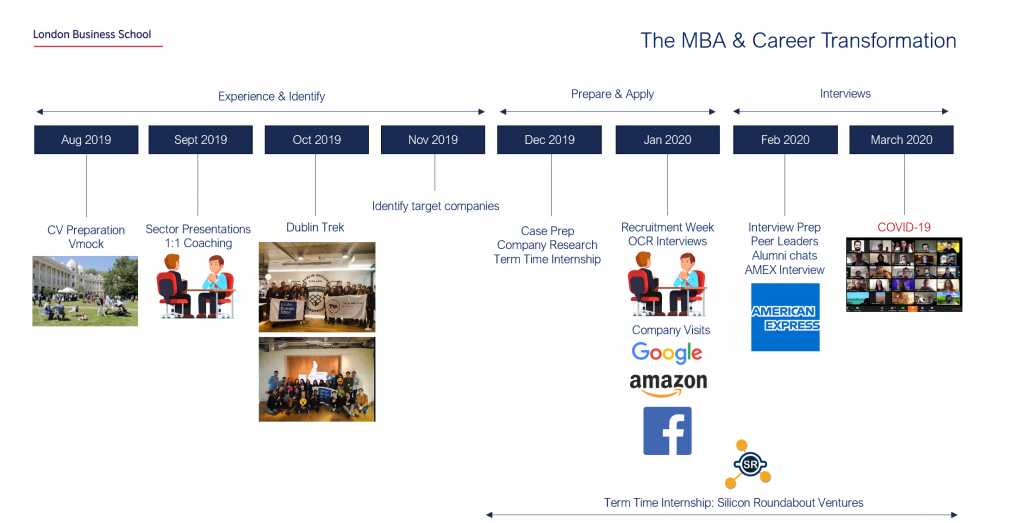 The partnership with the Careers Centre starts all the way from the first month. The Careers Centre works with you on creating an LBS style CV that is clear, succinct and focused on impact. We even run this through an AI-based tool that 'scores' your CV! This is a great platform upon which to build your LBS experience, as you'll learn how to truly bring across impact in your work in a structured CV format that you can use for the next 2 years.
Throughout September in the first year, it's all about sector presentations. You'll learn from alumni, industry experts and the Careers Centre into what it's like to work in a broad variety of industries, ranging from Finance, Tech, Consulting, PE, VC and Entrepreneurship. These sessions are great to get a sense of career opportunities in each sector and gives a holistic view on post-MBA opportunities.
Your partnership with the Careers Centre is like a funnel. You start broad with the sector presentations and then deep dive. Throughout the Autumn term, you're able to book 1:1 coaching sessions with our fantastic career coaches, who will give you candid advice based on your CV and aspirations about which sectors to target. I loved the fact that so much coaching is 1:1 at LBS – it really adds to that personal partnership with the Careers Centre.
Further narrowing the funnel, a key element of the MBA is partnering with the Careers Centre by sector. In addition to generalist coaches, the Careers Centre is split into industry sectors, and you're able to book 1:1 sessions with specific coaches that are solely targeting the sector you're interested in. For me, it was all about Tech, so it was about interacting directly with the Tech Careers Centre, headed by David Morris, to further define key opportunities that leveraged my background and MBA.
What I found unique was that the Careers Centre is not just about your summer internship and full-time role, but also about part-time and term-time opportunities. These are all advertised through the Careers Centre, and you apply through the school. A great low-risk way to work in an industry or sector you haven't had experience in before and build a diverse set of work experience on the CV! I spent December applying for term-time internships and started at Silicon Roundabout Ventures in the second term of my first year.
Of course, a huge element of MBA careers is about summer internships, and each January, we visit companies, learn from recruitment presentations, attend on-campus events run by companies and more! January is always action packed and is all about preparing to apply for summer internship roles.
What I loved about the Careers Centre is how specific it gets. We go as far as doing 1:1 interview prep, that's specific per sector, but also specific per company! In my case, I worked with the Careers Centre to put together a comprehensive plan to prep for my AMEX Summer Internship interviews, drawing from the experiences of past students, alumni and careers centre staff. This all resulted in an offer for AMEX where I spent my summer.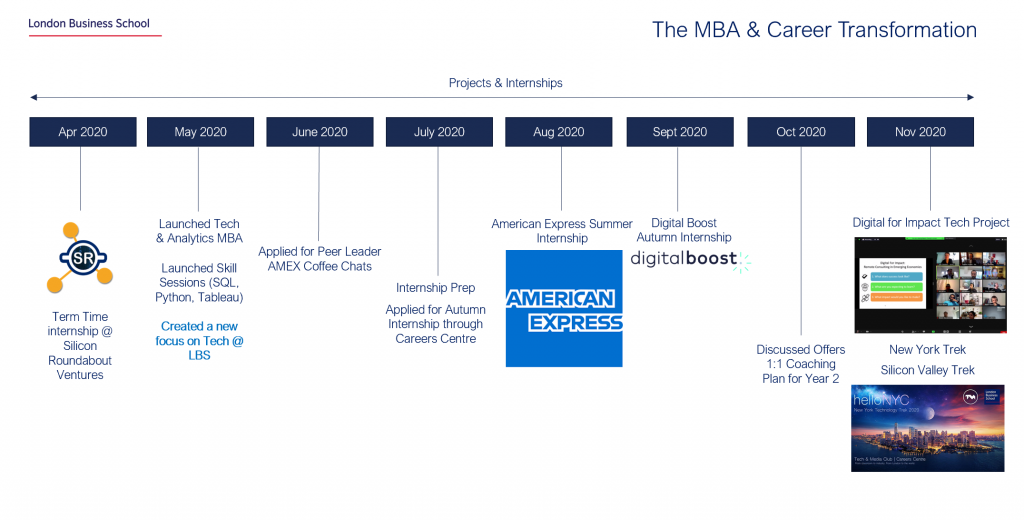 LBS is all about peer learning, and that goes beyond academics into the careers space. Each year, the Careers Centre selects a group of 'Peer Leaders'- second year students who interned at/or have background experience in a specific sector. The peer leader cohort is a great source of candid advice and direct 1:1 preparation to learn about companies, prepare tailored Cover letters, feedback on your CV and do mock interviews.
The partnership with the Careers Centre doesn't just end after the summer internship. Rather, it's throughout! At the end of my summer, I worked with them to really delve into my post-MBA return offer from AMEX and discussed whether I should take up the return offer or not. The Careers Centre team were a great source of advice, as they had worked with me personally for a whole year prior, and truly knew the pros and cons of every possible scenario! They helped me to identify what I truly enjoyed, wanted to do post-MBA and helped me along with pathway to make it happen.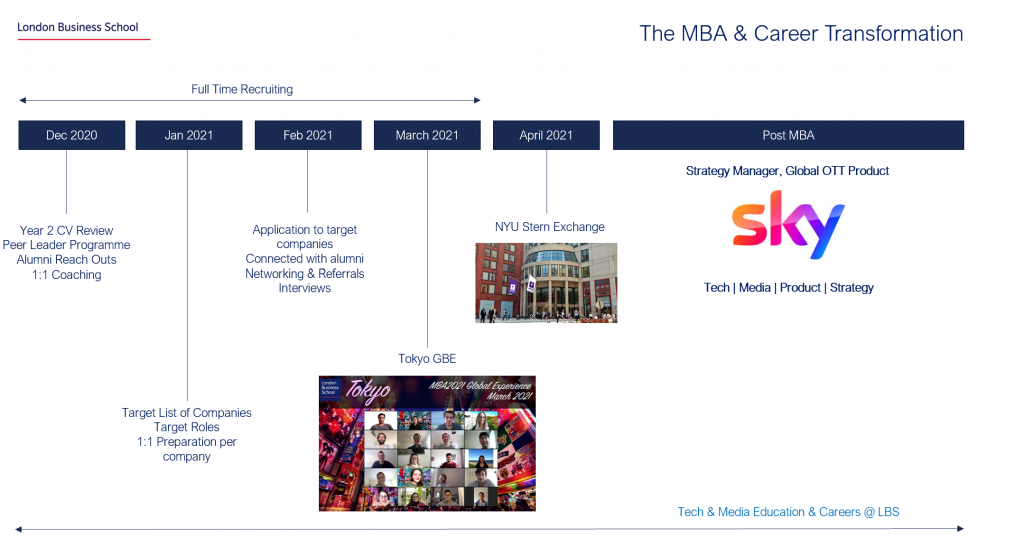 Full-time recruiting. It's scary and intimidating, especially post the summer when your friends might have return offers from the same companies. However, again, this is where the structured 1:1 advice from the Careers Centre really helped. Working with David Morris, we sat down and prepared a list of target companies and roles that would be a great fit for me post MBA and outlined a plan of action per company in preparation for direct hire recruitment.
Discussing my options with the Careers Centre, I realised that a role at Sky, specifically in Strategy/Product, would be a fantastic next step for me post-MBA, in a role that combined all my interests in Tech/Media/Product at the school. Leveraging our alumni network, the Careers Centre put me in touch with key alumni from the company to learn more, interact and network.
As such, working with alumni who worked at Sky and the Careers Centre, I was able to tailor my application, get a referral, prepare for my interviews and had a deep understanding of what the role and company entailed. This all ended up with a fantastic offer as Strategy Manager for our Global OTT Products, a role that I started post-MBA in May 2021.
It really was the culmination of a fantastic partnership with the Careers Centre during my time in the MBA, working with me on my CV, Cover Letters, Interview Prep, Application advice, Term-Time internships, Summer Internships, Part-Time roles & full-time recruiting!