by Adesoji Solanke, MBA 2018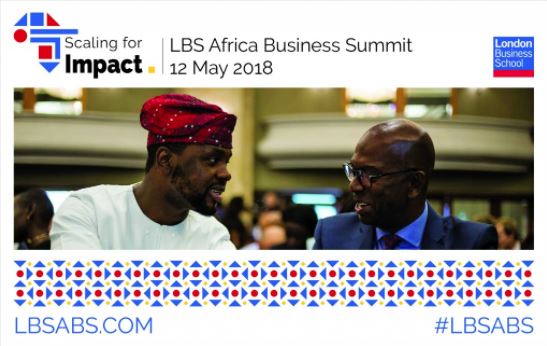 A year ago I penned this blog post for the 2017 #LBSABS. Sitting now in the library I'm wondering what to write about this year. Should I tell you about what it took to land the President of Ghana? Or what it takes to organize the largest Africa-focused conference at any business school in Europe? Maybe I'll write about these in a future post. Today I'll focus on the three words that guided our plans for the Africa Club during our tenure – BIG, BOLD & IMPACT.
BIG – #LBSABS has come of age. In its 17th year now, it has taken its place as the go to Africa-focused annual event in London for business professionals, entrepreneurs, investors, people in the arts and students. From its beginnings in a small room, club leaders in recent past have expanded the audience to over 400 truly pan-African guests, hosting them at some of the best venues London has to offer. This year is no different and the summit will hold at the 5-star Landmark Hotel in Marylebone.
BOLD – There are many ways we could have gone about delivering on this objective but what could have been bolder than landing the President of one of the fastest growing African countries today – H.E Nana Akufo Addo, President of Ghana. He will be joined at the summit by other notable speakers such as: the Chief Executive of Africa Regions at Africa's largest bank, Standard Bank (Sola David-Borha); CEO of global phosphate group, OCP Group (Mostafa Terrab); Vice President and Treasurer of the International Finance Corporation (Jingdong Hua); CEO of the most profitable African airline and first to use an all-female flight crew, Ethiopian Airlines (Tewolde Gebremariam); Partner at the most prominent Africa-focused private equity firm, Helios Investment Partners (Souleymane Ba); Manager of Afrobeats King, Fela Kuti (Rikki Stein); Co-Founder of Celtel and CEO of Eaton Towers (Terry Rhodes); CEO of Africa's largest indigenous beauty company, House of Tara (Tara Durotoye); Advisor to French President Macron on entrepreneurship (Karim Sy); Serial entrepreneur who once designed the world's most expensive suit(Alexander Amosu); Africa venture capital head at IFC (Wale Ayeni); President of Olam Gabon (Gagan Gupta); Executive Director of the best insurance group in Nigeria, AXA Mansard (Tosin Runsewe); the man behind Sony Music's deals with African music stars Davido and Wizkid (Michael Ugwu); the fashion man himself, Ozwald Boateng; among many others.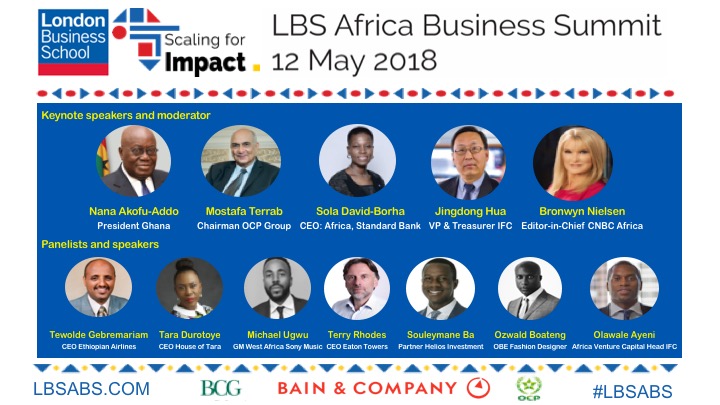 The summit moderators include Bronwyn Nielsen, Executive Director CNBC Africa; Jonathan Rosenthall, Africa Editor at The Economist; Didi Akinyelure, Journalist at BBC World Service and CNBC Europe; Franklin Amoo, Founder & Partner at Baylis Emerging Markets; Andrew Fassnidge, Founder Africa Tech Summit; and Ade Olufeko, Chief Executive & Strategist at Visual Collaborative.
Basically, we've reduced the number of panels this year while ensuring that each seat is filled with high impact speakers representing organizations doing business across the continent. See all speakers here and be on the lookout for more announcements soon!
IMPACT – If there's one thing I'll take away from my time at London Business School, it's a significantly better appreciation of the word Impact. It redefined my life priorities and at the #LBSABS level, we pursued this along three verticals:
This year, we launch the Accel Awards, an annual business start-up contest organized by London Business School's Africa Club in collaboration with club alumni and corporate partners including FTSE 100 companies, venture capital firms, entrepreneurship incubators and media companies. Top 3 finalists' flights will be sponsored to London and they stand a chance to win from a pot of £15,000.
There will be more time for networking at the summit, as we would like summit guests to form more meaningful connections from the high-quality network at #LBSABS. To facilitate this, guests will have access to Crowd Compass to facilitate connections and n
etworking during the summit. These conversations will continue at the gala dinner, which ends with our classic after party, that promises to be another spectacular event!
To facilitate recruiting discussions, event and career fair sponsors will have stands on the sidelines of the summit to meet with summit attendees. They will also have access to the CV book of attendees who express interest during signup in exploring recruiting opportunities. #LBSABS attracts the best and widest range of professionals, students and Africans in the diaspora, which makes it a prime event to spot top talent. If your organization would like to be involved, please reach out to us via the website.
In summary, "Scaling for Impact" is about exploring the evolving realities of growing businesses at scale in Africa, as well as how to do this while making meaningful impact. The date is May 12. The venue is Landmark Hotel, Marylebone, London. And the event is the 17th London Business School Africa Business Summit.
See you there!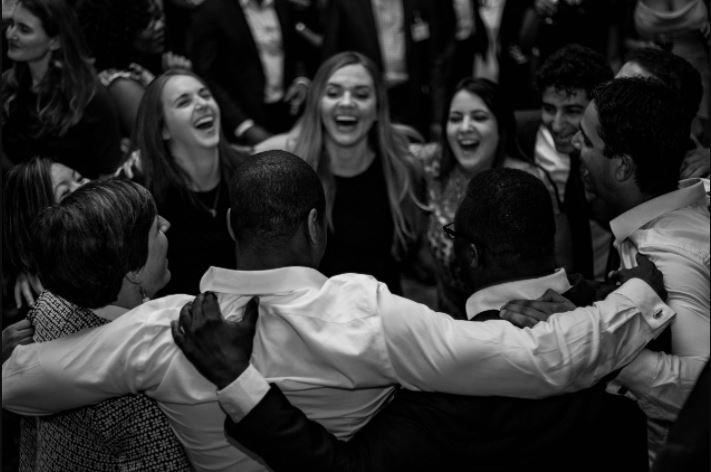 The 4th word is: 'FUN' – A scene from the 2017 #LBSABS afterparty