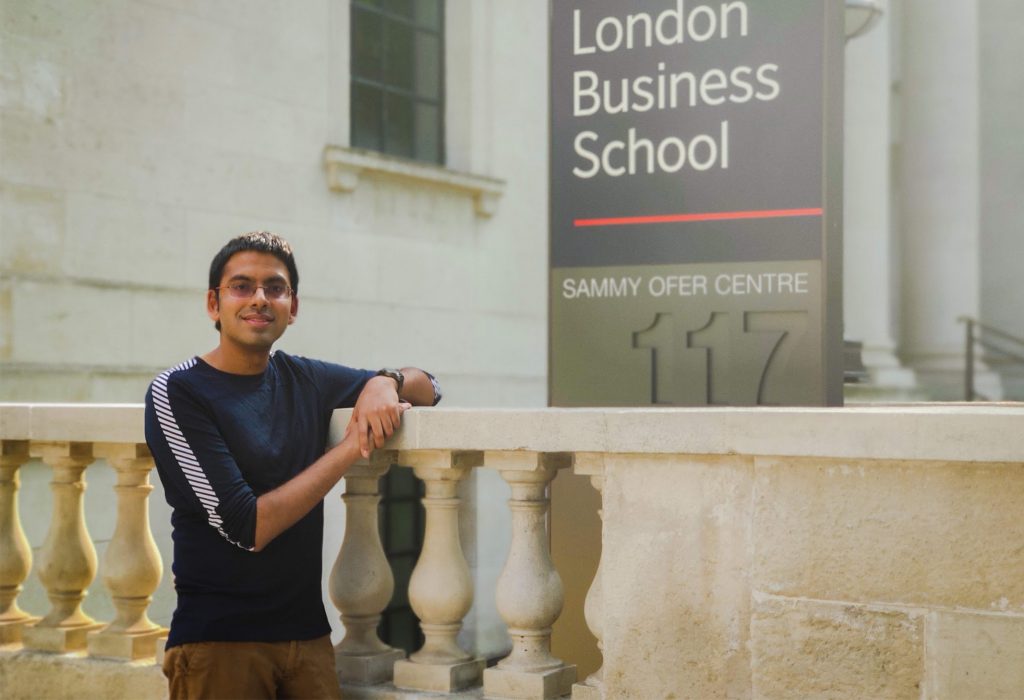 By Giri Kesavan (MBA2021)
Giri is the Co-President of The Tech & Media Club at London Business School. An MBA2021 student, he also chairs the degree & careers wide Technology Sector Steering Committee, working with the school, faculty, industry, alumni and Careers Centre on Technology education & careers. Giri works with The Wheeler Institute on content development, outreach and student-led collaborations. He is further involved with the school as an MBA Academic Representative and Peer Leader for Technology.

The intersection of Technology & Business. Digitalisation is transforming how we think about business in all aspects of our lives. With an ever-growing emphasis on developing employees with data-fluency, management decision making skills and a strong appreciation of the technology sector, embedding technology and business into the LBS experience has never been more important.
As I come towards the conclusion of my MBA programme at LBS, it's been a privilege to work holistically across the school to prepare our students with the skills, experiences and network to embark on careers in Technology. Over the past 18 months, across faculty, staff, alumni, student led initiatives, experiential learning teams, alumni & industry – we've built a real focus for Technology at LBS.
Academics
Painting a story with data. It's what I talked about last summer when we first introduced our new MBA concentration in Technology & Analytics. The concentration gives our MBA students a mix of skills across Product Management, Analytics, Marketing, Deep Tech applications and Digital Strategy – all within the MBA programme and taught by our expert faculty. This year we've also augmented the curriculum with critical skills across SQL and data visualisation tools – truly preparing our students to lead data-driven teams.
Careers Centre
With a dedicated Technology focused sector team within LBS Careers Centre, our students have dedicated individual mentoring and sector specific advice. Indeed, in my first year, I was amazed at how individual and personalised the feedback gets! This year, it's been a privilege to be part of the Careers Centre Peer Leader programme, where second year students act as sounding boards and informal mentors to new students. Supplementing this, we've leveraged the virtual context to run more events, networking opportunities and speaker sessions than ever before.
Student-Led
Student clubs are a critical part of the LBS experience and I've had the honour this year to help lead The Tech & Media Club (TMC) as Co-President. Within TMC, we've focused on connecting students to opportunities in technology – through a mix of fireside chats, international treks, industry talks and skills training sessions. Further, this year TMC has expanded the Elevate mentorship programme by connecting our students to alumni mentors within industry, building a partnership, sparking a network and giving a true insight into the industry.
Alumni
It's been a pleasure to get to know so many amazing alumni during my time at LBS. Across the world, our alumni in Technology have leveraged their LBS experience to embark on successful careers in the Tech sector on a global basis. This year, our Alumni have been involved in career related international virtual treks out to Silicon Valley, New York, Dublin, have become involved in mentoring current students, helped with skills workshops and recruitment preparation and been a key part of technology focused events.
Academics. Careers Centre. Student-Led. Alumni. Across these 4 pillars, we're ensuring that our school has a fantastic suite of opportunities for students from any background to become tomorrow's technology leaders and create impact in the digital world.