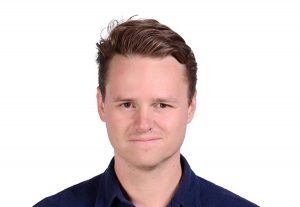 John Fowler is currently studying the MBA, graduating in 2021, and completed an internship with search fund Blue Knot Partners during his first year. He's also involved in the Private Equity/Venture Capital ExCo, and recently organised the LBS Snow Trek as part of the Snow Club ExCo. John tells us about his experience leveraging a public sector background into a business career.
What were you doing (and where) before you came to LBS?
I was working for the Australian Foreign Service as a diplomat based in Shanghai. I had a broad role there, but overall because Shanghai is the economic heart of China, I was responsible for the economic and business portfolio. I also reported on the Chinese political system, but most of that work was done from the Embassy in Beijing. In my role I travelled into the provinces a fair bit which was a great experience. I feel I got to understand China quite well at the end of almost 4 years there!
Why did you choose to undertake your programme at LBS? What was your motivation?
I started my career as a corporate lawyer back in Australia and then moved into the Australian Foreign Service. Having done about 7 years in public service I wanted to pivot back into the private sector. Unfortunately, I found that wasn't as easy as it probably should be. That's largely because the public sector has traditionally not been good at communicating its value-add. The corollary is that private sector employers don't quite understand the value of public sector experience. That was the germination of my plan to do an MBA – to bridge that gap.
However, the more I investigated the MBA as a concept, the more it felt like the right further education opportunity, and more than just a means to an end. I felt that the time was right to take some time out of my career and get out of my comfort zone and learn key skills I didn't have but wanted (and needed).
I chose LBS for a few reasons – first, it's obviously one of the top programmes in the world, and particularly in Europe. I wasn't overly interested in studying in the US as the average age skews a fair bit younger there (and I was in my early 30s when I started at LBS). Secondly, compared with other top programmes, I preferred a 2-year program as the goal was to explore next steps and learn as much as I could. The MBA for me wasn't simply a resume padder or a career accelerator, but a genuine chance to explore and grow. Lastly, London really appealed to me as both a great city to live in during the MBA but also somewhere where I could see myself living post MBA. That was important to me – after a career in diplomacy I'm keen to stay in one place for a little while!
Where are you now?
I've just finished my first year of the MBA – an intense experience which honestly was busier and harder than I imagined. Admittedly I threw myself into things head first which culminated in a final month or so that was much busier than any full-time work!
I've also whittled down my plans for the rest of my MBA – I've decided against formal recruiting for the more standard paths (consulting, investment banking and so on). I'm looking at developing a business idea I have come up with. Frankly, I view the next year as a relatively low risk, highly supported opportunity to have a go at starting a business – something I've always thought about but never had the opportunity to pursue.
I think that's probably the value of the MBA for me – the space to think, and a few months to dip your toe in whatever pool interests you and then whittle down what you think you might like to do. You can't do that if you're working, and it's still pretty difficult even if you're doing a part time or 1-year program.
What specific events/services/activities in your time at LBS helped you get there?
Honestly, I think the vast array of presentations, advice, information sessions, and briefings help you figure out what you don't want to do. I didn't find any answers about what I wanted to do until I really started to think about what my motivations, strengths and weaknesses were. But I did pretty quickly realise that I didn't want to transition into a lot of the careers on offer. That's every bit as helpful as finding what you think you might like to do.
I found the initial courses that focused on personal development, career motivation and self-awareness very important. These kinds of reflections early on allow you to anchor your LBS experience around things that matter rather than getting carried away by money or desirability or simply following the crowd.
Also, I think being surrounded by the breadth of experience of my colleagues. In a class of 500 or so people, if there's anything you're interested in then someone has done it, and there are hundreds of options I didn't realise were even possible. My classmates might be the single most useful resource.
Lastly, its important to note what LBS is not – its not going to put a new career/life on a platter for you. The onus is still on you to make things happen and pursue them. The value of LBS is that if you do that, you'll get the support, networks and infrastructure that gives you a leg up over other people who are also hustling but don't have the LBS benefits.
What skills did you have from your previous career that were applicable to your new role? How did you make those transferable skills clear to employers?
Well, here is the crux of the issue, I think. I had a lot of transferable skills in my mind – advanced planning and organisational skills, highly developed 'stakeholder management' skills (to use some ugly jargon), management experience exceeding many others my age, cross-cultural communication skills, in depth understanding of world affairs, economics, trade and any number of other subject areas. I had also already practiced as a corporate lawyer so brought legal skills to the table as well.
But honestly, after almost a decade of work experience, the most important thing was that I knew what kind of employee I was. I knew what my strengths and weaknesses were, how to motivate myself and others, and how to learn quickly on the job. I also developed the self-awareness to know what I didn't know.
You can see however, that those skills are pretty difficult to communicate via a 1 page CV. The private sector tends to deal in numbers and figures – how big was the deal you worked on? How many times have you been promoted? The public sector doesn't operate that way and it can be difficult for people to understand that the monetary value of a project has very little bearing on your role, and whether you'll be successful in the private sector.
What challenges or setbacks did you experience in transitioning from a specialist career? How did you overcome them?
Before finally deciding to pursue my MBA, I hunted for jobs in the private sector and I was fortunate enough to get a few offers that tempted me. However, they were all government relations roles (understandable given that was my experience at the time). But, by that time, I had decided that I didn't want to stay around the public sector for the entirety of my career.
As I mentioned, discovering that potential employers couldn't see the value I'd bring in a commercial role was a little bit of a setback. In my mind I fit all criteria for the roles I was applying for, and the things I didn't have could be learned quickly on the job. I think I was probably a little naïve to believe that employers would see that I was a great candidate notwithstanding not having a certain specific skill (e.g. financial modelling, SQL skills, or so on). Similarly, I think employers were too focused on finding disembodied skills rather than people who could learn and bring broad value.
Overall, it was a great learning experience for me – it's led me to do my MBA which has been 100% the right choice for me, and it also gave me a playbook for how not to hire people if I'm ever in a position to do that. It's also got me thinking a lot about how the public and private sector need to work more closely together for the benefit of our societies, but that's a broader point for another day!
One piece of advice for students looking to emulate your journey:
Keep an open mind.
You're looking to explore, develop new skills and have new experiences or you wouldn't be considering an MBA at LBS. To that end I think having more options is almost always better than focusing on one thing. If you're really focused on one career, think carefully about the huge commitment that the MBA is – you may be better off just going and chasing that goal. But if like me you want to know more, understand more and be able to do more, throw yourself into an MBA and keep an open mind.
You're running your own race, at your own speed and you're your own person. Most of us will be working until we're 80+ so there is plenty of time to make money, exploring your curiosity and developing new skills will pay off in the long run through better relationships, experiences and hopefully a more rewarding life. At least I'm hoping it will!