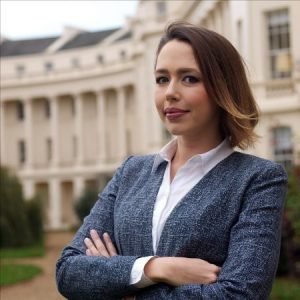 By Gina Passaro, MBA2017
I was a mechanical engineer for the US Department of Defense, based in Washington, DC. It was a very technical role, but ultimately I saw limited growth opportunities, which led me to pursue an MBA.
I was attracted to LBS based on the interactions I had with alumni throughout the recruiting and interview process. I could sense the strength of the community, and I was impressed by their warmth and energy.
The Tech and Media club gave me a strong introduction to the tech world – from getting to know the lingo, to understanding the types of roles available. In addition, Impact Consulting gave me a hands-on introduction to leading teams and managing projects.
Being in central London enriches the MBA experience, as the city becomes your classroom.
Because of the location, LBS classes and clubs are able to bring in a wealth of top-notch guest speakers. Also, London is a great starting point to explore Europe on the weekends (very thankful to cheap Easyjet flights!)
For me, my biggest programme highlight was joining my classmates on the Tattoo stage for a celebration of our many cultures (I led the Salsa Club performance!). The food and drinks from around the world made for an amazing night!
LBS gave me a uniquely international perspective. I'm now a Global Supply Manager at Apple, working on the iPad programmes. I work with our designers and suppliers to make impossible products a reality. My role involves doing business overseas; I believe LBS offers the strongest preparation for global business and working across cultures.
LBS MBA students have a more global perspective compared to those of American business schools, as the experience of learning amongst a truly diverse class is unique.
Students also have the opportunity to travel the world on Treks and Global Business Experiences (GBEs), which I don't think any other school can do this to the same extent. I went from having one stamp in my passport to more than thirty after my MBA, all because of the experiences the LBS community had to offer.
One piece of advice that I'd offer to applicants considering London Business School's MBA as well as MBA programmes offered elsewhere would be to take the time to do your research and find the best fit for you. This will be a significant investment of time and money, so really understand what makes each programme unique. Speak to alumni, and if you have a chance, visit the school and sit in on a lecture to get a feel for what your time there will be like.