London Business School prides itself not only on its world leading reputation, teaching, and alumni network, but also its global community and perspective. Representative of its international presence, my journey from prospect to LBS Masters in Management 2024 student was also a cross-border adventure.
TLDR
Reputable rankings are a great for building a short list of business schools
Get to know LBS as much as possible through all its channels
Give yourself time to make the best application possible
Relax and make the most out of your interview
The earlier you apply the better
The search begins: August – September, United Kingdom
Born and raised in the United Kingdom in a tri-national/lingual household, I pursued a double-degree undergraduate course split evenly across four years at Lancaster University (UK) and ESB Reutlingen (GER). During my final years in Germany among studies and internships at UniCredit, HSBC, and Deloitte, it became clear, that to achieve the goals I wanted, I needed to pursue a Masters in Management at a leading business school to better develop myself and make my profile stand out from the crowd.
The hardest step is always the first, and finding among all the business schools in the world the right business school for me was always a daunting task to begin. This is why rankings are crucial, especially for those who are only just beginning their business school research. Reputable rankings such as the Financial Times' Masters in Management and European Business Schools leader boards can be a fantastic springboard to help highlight and contextualize business schools you might already be aware of, while also introducing the ones you might not know.
With my ambitions set high and wanting to return to London after three years spent all around Germany, London Business School's reputation, top rankings, and location were a massive initial draw to me. But an initial draw isn't enough, especially when wanting to convince the recruiters you actually know what the LBS community is all about and why you would be a good fit!
Getting to know London Business School: October – November, Germany
Researching business school after business school, it can be hard to build a genuine picture with all the cliché slogans, pictures of smiling students (bonus recruitment-bingo points if they're playing frisbee!), and generic information out there. LBS though, goes above and beyond, making it extremely approachable with the multi-faceted opportunities they provide you with to encourage community engagement.
My journey to get to know LBS better started, like many of the prospective students who are not in the UK, with a webinar. The two-way presentation with from the recruitment team proved extremely insightful, as they highlighted the individuality of London Business School, its recruitment process, and answered all our questions from applications to post-LBS opportunities (plus everything else in between). The webinar was a perfect springboard for the more informal routes of getting to know LBS. Having understood the formal application requirements and programme structure, it was time to delve deeper into really understanding what LBS with its famed community is all about.
Firstly, I reached out to student ambassadors, to gain a better insight into the student profiles on the course, as well as understand the student perspective from those already currently enrolled. The student ambassadors were so helpful, friendly, and willing to provide insight – all in their spare time. Their help in giving a student-based perspective was crucial to my draw towards LBS. The student ambassadors' passion for their school and class spoke strongly to me and was a huge motivator for myself becoming an ambassador too.
Lastly, to get to know LBS even more, I really dove deep into the school's online presence. By this, I don't mean only looking at the MiM webpage, but looking through every LBS page out there. For example, I looked at the events and clubs on offer to shortlist the clubs I would already like to engage with, seeing myself at London Business School, immersed in the community, before I had even sent an application off, let alone received an offer!
Ultimately it's down to you to decide how well you want to get to know the business school. But, the more you discover, the more you'll be rewarded. The more I learned about LBS, the more excited and motivated I was to join (and it will always make your application stronger if you can actually demonstrate an interest in the community).
Application: December – January, Germany
The journey from prospective student to admit was now beginning to creep up. While balancing a full-time role in Deloitte Consulting's M&A team, I was studying for the GMAT in the evening while simultaneously planning, drafting, and writing my application essays for LBS.
Looking back on the process, I really didn't make my life easy. I had to meet my specifically chosen deadline to apply, as I already had a 6-month backpacking adventure planned and booked. This meant, due to a delayed start to my GMAT preparation, my GMAT exam was only a couple days before the deadline and would therefore mean the score would be make or break for me. If I performed poorly, I would have to cut back my entire planned trip, study for it a retake, and apply to LBS later than I wanted! This additional stress was a motivator to study hard in the evening but it would have been better without it! Thankfully I achieved a good score, and I was able to apply to LBS on time, but if I could do it again, I would give myself a lot more time to make it less stressful (LBS does look at profiles holistically, not just your GMAT score, but you always want to be the best you can be).
I would also give this advice for your essay writing. Take the time to make it the best you can do. You may have written an essay last minute and gotten a good grade before, but don't leave this up to chance! The word count isn't huge, so make sure you really ponder how you would like to come across and make your application stand out. And the great thing is, there isn't a right or wrong answer, just be the true professional and character you are.
Interview: February, United Kingdom
The next step, as I'm sure you already know by now, is an interview. Interviews are carried out by alumni, and LBS will try to get an alumnus with matching career/interest profiles.
All I can say about this is: relax, breathe, and smile.
Although a cliché, these interviews really are there for you to get to know LBS better, and for LBS to get to know you better. If you've done your research, are passionate about wanting to join LBS, and remain genuine, there's nothing more you can do. See the interview as an opportunity, not a test!
Offer & Scholarship: March – April, Sir Lanka & New Zealand
Hopefully all the hard work has paid off and you receive that cherished offer.
Continuing the theme of an international community, I was backpacking across Sri Lanka at the time of my initial offer. Scholarships, however, are awarded later, but still before the deadline to accept your initial offer (so don't worry about this).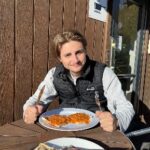 A month later I was backpacking across New Zealand where I received an email confirming I had been given a scholarship offer – I remember calling my dad across the world at 1am to tell him the amazing news.
Celebratory British baked beans on toast for breakfast to mark scholarship offer and acceptance to London Business School
The hard work put into my application had paid off, I was able to make the most out of my global experience giving back to communities, knowing that another international community was waiting for me in August. Having applied in one of the earlier deadlines, I was able to take full advantage of all the opportunities in front of me while exploring Asia and Oceania, knowing that I had sorted out my next chapter.
Thank you for reading, and I hope this proved insightful. If you have any questions about this blog or LBS in general, please feel free to reach out on here.
Written by Joshua Marienfeld, MiM 2024