Sarah Page (EMBAL2021) shares her experience of an action-packed year as President of the LBS Board Fellows Programme.
Before joining LBS, I had been an Investor Relations Manager for various companies, spanning multinational banks to private equity. I started my career as an accountant, which came in handy when I transitioned to IR. Although I enjoyed IR, I want to take on multi-faceted senior leadership positions in the future as I want to go much further in my career.
My decision to go to LBS was simple, go for the best and in the UK. The consistently high global rankings and distinguished list of alumni say it all.
LBS also has a vibrant student community with over 70 clubs, so you can choose how involved you want to be and in what. I found signing up to clubs I didn't know much about helped me learn about possible new career paths. There are so many talks by senior leaders in the industry to hear from; it makes you feel very special to be a part of LBS.
There have been many highlights at LBS. My study group has been amazing, and I have made friends for life with them and with my cohort. I feel I've become part of the "LBS Family", and I love that there is an unwritten rule that we help each other out.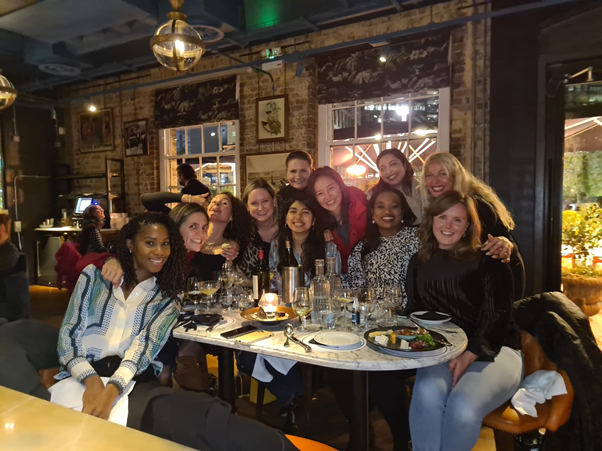 The LBS brand opens up a lot of doors. It has allowed me to meet people I would not have otherwise crossed paths with. For example, through the LBS Board Fellows Programme, I have met numerous CEO's in the non-profit sector, and I have built relationships with the Leadership Institute, which has opened up opportunities to meet board-level executives.
At LBS, I found that the more you put in, the more you get out, as everyone is approachable and genuinely willing to help. I recently organised a Q&A session with a prominent Non-Executive Director and book author. I also had a chance to hone my pitching skills to win funding for the Board Fellows to grow our operations. I've signed up to be an EMBA Ambassador to welcome new students, and I've already made a few great connections.
I want to help LBS students give back to the community by applying their knowledge from their LBS degrees. I feel this a huge benefit the Board Fellows can give the students in addition to them studying at LBS. This experiential learning will help students in their future career, if they decide to pursue board roles. Students get to learn about Corporate Governance while they shadow the board. At the same time, charities appreciate the students' volunteering efforts.
Specifically, as President, my role is to be an Ambassador, set the strategy and lead the team so that when I graduate, I leave a strong legacy for the next President and future LBS students. Since July 2020, the team has more than doubled in size. We have expanded into Dubai and are currently really ramping up our charity pipeline to place more Fellows than ever before.
I have a fantastic team who are very ambitious and are pushing the Board Fellows to new heights. Susan Yu and her team are doing a great job at bringing new charities on board. Meanwhile, Gigi Jia has put a lot of work into the London Ops and Marketing teams to scale us up. Also, Asih Wulansari has been amazing with our Dubai activities. The Board Fellows Programme wouldn't be where it is today without everyone's hard work and many hours of dedication that they have put into helping their fellow students and charities.
I've learnt a lot about myself through the Organisational Behaviour subjects. They have given me insights into my strengths as a leader, friend and colleague. Most of all, the experiences at LBS have given me incredible confidence in myself, my abilities and to pursue whatever I put my mind to.
I've discovered exciting opportunities through the invaluable connections I've made, and that's the power of the LBS network. Students, staff and faculty sincerely endeavour to foster a collaborative community, which doesn't stop when you graduate.