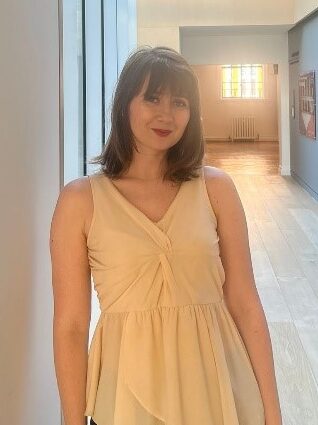 By Alina Ursachi (MBA2023)
Finding Balance in the Midst of the MBA Rush
Imagine starting your MBA journey, buzzing with big dreams, countless classes, and the intricate puzzle of charting your career for the next ten years. It's like a whirlwind, right? That's exactly how my first term felt. Fuelled by the urge to challenge myself, I eagerly embraced new opportunities, often thinking, "Why not?", but reality soon kicked in, reminding me that there are only so many hours in a day (unfortunately, still a mere 24 hours). My energy started to waver, and as someone who values quiet moments, I found myself swept up in the rush. And guess what? I wasn't alone. I observed my fellow classmates coping in various ways such as skipping events or some wrestling with anxiety. But here's the thing – we never really talked about it. The terms "wellbeing" and "mental health" seemed out of place in the context of a business school.


Beyond the regular path: Unveiling a Journey of Self-Discovery
My time at LBS went beyond exams and job offers. It transformed into a journey of self-discovery and personal growth. Late-night conversations with friends sparked profound questions: Can we build a thriving career while nurturing our personal lives? What defines a sustainable life? How can introverts flourish in this dynamic and sometimes overwhelming environment? And most importantly, when should stress be seen as an alarming symptom? These questions set me on a mission to explore wellbeing in its entirety.
Laying the Cornerstone: Uniting a Diverse ExCo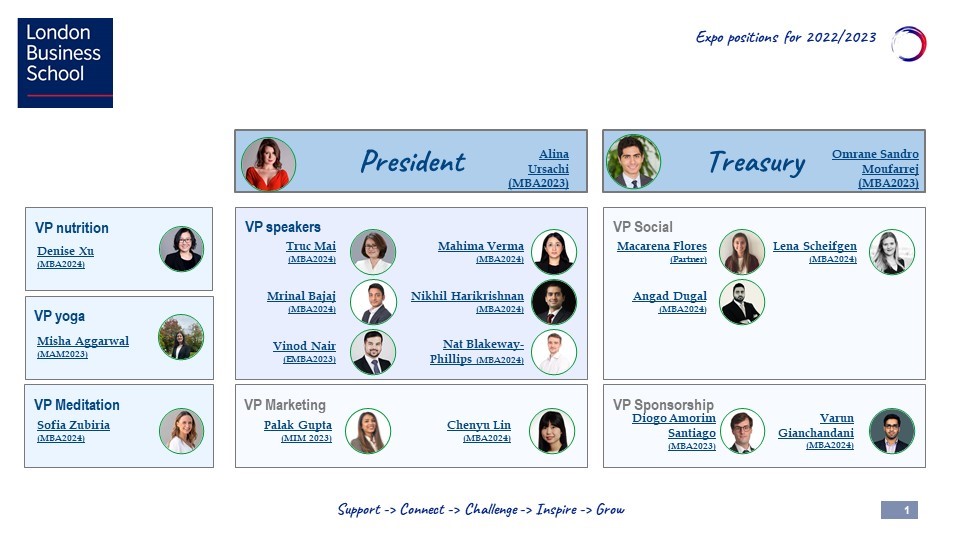 Armed with these questions, I took the helm of the Wellbeing Club. Just like any significant project, it all began with a strong foundation. I assembled a diverse Executive Committee (ExCo) encompassing varied backgrounds and perspectives. We engaged in open conversations about stress, the fear of missing out, and the delicate art of work-life balance. This ExCo transcended being a mere team; they shared my aspirations and held a firm belief in our mission.
A Blend of Activities: Empowering Holistic Wellbeing
Wellbeing isn't a solitary entity; it's a fusion of factors that contribute to our thriving. Drawing inspiration from my consulting background, I tackled this challenge with a structured approach. In essence, leading the club at LBS closely mirrored managing a project – there's a team to guide, inspire and empower, outcomes to achieve, and some metrics to oversee. The effort for the year was divided into 3 streams: Firstly, we nurtured Physical Wellbeing through practices like yoga, meditation, and mindful eating. Then, we had the Speaker Stream, inviting inspirational voices like Dr. Selin Kesebir to share their insights. And to thread it all together, we established the Community stream. Under Omrane's guidance, our Treasury, we organised rejuvenating "city detox sessions" across forests in the UK.
Mental Health Awareness Week – A Paradigm Shift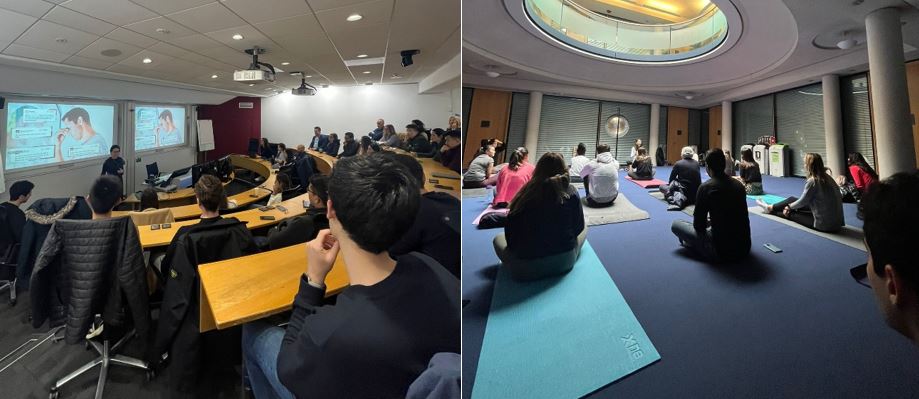 The turning point emerged at the end of March, as a greater number of individuals opened up about their personal struggles. That was the moment I realised that our perception of mental health needed a transformation. The momentum was building, and perhaps students were now ready to discuss it, or at the very least, listen. This is when I had the idea to host the Mental Health Awareness Week in LBS, a transformative event destined to reshape our views on mental health and ultimately establish an annual tradition at LBS. The aim wasn't for it to be a one-time event, but rather to spark a recurring event for the future of LBS. Our beautiful Sussex Campus was the ideal place for the opening ceremony of our week-long event. Given that we were in business school, we aimed to also have some level of emphasis on the concrete financial consequences of mental health issues on employee performance and, consequently, on broader business outcomes to showcase the importance of such topics even in a business context.
An Idea Put into Action: Navigating Challenges
With this idea in mind, I started to organise the week-long event. As a summary, it was a mix of last-minute organisation stress, fear of failure, coupled with the excitement of excelling. Indeed, we had to manage organising such a big event in under a month without a substantial budget as well as convince students to consider attending despite stressful job hunting. But, I was determined to initiate discussions at LBS, gain the Dean's endorsement, and make students realise the paramount importance of wellbeing.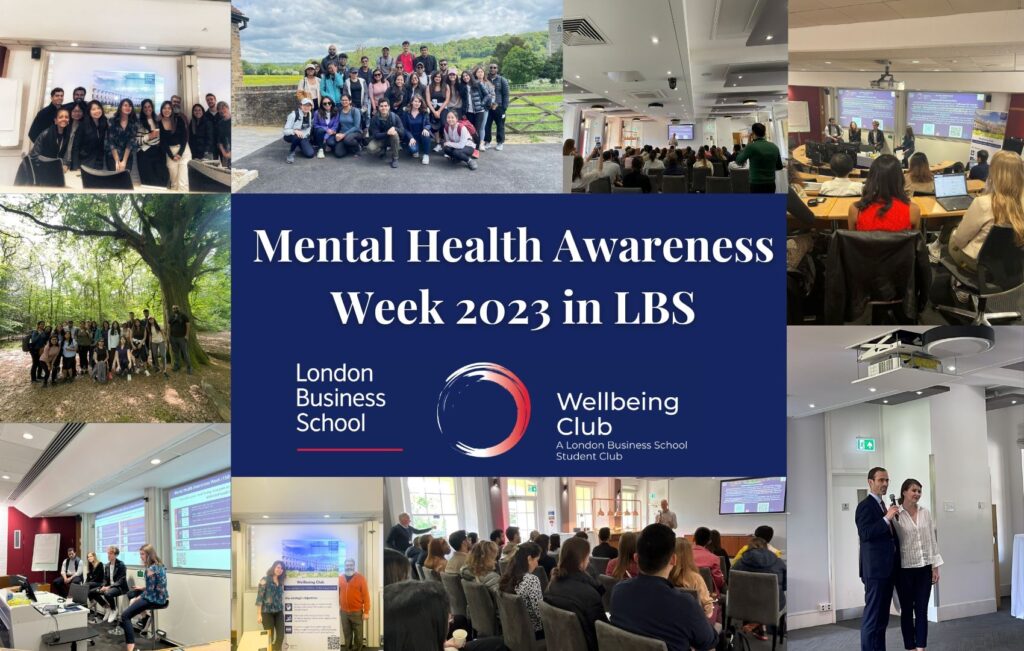 Highlights of Event Organisation: A Triumph of Teamwork
Collaborating with my amazing team – with a special shout-out to the marketing maestros, Chenyu and Palak, whose dedication and hard work truly stood out.
Garnering support from all quarters: From securing the approval and support (and sponsorship) of the Student Association to convincing teachers and the Dean about our cause.
Unexpected Allies: Fellow clubs and classmates took me by surprise. Their support wasn't a mere nod; it was an assertion that we all believed in the wellbeing cause.
A Week of Transformation: Major Success!
🌈 Over 400 people participated, extending beyond students to include alumni and external attendees. Mental health took centre stage, and the impact was profound. 🎉 The week offered a diverse range of experiences – serene forest walks, soul-soothing sound therapy, resilience workshops, candid discussions about anxiety, and enlightening talks by wellbeing pioneers.
A Call to Sustain: Infusing Wellbeing into LBS's Essence
This achievement wasn't mine alone; it was a collective triumph. It illustrated the remarkable outcomes possible when we unite. And we shouldn't stop here.
So, here's my call to you, the future LBS community. Let's continue this positive discussion in the future. Together, we can create an environment where everyone thrives – physically, mentally, and emotionally. And as we progress, let's remember, our transformation goes beyond our own selves. We're evolving into leaders who grasp and cater to the diverse needs of those around us. Let's weave wellbeing into one of the core values of LBS, because leaders who prioritise wellbeing hold the power to redefine the game.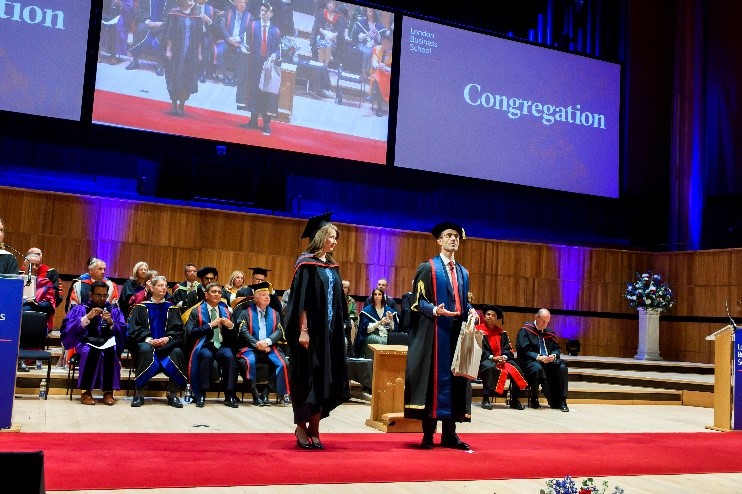 A Moment of Pride
As I look back at this rewarding journey, it became evident that taking on this leadership opportunity had completely changed my MBA journey. LBS instilled the wisdom that expressing our convictions and taking proactive steps can set monumental change in motion. As I envision this event as a cornerstone for future conversations, I am reminded that even the smallest actions can spark remarkable ripples. To top it all off, as a recognition of the efforts, I was awarded the London Business School's yearly Dean's Award. It acknowledged the impact my team and I initiated within the LBS community. It was among my proudest moments, and a testament to the ripple we had initiated.