By Malak Hammoud, Recruitment Manager – MiM, GMiM, MFA
When considering a Masters degree we understand that you need the right support and guidance to navigate through all the options and requirements to make sure you're making the best decision for your future. Our Early Career programmes portfolio are aimed at fresh grads looking to launch their business career and thrive in a competitive jobs market. You might ask yourself what's different about these programmes or what programme is right for me? This is where the Recruitment & Admissions team at LBS can lend you a helping hand.
We can help you through all the stages leading up till you become an LBS student. From programme content, LBS life, application requirements and personalised consultation – we're here to help every step of the way. You can find all the information you need to submit a strong application with our help. Let me introduce you to the individuals that you may meet along your journey.
Student Recruitment Associates
Alex Hurd – MiM & GMiM Student Recruitment Associate (mim@london.edu)

"Hello, I have been working at LBS in the recruitment team for over a year now. I have really enjoyed meeting some of you in person at our events and now virtually over Zoom consultations. I'm originally from the Cornish seaside but feel like a city convert now as I have been in London 10 years! Outside of LBS I am a massive music fan who plays drums and you can always catch me at a gig somewhere".




Callum Charman – MFA Student Recruitment Associate (mfa@london.edu)

"Hello! I've been recruiting for the MFA programme for a year and a half as a Recruitment Associate. I enjoy hosting regular events on campus (from home recently!) for prospective students. Please feel free to reach out with any questions about the programme and admissions process. Away from LBS, I enjoy live music and keeping fit".




Maria Busz – MAM Student Recruitment Associate (mam@london.edu)

"I moved to London just over three years ago and I've been a part of the MAM recruitment team for almost two years. My favourite bit about the job is hosting international events to give you, the candidates, a better idea of what to expect at LBS! In my spare time I enjoy yoga and travelling".



According to which programme you are interested in you will be met with a friendly hello from your relevant programmes associate. Our associates will most likely be your first point of contact during the research phase. They are here to answer all of your queries – all of them! They offer personalised feedback and assess your fit for the programme when you submit your CV for a review. Book a one to one consultation with the team for useful material and advise to support you in submitting your application. They can also link you with our student ambassadors for you to get to know and connect with. Email them today, don't be shy!
Student Recruitment Managers
Malak Hammoud – MiM & GMiM Student Recruitment Manager

That's me! I've been recruiting for LBS for just over 2 years. I started as the MiM & GMiM recruitment associate and now the programmes recruitment manager and I'm enjoying every second of it. My favourite part about the job is travelling the world and meeting you guys in your cities and seeing you through the journey until you become students. It's super rewarding seeing applicants accomplish their dreams and become part of LBS. I'm originally from Lebanon, born in Africa, and was raised in London so you can say I've been exposed to a lot of amazing cultures. I enjoy dancing and I would say I'm a real pizza enthusiast!



Hema Solanki – MFA & MAM Student Recruitment Manager


"I started my LBS journey in 2015 within Executive Education before transitioning to the Recruitment team in 2018. Initially working on the Leadership Programmes, which was thoroughly exciting as building relationships through consultative sales with the middle to senior managers kept me on my toes. Recruiting students onto the Early Careers Masters programmes is equally rewarding. I'm an Indian, born in Kenya, and began my career working in Investment Banking in London with 6 years as an expat in Hong Kong. I love the flavours of my Indian cuisine with Thai and Japanese hot on the heels. Federer & MS Dhoni are my sporting heroes!"

Along with the recruitment associates myself and Hema are responsible for providing you all with all the information and support you need to submit a strong application. We do this through one to one consultations, hosting various events that support your research when choosing the right programme. You will find us at career and university fairs answering questions related to our programme content, LBS life, employment opportunities and our student and admissions blog.
Operations Team
Victoria Poon – Recruitment and Admissions Manger
"As Recruitment and Admissions Manager looking after operations, my role is to ensure that you have a seamless journey throughout the admissions process and all the work that goes on behind the scenes for the Admissions Team! This includes processing your complete application, informing you of your admissions decision and providing you support until you become a student at LBS.
Alongside my excellent colleagues Elizabeth Taiwo and Savana Davis, you'll most likely hear from us via email and over the phone and we are here to guide you from the moment you click submit!
Elizabeth looks after applications for the Masters in Management (MiM) and Global MiM.
Savana looks after applications for the Masters in Financial Analysis (MFA) and Masters in Analytics and Management (MAM)".
Alexandra Salter – Senior Recruitment and Admissions Manger
"My name is Alexandra Salter and as the Senior Recruitment and Admissions Manager for Early Career Programmes, I lead the team on executing our deadlines, our strategies, partnerships, and Scholarships. I oversee the Recruitment and Admissions Managers also, who will be your primary point of contact through your admissions journey. I am a dual national British/Irish citizen, I am a born and bred Londoner and have worked at LBS since 2011 – it is truly an amazing place to be and I hope you will get to experience that too".
Admissions Managers
There are four Recruitment and Admissions Managers who will be an instrumental part of your selection process. Firstly, Hami Dodangeh, Hami oversees the UK and Europe (excluding Cyprus, Greece, Poland, Russia & Turkey). Hami is Swedish, has a degree in Social Science and enjoys following Politics, current affairs, Football and Tennis.
Dimitra Kouli, Dimitra manages the other parts of Europe that Hami does not, as well as the Americas, Africa & the Middle East. Dimitra is from Greece and she moved to London two years ago. She appreciates good coffee, the sunny days and getting together with friends. London is a great city with lots of opportunities to explore, see and taste.
Xiaoya Zhang, Xiaoya manages the region of East Asia and is herself from China. Xiaoya is a keen baker who holds a Diplôme de Pâtisserie from Le Cordon Bleu Paris and is also interested in drawing. She moved to UK in 2011 and obtained an MPhil in Politics, Development and Democratic Education from the University of Cambridge.
Yoon Kim, Yoon manages South and South-East Asia and Australasia and is himself from South Korea. Currently London based, he has also studied and lived in Mainland China, Taiwan, and Australia and has travelled to over 20 countries. London is definitely one of his favourite cities and would be very proud to welcome you to this dynamic city.
Stephanie Kernwein Thrane – Recruitment and Admissions Director
"My name is Stephanie Kernwein Thrane and I am the Recruitment and Admissions Director for the Early Career programmes. My role oversees the entire recruitment pipeline and admissions process including final decision outcomes alongside the Admissions Committee. I have the privilege to work alongside my brilliant colleagues in the Early Careers team who through their tenure at LBS and in Higher Education provide great service to all of our candidates. My team, the staff and faculty at LBS as well as our students and alumni are an amazingly diverse group of individuals who make up the truly global network of the School. I myself am born and raised in Denmark and have studied in the UK and US and spent the last 10 years in my all-time favorite city, London"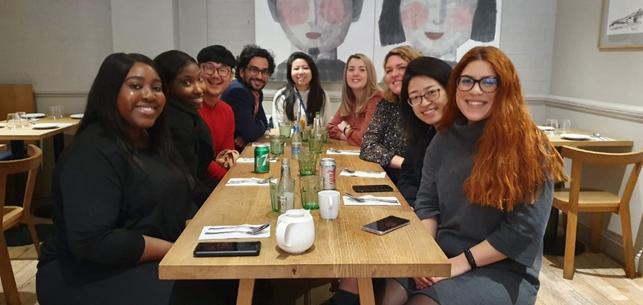 Start your LBS journey and we are all here to support you!