As an economics undergraduate, my main goal when coming to LBS was to expand my horizons and step out of my comfort zone. I aimed to broaden my knowledge and skill set, ensuring I would be well-prepared to tackle any future challenges that might come my way as a strategy consultant. To achieve this, I intentionally pursued a diverse range of courses, opting against specializing in a particular field. This approach allowed me to explore various subjects, including business analytics, private equity, asset management, and M&A.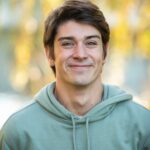 Now, as I reach the end of my Masters in Financial Analysis programme, I find myself reflecting on the profound impact it has had on both my personal and professional growth. This journey at LBS has gone far beyond obtaining a Master's degree; it has been a transformative experience. Looking back, these are the main things I learned while on the programme, which I will carry with me to McKinsey.
Trust yourself and seize opportunities
From day one, I was amazed by the incredible experience of studying alongside a diverse and international cohort. The opportunity to engage with classmates who effortlessly conversed in multiple languages shared fascinating stories of their global experiences, and showcased their outstanding achievements as elite sports champions left me in awe. If you're feeling a twinge of imposter syndrome, and questioning whether you belong among this extraordinary group, let me assure you: LBS has chosen you for a reason! Each of us worked thoroughly to secure our place here, and we all bring unique perspectives and experiences that contribute to the richness of this learning environment..
Embrace authenticity while embracing change
Bring your authentic self to LBS. Be honest and genuine, but also open and flexible. The beauty of the LBS cohort is diversity, and I've learned so much and experienced many of my classmates evolving as professionals and human beings.  This experience has helped me create meaningful connections with my colleagues, adjusting my working style based on geography, and better communicating internally and externally.
Join clubs to connect, network, and thrive
Clubs are the best place to meet like-minded people, share your passions, network, and have fun. Whether it's a sport, professional or hobby-related club, LBS has one (or many!) that will suit you.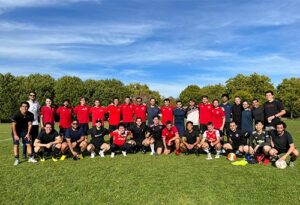 Prioritize passions and carve out time for them
What have you always complained your job was preventing you from doing? Was it reading, politics, sports, studying a new topic, or dedicating time to your friends? You will find time for it and explore new passions. My biggest lesson is if you've found something that brings you true joy, do not let your work or anything keep you away from it. Find the time, set priorities, and take care of yourself and the life you want to live.
Explore and build your path
We often start our masters with a bold idea of our path: job x, company y, city z. LBS allows us to be noticed by our dream companies, which is excellent. But it also gives a more challenging opportunity, to explore different careers, learn about new industries and discover new paths. Talk to classmates and alumni, take a part-time internship, and take a class on a topic that is new to you.
Find your tribe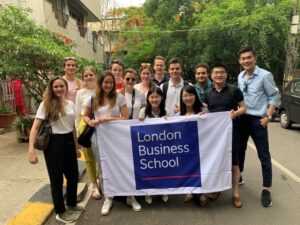 In a cohort of 200+ people, it's great to meet them all, but even better to find "your tribe", the type of people that will energize you. I've found mine and am so grateful for them. They are my family in the U.K., with whom I can count on for anything, and I'm so excited to share my post-LBS life with them.
You get what you give: active engagement fuels growth
As with everything in life, your experience is shaped by what you give. You will benefit the LBS community if you make yourself part of it by organizing a student-led event, join a club, go to conferences, speaker sessions or sundowners. You will get your dream job if you work hard and attend the many cv workshops, networking events and interview prep sessions. You will make true friends if you are a true friend – be there for the ones you love, make time for them.
Avoid comparisons and embrace challenges
Recruiting can be tricky. Being away from family is challenging. The graduate schedule can be overwhelming, these things are all true. In these situations, the best thing to do is accept all journeys have ups and downs and the only thing within our control is doing our best. When facing a challenging and unexpected situation, avoid comparing yourself to others. Each of us has our own path; if you work hard, things will work out for you.
London – a city of endless wonders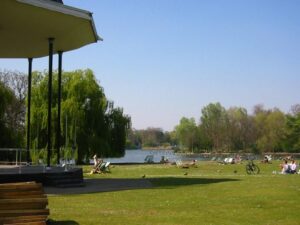 Enjoy the city. A walk-in Regents Park, a picnic on Primrose Hill, cycling in Hyde Park, the markets, neighbourhoods, museums and musicals. We are so blessed to study here. Please take advantage of it!
Time flies: treasure each moment, choose what matters
You can't avoid the "time flies" cliché. It does. This year went by so fast. Find your crowd and shape your path. Be yourself, and evolve as a human being, leader and professional. Enjoy London and work hard for your dream job, but be flexible to change some variables. Read a book, join a club, and take classes on topics you love. Travel somewhere you've always dreamt of. Cross items out of your bucket list and add new ones. But time is also limited. Do not try everything at once. Take time off if needed, set up your non-negotiables and discover what or who makes you happy, and make time for what is essential.
I hope this advice proves to be valuable to you. You might not understand all of it now, but you probably will soon. I have met amazing people and reconsidered my priorities. LBS has changed my life for good and I hope it changes yours too.
Written by Joao Miguel Rodrigues Pereira MFA 2023