By Veronika Kuchinskiy, MBA2023
Now that the first year of my MBA is nearing the end, it's a good time to reflect and share my experience with other mums of small children who are considering applying for the MBA at LBS or are starting next year.
Being the only mum with 2 pre-school children out of a cohort of 500+ students made me realise how unique my experience is. However, it's unlikely that you will be the only parent in your MBA class if you start. In my MBA cohort there were 5 mums (one even became a mum during our first MBA year) and there are many dads as well, so there is a parent community. Last summer prior to the programme start, fresh from my second maternity leave, I was very nervous about how I would manage my duties as a mother of two with the demands of the LBS MBA. Fast forwarding a year I can confidently say that it has been a fantastic experience to embark on the MBA whilst my children are so young. I got to spend much more time with them compared to if I would have been working in my previous role. At the same time, I managed to make the most of my first MBA year. Here are my main takeaways and information points that I would have found useful to know before programme start:
I was an active member of the LBS community
Despite the academic demands (especially in the 1st term) and my duties as a mother, I was part of the TMC ExCo and organised many events. In addition, I was LBS Student Ambassador, Early Careers mentor, took a Japanese beginners course and participated in the Women in Business (WiB) Empowerment circle initiative. In a nutshell, it is possible to manage studies, two children and participate in the LBS Clubs.


I did a flexible term-time Venture Capital internship
Yes, that is also possible with two children! I found a fantastic opportunity in Spring term where I could add value and learn in a very flexible way. This has worked very well for me as I don't think rigid working hours coupled with fixed lecture times would have worked for my family.


The lecture schedule can change every 5 weeks
Especially in the first couple of months my schedule differed week on week. Some courses were as short as a couple of weeks, others were 5 weeks or 10 weeks. There are four different slots during which lectures can take place (8:15am-11am, 12:45pm-3:30pm, 4pm-6:45pm, 7pm-9:45pm). Given these spread-out times and weekly changes, I utilised different childcare options at different times of the year including two different nurseries for my two children (one goes AM, the other PM), a full-time nanny, visiting grandmother and helpful husband. In the first months I was still breastfeeding my younger child and after a slight adjustment in her bedtime routine I could also make 4-6:45pm lectures and breastfeeding work.


Classmates are very considerate if you are honest
Although all terms involve an element of group work, the first term in particular involves a lot of work in your study group. The MBA programme is very demanding from various angles and it's common for students to leave group assignments to the last minute. As a mother of two, I cannot leave work to the last minute or be available for evening meetings, hence I have been always upfront with my team members about my capabilities and time limitations due to private responsibilities. Every student has been kind and supportive and my groups have always tried their best to work around my available time.


Make the most of career events
The online format was a silver lining for me following the pandemic. In the first and second term there are a lot of company presentations and other career boosting events. I was able to attend many of those I was interested in simply because they were online. This is likely to change in the following academic year, but for me as a mother it has worked very well.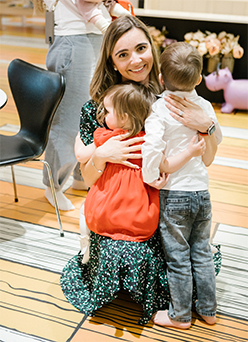 Be prepared to work over some UK holidays
LBS reading weeks and other holidays do not overlap with most UK school holidays, although Christmas and the autumn half-term and reading week did overlap.

Most social events happen in the evening or spontaneously
This is an aspect I expected when joining LBS. Most MBA students don't have the same responsibilities and constraints as I do, hence most social events are arranged very much last minute and towards the evening. I have missed out on most of the social life, however I have made a conscious effort to get to know people through pre-arranged meetups and through LBS Clubs events.

You can create your own shadow treks
In the post-pandemic world my fellow students made the most of their time and travelled a lot. Some trips were organised well in advance, some were last minute and in small groups. Fair to say I missed out on most of them as it's not feasible to bring two toddlers on the MBA trips and I cannot frequently leave my family. However, I still made it to the most fun trip – Snow Trek! I booked my own trip (i.e. did a "shadow trek") so it suited my required times and allowed me to catch up on much needed sleep. I went without the children as one of them did not have holidays.
I knew going into the MBA that my experience as a mother of two will not be the same as that of most students. Having realistic expectations and being kind to myself has helped me, and looking back I can confidently say the year has been much more rewarding, fun and manageable than I expected.
If you are considering applying to the LBS MBA programme as a mother, I hope this insight into my experience gives you confidence that you can manage it with the right support system.
I wish all aspiring MBA applicants and incoming MBA students all the best!

If you're interested in learning more about the MBA programme, please visit our website.