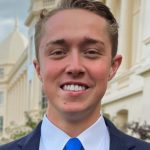 Zach Harkins (MiM 2022) shares why he chose London Business School over schools in the US and gives us a key account of his highlights on the MiM programme throughout the year.
It is difficult to imagine a life without LBS, but as I began applying to several Masters programmes towards the end of my time at the University of Texas, I had never heard of London Business School or a Masters in Management degree.
So what led me to London Business School? A born and raised Texan who had never stepped foot in Europe, to attend a school in a city so far removed from the place I called home. To put it simply, LBS offered me an opportunity to take a giant leap outside of my comfort zone and into something so wildly different from where I had spent my entire life.
It provided me with not only an incredible learning experience inside of the classroom, but also a fully immersive educational journey that gave me a truly global perspective, that no school in the United States could replicate.
Highlights of my year
While the list could take up an entire page, some of the most memorable moments from my time at LBS include:
Celebrating the 40+ cultures at LBS during Tattoo
Working with one of the world's leading tech companies on my LondonLab project
Introducing Austin, TX to members of the Early Careers cohort on my GIFT
Discovering the rich history, amazing food, and international community in the city of London
This past year has presented a variety of experiences that have transformed me both personally and professionally in ways I could never have anticipated. These experiences challenged my viewpoints, introduced me to new ideas, and improved my ability to communicate, cooperate, and problem-solve with people from around the world.
Looking beyond LBS
As I prepare to close this chapter of my journey, I can say with full certainty that my time at LBS has had a huge impact on rewriting my story. The real-world business exposure and outstanding faculty support I have received, have equipped me with the critical skills necessary to position myself as a leader early in my career.
Through conferences, guest lectures, and global treks organized by the 75+ student-led clubs on campus, I have discovered my passion for emerging technologies and start-up investing. This will undoubtedly influence the path my career will take.
Above all else, I have a deep appreciation for the amazing family of incredibly diverse peers that have become lifelong friends. Studying at LBS has been a once-in-a-lifetime experience that introduced me to a world of opportunities that I do not believe I would have found anywhere else. It has helped me grow intellectually, develop personally, and understand the amazing things that happen when taking the road less travelled.
It wasn't always easy, but after all, nothing that is truly worth it ever is.
For more information about the Masters in Management programme please visit our website here.