by Theodore de Maupeou, MiM2019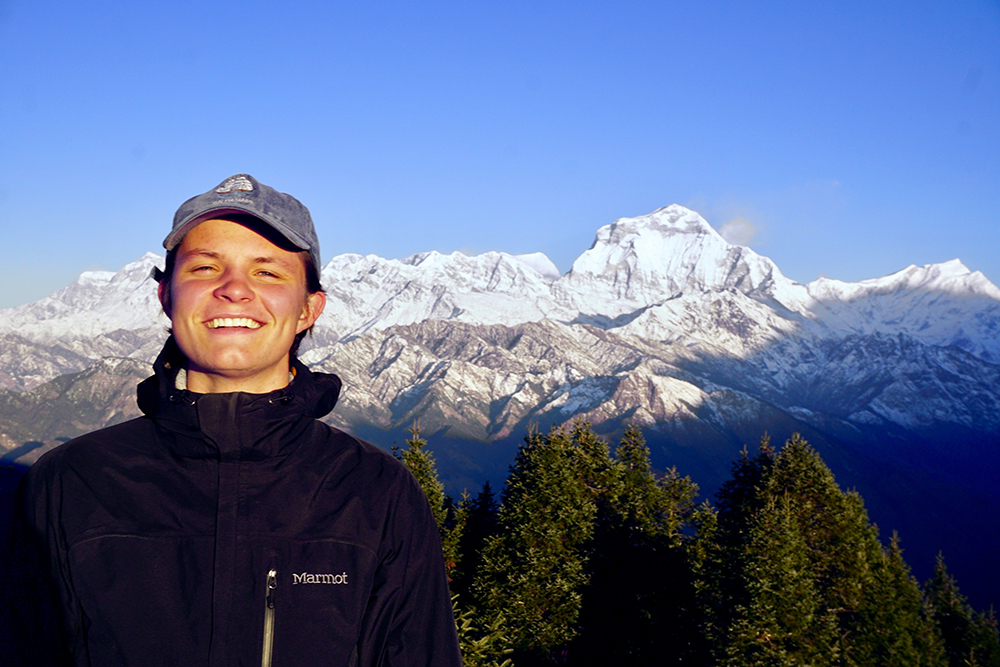 My name is Theodore and I was part of the Masters in Management (MiM) 2019 cohort. I am currently working as a trekking guide in the Himalayas and I will soon go back to a more LBS-style job as a consultant for Strategy& in Africa.
Kicking off LBS
At the MiM2019 welcoming ceremony, our Dean, Francois, delivered a speech. While my neighbour and I were debating the best Premier League club, one element of what the Dean said struck me: "Engage playfully". At the time, I didn't know how to take this piece of advice, but, over time, it sank in. Those two words ended up shaping my LBS experience.
A year at LBS is intense. As a student, you juggle between networking events, exam revision, personal commitments, mad parties… while discerning where you should head to a few months down the line. To be honest, it can be overwhelming at first and I found it essential to pause and reflect on what I wanted to achieve in the twelve coming months. This is when I remembered the Dean's advice. To me, it meant to "engage playfully":
In the opportunities given to grow personally and professionally;
With as many people as you could meet.
In my opinion, these two learnings might be worth sharing with future LBS students.
Combine personal passion and professional interest (and learn from both)
I'm passionate about the mountains and I'm really interested in consulting on the African continent. Put like that, it seems it would be hard to combine the two. Yet LBS helped me figure out how.
The opportunity arose when I got to do my Global Immersion Field Trip (GIFT) in Cape Town, South Africa. How? From a professional standpoint, it meant deepening my understanding of Africa's challenges through a consulting project for a firm tackling social issues in Cape Town. From a personal standpoint, it meant I could trek 10+ days along the South Africa-Lesotho border before the start of the GIFT.
All the benefits of such a combination became clear to me later on. Trekking independently for long periods forces you to become resilient and adaptable. All of which are transferable soft skills for tonnes of jobs, including consulting.
With this experience in mind, I decided to try it on a longer scale. After graduation, I left for Nepal to guide clients across the Himalayas for four months. As one would expect, it was extremely challenging but rewarding. Moreover, it helped me improve my soft skills even further.
Fortunately, I was lucky enough to understand how my passion could improve the soft skills needed for a job in consulting. On the other hand, I'm sure consulting will challenge some other skills that I'll need in my treks (such as analysis and perseverance).
Connect playfully with as many people as you can
I am convinced the first learning can only be possible with the help of individuals you meet along the way. The trick resides in how and where you connect with them.
I can't stress enough how important it was to take every single opportunity I had to meet new people both at LBS and outside of it. Let me give you two examples when it happened.
First, how I got my job as a trekking guide. Once your LBS email address is set up, you'll receive thousands of emails a week. As I was deleting them, I skimmed through one about a conference in London that an LBS alumnus was organising. I signed up. There, I started to talk to a random guy sipping his beer. It turns out he was also passionate about mountains and had contacts in the Nepalese trekking industry. Through the events LBS marketed to students, I had gotten the very contact I needed to make my dream come true.
Second, how I got my job at Strategy& in Africa. During an LBS party at a big club in London, where water was not on the drink's menu, I met an MBA2017. We got along really well and started to talk about Africa. I only had the time to tell him how passionate I was about the continent when we lost sight of each other. At 3am, the club closed, and the party ended. As I was walking out with my friends, the same guy grabbed me by the shoulder and told me to send him an email the next day. A few days later, I was in contact with one of the managers of the Strategy& office I was targeting in Africa.
Be it in formal or informal settings, LBS gives you the opportunity to meet the people you need to shape your future the way you want it to be. It's up to you to go out of your comfort zone and meet them!
Quickest conclusion ever
Here are two questions for you:
1) How can your personal passion and professional interest benefit from each other?
2) How many new individuals will you connect playfully with this week?