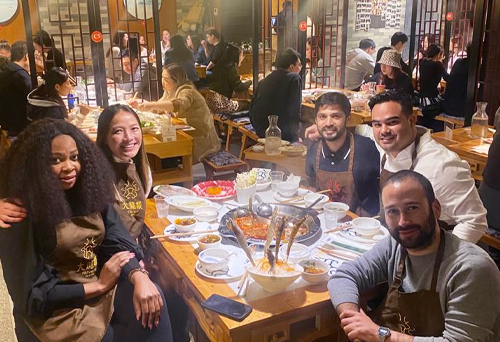 A cornerstone of the LBS experience is working alongside other students from a variety of backgrounds. Study groups provide a unique experience to work closely with a diverse group of peers, sharing perspectives and ways of working and forming a close bond. Below, a study group from the EMBA-Global programme describe why it's been beneficial to them on their LBS journey.


Describe your study group; why and how does the diversity work and benefit you?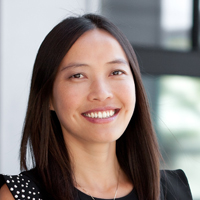 Lixia Zhu
My study group consists of 5 outstanding and well-accomplished professionals from a variety of industries, including oil & gas, fintech, and finance. However, the key is we're also people from all over the world – Colombia, Nigeria, France, Venezuela, China.
The diversity and authenticity keep us humble and curious as we learn from each other – the professions, languages, cultures, etc. The diversity provides us with different perspectives and encourages innovation as well as collaboration. Our different ways of thinking also help us to focus our knowledge to better structure our assignments that lead to better decision making.



Tell us about your involvement in your study group. How have those benefited you so far?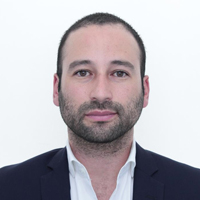 Carlos Arango
Despite the time difference, and our personal and professional commitments, we always made sure we all would take the time to chip in and contribute on every assignment. We had a "rotation" system where one member would act as the team leader, be in charge of setting up the working calls, and submitting the corresponding deliveries.
Whilst the individual contributions and involvement were not the same for all tasks, the group worked as a team for every assignment, making sure all the points of view and angles were taken into account. The finalised work we would agree upon was the result of a consensus, which led to healthy and enriching discussions.


What has been a highlight of working in your study group so far?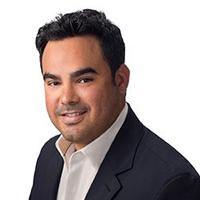 Miguel Munoz
From the beginning, our study group had fun or enjoyment as a core strategy for success. In fact, we included having fun as part of our study group team agreement at the beginning of the programme. Early in our journey, we realised that humour was important in order to keep us closer to our own beliefs and values; which is a fundamental part of self-awareness and effective leadership.
Additionally, enjoying each other's distinctive personalities and experiences, allowed us to perform to the best of our ability. Delivering top work, while ensuring fun in our study group sessions was a winning strategy. One that enhanced our leaning experience throughout the programme and helped us built fantastic memories and strong relationships.



How did you manage to build rapport and relationships with your study group?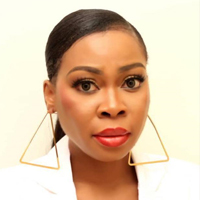 Amaka Nsofor
In our very first session with our team coach she made us bring childhood pictures of ourselves to tell our story. It was such a great bonding experience because it broke personal barriers and enabled us to understand ourselves and our background better. After that we became friends and not just study group partners. At every zoom meeting, we would typically spend the first 30 minutes catching up on what the various team members were up to, we jointly discussed our career goals and ambitions and supported each other even with personal circumstances.
In addition, we were deliberate about team activities. For every block week where we were all together, we tried to ensure that we organised a team dinner and that helped deepen the relationship. Most importantly, there was mutual respect amongst everyone which ensured that the relationship that we had built was sustained.


Have there been any challenges that you have had to overcome as a group?
Plabon Rahman
EMBA-Global is, by definition, global. We all come from different parts of the world. We live in South America, Europe, North America and Africa.
The biggest challenge for us was to find the right time to set up group Zoom calls that would accommodate all of us. The extensive time zone range means that these working sessions could finish at 1 or 2 am for some of us. For others, these sessions would be in the middle of a workday, so they had to rearrange their professional schedule to attend the study group meeting. This pushed us to be well prepared and time-efficient during each team session to limit screen fatigue.
Despite these challenges, we learned to work more efficiently with highly skilled colleagues on very diverse topics.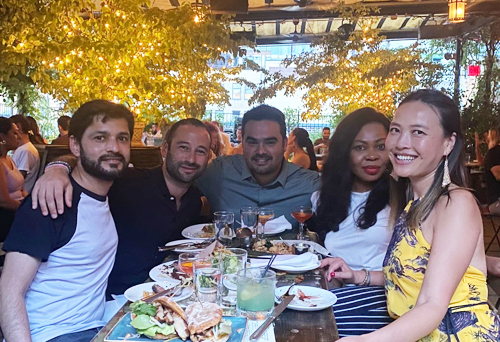 If you're interested in applying to the EMBA-Global programme you can read more on our website.