By Yoon Kim, Recruitment & Admissions Manager and Kushal Bajpai, MAM2020
One thing I love the most about LBS is our inclusive and diverse community. As a gay East Asian man living in London, I have never felt such a strong sense of belonging anywhere else including my home country. So, what is so special about the LBS community? Our recent Masters in Analytics and Management graduate, Kushal Bajpai (MAM2020), shares his experience at LBS as a member of the LGBTQ+ community.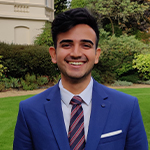 Who are you?
My name is Kushal Bajpai, I am Indian and gay. I graduated from the first batch of MAM in 2020.
How was your life as a gay man before joining LBS?
I wasn't out during my undergraduate in Mumbai, and there were no LGBTQ+ societies in my university. So, when I got my admission letter from LBS, I decided to be as open about my sexuality as possible. Fortunately, I was met with nothing but acceptance and support.
Tell us about Out in Business (OiB) club.
Joining the Out in Business (OiB) club was possibly the best decision I made at LBS. I remember sitting in our first club meeting in a room full of LGBTQ+ students and allies from all over the world and listening to their stories in awe. I was the Vice President of Marketing, and I enjoyed every aspect of it: reaching out to students and professionals across the globe, corresponding with partner companies, and working with my brilliant club-mates. Over the course of the year, I had become best friends with some of them and we organised EUROUT 2019, where we had the opportunity to network with LGBTQ+ professionals from dozens of companies. These proved to be invaluable from a networking standpoint: I got referred to many jobs by people I met during EUROUT, but I also became good friends with many as well, and I still meet them for coffee or drinks every now and then.
How did you contribute to the LGBTQ+ community at LBS?
With OiB, I also got the chance to share my story with my peers. During "Coming Out Week", I shared my story of growing up as a gay man in India with my classmates; with my club-mates from OiB and allies from the Rugby club standing beside me. My classmates could not have been more supportive and I have still safely kept the many notes of support they wrote to me. As a part of the "Social Impact Week", I also got to talk to the wider LBS community, where I shared the history of the LGBTQ+ rights in India.
Do you still feel a sense of belonging to the LBS community as an alumnus?
Another great perk of being part of this community is the alumni network. OiB alumni are always open to helping you get further in your career and are often a part of LGBTQ+ groups of other organisations, which is a great way to learn more about any prospective employers.
What would you like to say to prospective students from the LGBTQ+ community?
I am now working as a Data Scientist in London, for a company I discovered via LBS, and I know I will always have the strong network I built at LBS to lean on. To any prospective students who would like to join LBS or OiB, I couldn't recommend LBS enough. I had the time of my life here and I hope you would too! If you get the chance to be a part of this amazing community, I hope you will make the most of it and be as involved as you can. Feel free to reach out to me for any questions!
Having been with LBS for just over 2 years as a staff member, I have met so many amazing LGBTQ+ students, staff and allies at LBS. If anyone is considering applying for LBS and wondering whether they'd fit in, I would like to say – we will wholeheartedly welcome you!