Welcome back to the Sloan interview series. Our next distinguished alum is Leonard Della-Moretta, a Sloan 2021 graduate based in the UK. He has shared his story on his experience, from serving as an Officer in the American Army, to a career within the Fintech Sector, and how the Sloan programme has helped him along the way…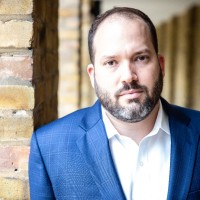 What role were you in before the Sloan programme, and what are you doing now?
My background is quite varied. I have served as an Officer in the American Army, as a non-profit fellow working in microfinance, and as a service designer and consultant.
Immediately before starting the Sloan, I was a consultant for seven years based in London. I spent about half of my time working in the EU and the other half working in LATAM. My clients were primarily in financial services or large multinational trans-governmental organizations, and I was leading transformation engagements. I spent of most of my days in meetings, workshops, building decks and presenting. I lost a lot of hair and saved a lot of air miles during these years.
I am now the Chief Operating Officer for StepEx, the world's first regulate provider of Future Earnings Agreements (FEAs) , also known as Income Share Agreements, and we enable educational institutions to leverage their own balance sheets to expand access to their courses and remove the cost barrier to a life-changing education. I also refer to myself as the "Chief Everything Else Officer" as I handle everything that isn't sales or coding.
My days are incredibly varied today. One day I am focused on building out a product roadmap to support customers, the next I am doing the accounting and analyzing our cash flow, and then I am building marketing collateral. All the while, I lead and manage an operations team that is originating and servicing FEAs. The days are long but exciting and incredibly varied and rewarding.
What were your goals for the programme? Did you meet those goals after completion of the Sloan programme?
I had three goals for the Sloan programme:
1. Learn about how to leverage technology to transform how business is done
2. "Brush up" on my business fundamentals (Accounting, Finance, Marketing, etc)
3. Be academically challenged
I achieved everything that I wanted to in the program. The technology-focused classes were great, from FINTECH to Product management. One of the professors, Farhan Lalji, was a board member at StepEx while I was taking his class.
The professors were incredible. We had incredibly rich debates on subject matters that were as diverse as our class was. From Andrew Scott to Jessica Spungin, their styles were engaging and unique.
And I use the coursework daily. Whether it is calculating an APR for a borrower, analysing our performance in our accounts, or prioritising our technology backlog, I am using what I learned.
What interests you the most about the finance industry?
I was not actually drawn to the finance industry. Having spent so much time working in it before, I wanted to do something different. I was more interested in having a purpose-aligned career, a position where I had more influence over the business and spending more time with my family.
What drew me to a startup like StepEx was that its mission is aligned with my values (helping people achieve their potential, investing in education, making the world a better place,)
How did the programme help you develop your skills in this industry?
Sloan gave me technical skills, but more importantly, it gave me the confidence to take on such a new and varied role. Before the Sloan, my default mindset was, "You want me to do what?" I was always a risk taker but didn't have full control of my destiny, partially due to a lack of confidence to take on tasks without being an expert at them.
Now my mindset is, "What are we going to do to push forward." I am driving the team towards growth, building our platform, and picking up new tasks so that the team can focus on what really matters, our customers and borrowers.
What advice would you give to students who are preparing an application?
There is never a perfect time to apply. There are always reasons to push it off till next year. Ignore them. Take on the Sloan and tailor your experience to support you in your journey.
I would also recommend sleeping. You won't get much on the Sloan. There is too much work to do and too many new friendships to make. For further information about our Sloan programme click here.