By Alishia Sanchawala, MBA2023
Having lived in India and spending the last 10 years in Singapore, pursuing an MBA at LBS has given me a plethora of opportunities to meet new people from different walks of life.
LBS is known for its diversity, but I only realised just how diverse it is when I was assigned my Study Group. What is a Study Group? It's your crew for all things fun and boring, and randomly assigned by LBS and I am glad LBS chose it! Because now I have a circle of friends that come from Mexico, Lebanon, Denmark, Russia and China! This is the group with which you start your MBA core courses and hustle through assignments together while encouraging and challenging each other to bring out the best in you.
---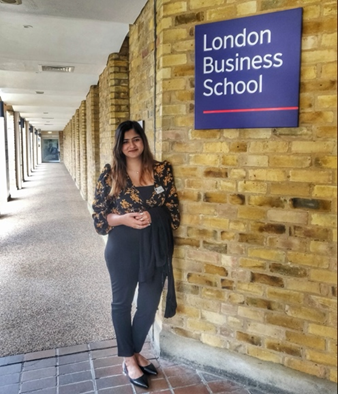 About me – Alishia Sanchawala
I graduated with a degree in Mechanical Engineering. I come with 6 years of Product Management experience in Telecommunications and Tech wherein I worked for companies like TikTok and Telstra to lead key strategic projects to drive revenue and integrity of the ads business. Through an MBA at LBS, I hope to expand on my strategic and entrepreneurial skills with a global mindset. Post MBA I aim to be a future leader at tech start-ups, building products of tomorrow and eventually begin my own venture in the education space.
I think the study group experience is one of the key elements of my MBA programme. Through my study group I can look at problems from different perspectives. We all have distinctive leadership and working styles and that is what helps us learn from each other and adapt to different situations. Along the way we have formed friendships on which we can rely on, and consequently found ourselves some cheerleaders!
And now…
Introducing my study group – F8 of MBA2023: Consultants, finance gurus and techies under one roof and here is what they have to say about the crew!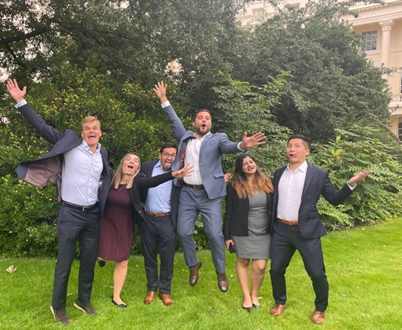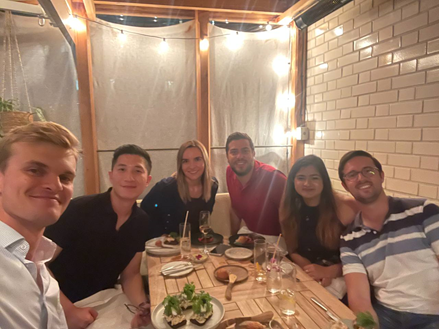 ---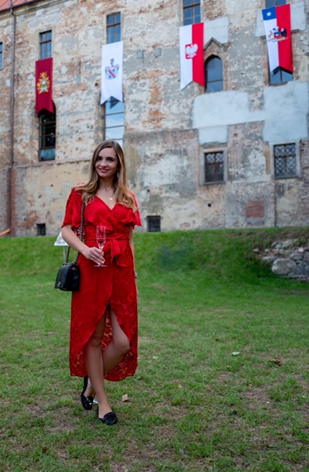 Veronika Kuchinskiy
Veronika was born in Russia, grew up in Germany and finished her education in the UK. She worked at the Royal Bank of Scotland's trading floor for 10 years and is a CFA and CIPM charter holder. After the MBA she wants to explore several career paths including the FinTech and VC paths, eventually aiming to start her own business.
Veronika is a Forte Foundation scholar and is on the TMC Partnerships ExCo and a team lead within the One 23 investment club run by MBA2023 students. Outside of LBS, Veronika has her hands full with two young children, and volunteering for the charity Age UK. In her free time, she travels to destinations where she can scuba dive or enjoy alpine skiing.
About the study group experience Veronika says: "I couldn't have wished for a better study group than F8! We all come from different backgrounds but complement each other's skills well. We rotate being the lead on each group project based on the person's strength. I'm impressed by how our teamwork skills have evolved from our first group project. My favourite group project has been the simulation day during GLAM."
---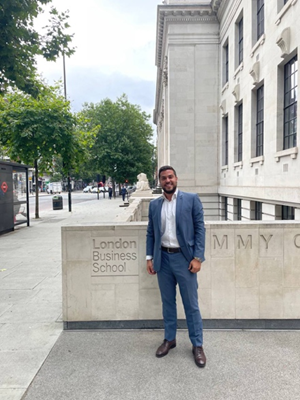 Imad Zard
Imad grew up in Beirut, Lebanon where he studied Economics at the American University of Beirut. After graduating with a degree in Economics, Imad moved to Dubai to work as a management consultant at Strategy&. As a consultant, Imad worked on different types of long-term projects across several industries. After four years of experience, Imad is now pursuing his MBA at LBS. Alongside his studies, Imad is on the ExCo of the Marketing and Strategy Club.
About the study group experience, Imad says: "I am extremely happy and honoured to be in study group F8! We are six very different people with diverse backgrounds. Not only are we different in terms of job experience, but also in terms of age, gender, nationality, and ethnicity. With time, we have been able to find our flow while working together. We are adopting a rotation basis for our group leads in order to ensure everyone gets a chance to contribute and shine. The most surprising aspect of our team is how much we have in common and our eagerness to collaborate."
---
Pascual O'Dogherty
Pascual grew up in Mexico City, Mexico. He moved to the United States to for his undergraduate education at Northwestern University. He graduated with a Bachelor of Science in Material Science Engineering with a concentration in economics and a Master of Science degree. After graduation, Pascual worked as a consultant for Accenture in Chicago. As a consultant, Pascual worked in payroll software implementation, specialising in employee tax.
After five years working at Accenture, Pascual decided to pursue his interests in finance and economics and switch careers. He is interested in working in a PE or VC fund. At LBS Pascual is a member of the PE/VC Club, the Rugby Club, and a Student Ambassador.
Pascual loves the many nationalities represented in his study group. He loves the collaborative atmosphere and how they all use their different backgrounds to complement and help each other with schoolwork. "We all have different backgrounds, nationalities, and skills. We trust each other and lean on each other. I have no doubt we will remain friends for many years after we graduate from LBS."
---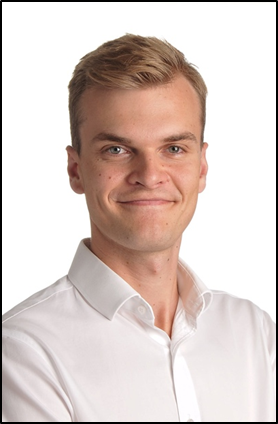 Mark Kristensen
Mark is originally from Aarhus in Denmark but moved to London six years ago to pursue his bachelor's in business administration from Hult International Business School. Post-graduation, Mark decided to pursue a career in the financial services sector in London and joined Campbell Lutyens where he spent three years advising private equity managers and institutional investors on the restructuring or sale of private equity portfolios.
At LBS, Mark is actively involved on the Executive Committees of the Nordic club as well as the PE/VC club, where he is currently arranging the first ever Nordic Private Equity trek.
Mark's favourite thing about the study group is the diversity, not only of nationalities but also of past professional and personal experiences. "Working together with the study group has been an amazing experience. While my team members are all able to contribute to group work with their past professional experience, the biggest benefit has for me been on the personal front. Our group consists of members from all around the world, and the level of diversity has really helped me learn about how business is conducted across the globe."
---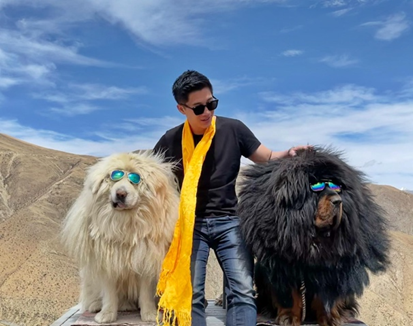 Skyler Sun
Skyler Sun was born and raised in China, obtained his undergraduate degree in the US, and worked in product management for Amazon for 4.5 years in Seattle and Luxembourg. In his spare time, he's a big fan of traveling and has been to over 30 countries. He enjoys meeting new people and experiencing different cultures.
His study group experience has been a great one thus far. He says, "Our group is super diverse and consists of six nationalities, not accounting for double/triple passport holders. We worked in finance, consulting, and tech industries and have all worked and/or lived in different counties apart from our home country. I learned a lot about different cultures and industries just by simply chatting with them. Though our expertise is different, we are all supportive in helping each other to take on new responsibilities that we have never tried before. Coming from a PowerPoint-free organisation like Amazon, my favourite part of any project is that I always get wowed by some of our group members who have fascinating PowerPoint skills."
---

If you would like to learn more about our MBA programme, please visit our website!