By Jose Andres Quintero Gil (MBA, 2023)
The Retail, Luxury, and Consumer Club is pleased to announce the 11th Retail, Luxury, and Consumer Conference. This year's conference promises to be one of the most exciting yet, with a line-up of distinguished speakers, engaging panel discussions, and opportunities to network with industry professionals and fellow students from Europe's leading universities.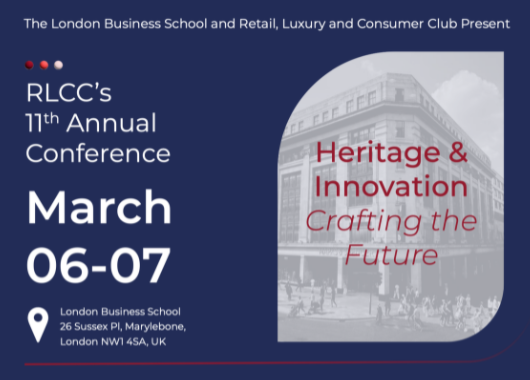 The conference will be held on March 6th and 7th, and tickets are now available for purchase on our website. We encourage everyone with an interest in exploring career topics and career opportunities in retail, luxury, and consumer industries to attend, whether you are a student, a professional, or simply someone who wants to stay informed about the latest trends and developments. During the conference, you'll be able to engage with industry leaders, ask questions, and hear about the latest strategies and insights.


This year's theme is "Heritage and Innovation: Crafting the Future" and our speakers include executives from Harrods, Dorchester Collection, Bacardi, Farfetch, Business of Fashion, Aesop and Estee Lauder, among many others. We also have a range of panel discussions covering topics such as sustainability, DEI, The Middle East's accelerated growth and a Ted talk style series focusing on disruptive ideas from local startups.
As always, the conference is an excellent opportunity to network with like-minded individuals and make connections that can last a lifetime. You'll have the chance to meet fellow students, professionals from various industries, and even recruiters looking for top talent.
To attend the conference, simply visit our website and purchase your tickets. All tickets include access to the complete conference program, lunch, networking events and drinks after the sessions.
We look forward to seeing you there!