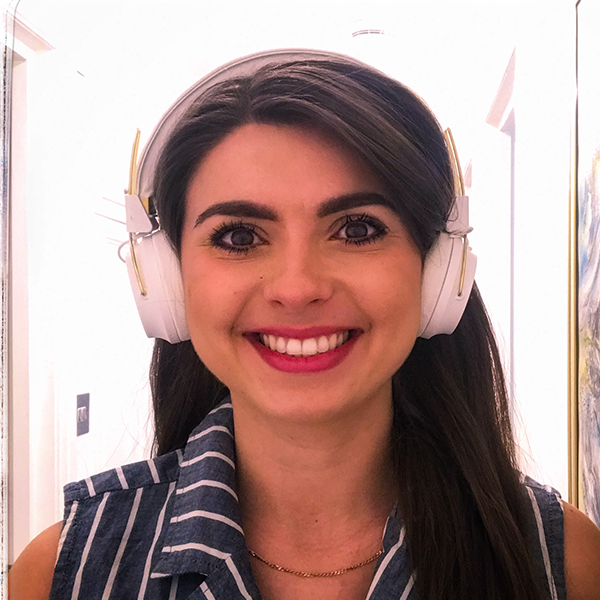 By Kathryn Larin, MBA2021
It's not unusual for MBA students to join the School wanting to pursue one career path before then deciding to move in a new direction. Kathryn Larin MBA2021 reflects on her own career pivot – and explains how students can make the most of their LBS journey (even in the midst of a pandemic).
Back in 2019, I had it all mapped out. I came from an investment banking background and the MBA was an opportunity to move buy-side into private equity. But a few months before starting the programme, I was approached by a group of talented friends who had recently launched a start-up called SWAP. Its aim was to disrupt the old school headhunting market, using tech to place junior bankers into PE and VC roles.
They asked me to join their founding team and I couldn't refuse: I spent the summer working at SWAP, building out the PE side of the business, pitching new clients and constantly innovating our product. That experience ended up changing my career outlook completely. It was powerful to not only imagine the future of an industry but also to build it; seeing your solutions come to life was hugely stimulating.
When I joined LBS, I knew the world of private equity wasn't where I was heading. So here's what I learnt from an LBS-style career pivot – and why LBS is such a great place to change direction professionally.
Lesson one: it's okay not to stick to your pre-MBA plan
My time at SWAP gave me a taste for the entrepreneurial world and I wanted to explore it further at LBS. A few weeks into my first term, I secured a ticket to the LBS version of Dragons' Den – the angel investing network of the School, E100.
Watching founders pitch their businesses to angel investors and hearing the angel investors dissect their business models was really enlightening and inspiring. I knew I wanted to be part of that world.
So, very early on, I decided not to focus on any structured recruitment internships (management consulting, investment banking or big tech) and instead immersed myself in the startup and venture capital space. This wasn't easy. Coming from a structured career background, I'm much more comfortable with existing frameworks – but I quickly realised that wasn't how it worked with startups.
Despite my anxiety, I knew I had to jump in feet first, and kept repeating to myself: "Growth and comfort do not co-exist, growth and comfort do not co-exist…'.
Lesson two: if you're looking for a new path, take advantage of LBS' clubs
Having discovered early on that the LBS clubs are where the action is, I decided to join the executive committee ('ExCo') of the Entrepreneurship Club. Elections for the ExCo take place within the first few weeks of the MBA programme; usually they're fiercely contested and involve an interview process. I was delighted to receive the role of Sponsorship Officer, which involved speaking to startups and VCs to fundraise money for the club.
When I joined the Entrepreneurship Club, I had no idea what a hackathon was – other than it sounding like something tech folk were involved in. I soon learnt that HackLBS is an annual School event open to anyone with an idea to pitch. Teams of developers, product designers and business professionals work together to create new ventures in 48 hours, with significant prize money available for the winning teams. It has become a well-known event outside LBS and I was privileged to have been on the organising committee for the 2020 HackLBS event.
Lesson three: at LBS, career resources are plentiful and abundant
During my first term at LBS, I discovered that the Institute of Innovation and Entrepreneurship (IIE) organise a fantastic speaker series called Entrepreneurs Journey, where LBS entrepreneurs share their experiences with students.
Many of the speakers have gone through the School's startup accelerator programme, LBS Incubator, where they're mentored by best-in-class entrepreneurs who've built unicorn businesses. I feel very fortunate to have one of the 'Mentors-In-Residence', Rachel Bell, as my career advisor. She's launched and scaled many businesses in her career and has been an invaluable sounding board for my ideas and tangled thoughts.
Lesson four: the electives on offer will change your perspective
LondonCap is an elective with a twist. There's no classroom learning; instead, you work on a real-life project with a London startup and gain hands-on startup experience in the process. It also counts towards your academic credits.
This year, my LondonCap project was with a fintech called Divido, where my team and I had the privilege of working directly with founder and CEO Christer Holloman. I was initially worried that my lack of fintech experience would preclude me from adding real value to the project. But I soon realised that I could leverage my existing knowledge of the banking landscape and also tackle problems with a 'fresh' outsider's perspective. My key takeaway here was to trust your own skill set: you don't have to be an expert in a particular subject to add value.
One of the most interesting electives I've taken at LBS has been Developing Entrepreneurial Opportunities, where many LBS businesses have been incubated (including Voila, a cooking app founded by the awesome Filipa Pinto from my stream). In one class, the founder of digital wealth management firm Nutmeg gave VC pitching tips. In another class, the management team at Sofar Sounds (I'm a huge fan) talked about their future growth strategy. I really can't recommend the LBS strategy and entrepreneurship courses enough.
Lesson five: your classmates are your best career advisors
A great way to explore a new career path is to speak to your classmates, some of whom have already launched startups or worked as entrepreneurs. Do you remember the FlushBrush inventor Tom Keen who bravely pitched his novel toilet brush idea on Dragons' Den? He walked away with a £50,000 investment and 'Dragon' Sara Davies' backing.
Tom, who is in my stream, shared his story on Dragons' Den just before the lockdown: he had us all roaring with laughter about attending toilet trade shows! I'd been in the classroom with him for six months and had no idea that he had this entrepreneurial side. LBS is full of hidden gems.
When you're embarking on an entrepreneurial journey, the future is often uncertain – and the COVID-19 outbreak has further highlighted this. But all good businesses (and entrepreneurs) must be able to pivot – and fast. 'When life gives you lemons, make lemonade'.
As the scale and impact of the pandemic began to unfold, I decided to launch a podcast called 'Ride it Out', highlighting stories from the LBS community on how startups are affected by COVID-19 and the silver linings going forward. Tune in here to listen to all episodes and follow ride_it_out_LBS on Instagram.
I'll also be working on another startup idea this summer as part of the Entrepreneurship Summer School and am super excited to have been elected Co-President of the Entrepreneurship Club. I don't necessarily know where all these projects are going to take me – but I do know that I'm absolutely loving the LBS journey so far!
Hear how the LBS community has been affected by the COVID-19 crisis in Kathryn's Ride it Out_LBS podcast – available to stream here.