By Giri Kesavan, MBA2021
Giri is the Co-President of The Tech & Media Club at London Business School. An MBA2021 student, he also chairs the degree & careers wide Technology Sector Steering Committee, working with the school, faculty, industry, alumni and Careers Centre on Technology education & careers. Over his time at LBS he has been interested in experiential learning at the school, including coordinating student-led physical and virtual treks to connect students to industry, from London to the world.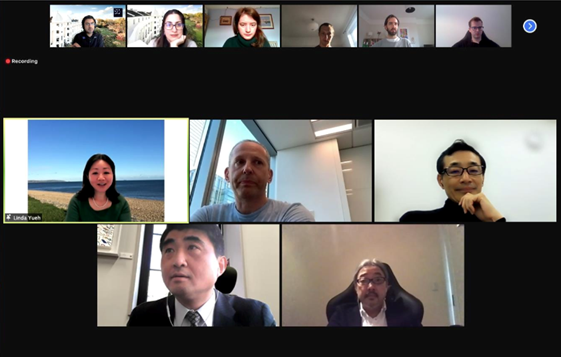 Halfway through the Tokyo GBE already! Another bright and early start today. By 7.15am we were well into the Venture Capital industry in Japan, with a fantastic panel headed up by JVCA (Japan Venture Capital Association). We discussed the key emerging themes when it comes to the Japanese VC market:
VC and CVC (Corporate Venture Capital) is on the rise, with the number of VCs quadrupling in the last 7 years, constantly exceeding $4bn of investment year on year.
SaaS and Fintech have emerged as the key focus areas of the past few years, but CleanTech has emerged in the last year in particular.
The VC ecosystem relies on a mix of domestic and international investors, across all funding rounds. Japan has a well-established IPO market and the opportunities for start-ups are widespread.
Thank you to Shin Shiraki (MBA2004) for your insights from an alumni perspective into the VC ecosystem in Japan! Our next set of organisational visits during the day covered key topics around Energy and the Environment. We were thrilled to be joined by the folks at Shizen Energy Group – talking about how feed in tariffs have ignited (no pun intended…) the energy market and created incentives for green energy production.
One of the highlights of the day was to round off the afternoon with an informal networking session between The Japan Alumni Club and current students. Bringing together MBA, Sloan and EMBA students across 30 years of degree programmes at London Business School, it was a fantastic opportunity to connect and build relationships across Tokyo. With candid insights on life in Japan, the value of the MBA in Japan and the lifelong connection to LBS, it was an eye-opening session as we ourselves look towards being part of the alumni community at LBS in a few months!
Onto Day 4, where we'll be focusing on Tech, as well as having some group work time to build a strategy for our lovely robotic seals (see the Day 2 blog!) and how they can capture the market.

Missed the previous entries in the series? Read about day one and day two of the Tokyo GBE.