By Trishala Iychettira, MBA2020
Strategy Consultant, Accenture, London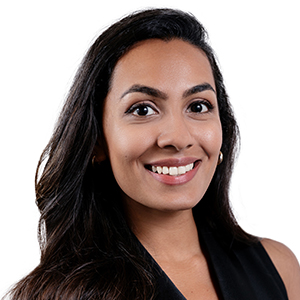 LBS was the only MBA programme I applied to as I believed it was the only programme that would be the right fit for me. This decision was driven by several factors:
LBS's reputation – needless to say the school is highly regarded within the world of consulting and by clients, and this is reflected in the rankings. LBS is also on the Accenture Scholarship 'preferred schools' list, so I knew my company would support my application.
International MBA – I thoroughly enjoyed my high school experience (I went to an international school in Singapore; there were 64 nationalities in my year alone) and wanted a programme that could offer a similar experience. I was keen to build a global network as I was open to an international career post-MBA
London: As a Londoner, I'm probably a little biased, but I loved the idea of experiencing the city as a student and taking advantage of the fact that all my post-MBA target companies are based here.
21-month course: I wanted a course that was at least a year-and-a-half long so I could do more than one internship and thus experiment with working outside of consulting.
International exchange: The international exchange programme to a host of top-notch schools around the world was a huge draw of LBS. I initially wanted to do a term in NYC, but ended up choosing IE in Madrid to improve my Spanish.
My Study Group has been of huge benefit from both academic and extracurricular standpoints. I contributed to the various projects we needed to undertake as a group in terms 1 and 2. These experiences were beneficial as I learnt about industries/types of work I hadn't experienced and improved skill-sets. For example, I learnt a lot about marketing and the Navy from Natalie and Andi respectively, while Joonil and Mattia explained financial concepts that were harder for me to fully grasp from lectures.
We also found ways to use our differing strengths to help each other outside of project work. Andi was well-versed in dealing with conflict while in the Navy, while difficult conversations made me uncomfortable or emotional. Andi equipped me with methods to face conflict better and take emotions out of the mix, which proved invaluable in subsequent conversations. On the other hand, Andi wanted to get into consulting but did not know how to translate her experiences in the military into use-cases for her CV and consulting interviews. I helped her bridge some of these perceived gaps by reviewing her CV and giving her application advice. Furthermore, Natalie and I helped each other prepare for summer internship interviews in big tech and were delighted when we both secured internships at our dream companies.
We all have very different personality-types and work-styles, so working as a team was a great lesson on how to deal with these differences and find ways to actually have them play to our advantage.
For example, I noticed one or two members tended to speak with more authority while others were less confident to express or argue their point of view. In these situations, I learned to come better prepared to be able to fully participate in debates in a way that made me confident to argue my options. Moreover, I learned to question differing points of view, that often sprang up when everyone else in the group wanted the same thing, by investigating the root cause of the disagreement. This not only helped me better deal with differences and conflict but had the expected benefit of teaching me conflicts caused by differences in thought/approach can yield better output!
The highlight of working in my study group so far has been seeing how we got more and more efficient as the year went on through learning each other's styles and anticipating outcomes to navigate through solutions.
We built rapport through helping each other both in and out of class. The out-of-class experiences really brought us close together:
Socials- we had stream and/or study-group socials almost monthly. We've been having an increasing number of study-group socials and making them country-themed so one of us can give us an 'immersive' cultural experience (our last one was Korean BBQ followed by Karaoke!)
Trips- a couple of us went on the same treks or trips within a friendship group and got closer that way. I recently hosted half our study group in Madrid where I'm based on exchange.
Mutual support through internship hunting and soft-skill building, as previously mentioned.
During my MBA, I have been involved in a range of professional and social clubs. In the first year, I was a Marketing Club exco member. This helped me to understand the various sub-functions within marketing, showing me just how diverse and crucial marketing is. It also helped me build relationships within marketing functions in many industries. I am now Co-President of the Marketing club, where I co-head of a team of 15. This has given me more team building, team management and project management experience.
I am also the Stream A social rep and had the pleasure to organise several stream A and cross-stream socials and trips, including trips to Malta and Budapest. The role fulfilled my love for bringing people together and showing my classmates the things I love about London.
The Women's Touch Rugby club helped me with team bonding, career opportunities and of course making the time to exercise! And finally trips to Val Thorens, Japan and Greece, with the respective LBS social clubs, helped me bond further with my classmates while exploring new places and trying new things (like skiing!)
For successful applicants trying to choose between more than one top school, I advise you to take rankings out of the equation and focus on which of these schools/programmes are the best fit for you. Take a step back and assess what matters most to you. I wanted a school that was in a 'hub' European city to give me the best employment opportunities and social life, an incredibly diverse cohort and the flexibility of a 21-month course so I'd have time to dive into learning and multiple internships. No other top-tier European programme offered this, so LBS was the obvious choice.